Travelogue: June, 2021 – May, 2022
June 9, 2021
I left Athens, completing the move out of my apartment in Crawford Hall, my home for almost 3 years. The plan when I return is to move into my house on Maplewood Drive. I drove to Columbus and stopped at my friend Lisa's house. Lisa very kindly offered me a place to stay as I started my journey.
June 10
I left Columbus early in the morning, drove through Indianapolis for lunch at the Market. Then I made my way to Chicago, where I stayed with my brother, Alan and sister-in-law, Amy. I had a run on the Lakeshore, and we had a very nice meal in the back yard with Alan and Amy's kids.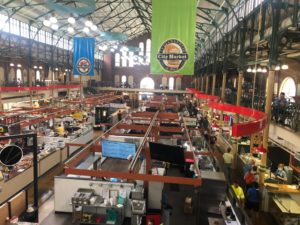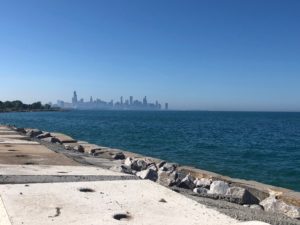 June 11 – 12
In separate cars, Alan, Amy and I set out for Mankato, MN for a celebration of life for our Aunt Beth (Mather) Norman. I stayed with cousin Jim Norman in Mankato. Aunt Beth had 7 children, who have all had children of their own, and there are grandchildren. It was a fantastic celebration of the life and legacy of a wonderful human being.
June 13
I set out from Mankato. Stopped in the birthplace of my dad (Madelia, MN) for some quick pics and to try to remember my visits with my grandparents from my childhood. After soaking in the place where a legend (Herb Mather) was born, I proceeded into South Dakota, and found a campsite in the sleepy little town of Kennebec.
June 14 – 16
I arrived in the Badlands, staying just off of Interstate 90. Badlands National Park was just down the road from the campground, so I made my first visit to the park on the afternoon of my arrival, and returned on both the 15th and the 16th to see different part of this unique landscape. I was using a ground tent because my Roofnest delivery was delayed. The ground was impossible to put a stake in, and the winds were high. On the 16th, I was hiking, when the campground manager called to tell me that my tent was flying around the campground. I had tried to weigh it down, but the weight apparently wasn't enough. The manager said that some of my campground neighbors had found a way to hold the tent down. They had to remove the poles and flatten it in order to keep it in place. When I returned to the campsite, I discovered a secure tent. I went to thank my neighbors–in particular a group from a church in Indiana that was working in the nearby Pine Ridge Reservation. The group invited me to dinner, which was a really good lasagna. I really enjoyed my conversation with Andy, who was not a member of the church, but was connected with the group because he and one other participant (Lloyd) were part of a veteran's writing group in Richmond, IN. Andy was an avid reader of Native American literature and was even learning the Lakota language.
June 17th
This was a really good day–at least the first part of it. I went to the Pine Ridge Reservation with the group from Indiana. The group split; I went with Andy, Lloyd, Dave, and Chris to a site where rituals take place. Andy told me that he had participated in a sweat ceremony a few nights before. He showed me the little hut where this took place. Andy is very interested in Native spiritual practices and experiences, and talked about this being an amazing spiritual experience. Our project was on this ceremonial site. We were digging holes for latrines and building the latrine shelters. It was good, hard work–especially the digging. Andy and I made a good connection, and I appreciated his commitments and unique way of experiencing the world. When lunch time rolled around, we went to the Potato Creek community, where the other part of the service group was. It was chaos–which was okay with me. But, the service group was trying to have Bible lessons for the kids. Some of the kids were half listening (the listening half was only because there were gifts if they engaged). Other kids were just running around and ignoring the lesson. From my perspective, trying to have these Jesus lessons (conditioned on bribes) for a group of people with their own rich spiritual practices was unnecessary, futile, and just not grounded in reality. I couldn't help but think about how our teaching and learning practices often don't connect with where students are in their developmental journeys. Or, sometimes, the lessons do not have any connection to their realities and their lives. Anyway, after lunch, Lloyd, Dave, Andy and I headed back to the worksite. Andy shared my concerns about the way things went with the Bible stories. Back at the worksite, it was 95 degrees and Lloyd was laboring under the heat of the sun. After a brief attempt to restart the work, we waived the white flag and decided to end the work for the day.
I wanted to finish my phone set-up, so I went to Wall, SD, (site of Wall Drugs), where there is decent wifi. It was my hope to get this finished quickly, so I could get back to the campsite and go to the group for a native ceremony on Pine Ridge. Unfortunately, it took me about 3 hours on the phone with an Apple helper to get it set up, so I missed this chance of a lifetime–to see the ceremony. Looking back, I wish I had waited one more day before getting my phone service back.
June 18, 2021
I said goodbye to my friends Andy and Lloyd and left my campground in the Badlands where i had stayed for a few nights. Checked into the Mt. Rushmore KOA. It was huge! Just a little over an hour down the road from the Badlands, the Black Hills were dramatically different. Majestic, stone mountains. But, there were also more trees than in the Badlands region. I drove through the Needles Highway in Custer State Park. Another very unique site, with the narrow passages between tall rocks.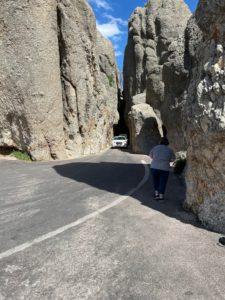 After Needles, I was in search of a mountain biking trail. I had trouble reading the map–i.e., seeing where I was on the state park map I received when I entered the park. Eventually, I got to a trailhead for the Mickleson Trail that is over 100 miles long. I thought I'd take an out-and-back. The trail went by Mt. Rushmore, so I thought I'd try that. It turned out that there was a portion of the trail where bikes weren't allowed. So, I took the bike back to the car and hiked for over an hour on the Mickleson. It was good with hills and rocks to climb on. There were also awesome scenes. Much of the trail was in the shadows of evergreens, but there were some changes in forestation along the way. It was notable that there were several sections that had been pruned by forest fires. All-in-all a great hike. I got back to the campsite pretty tired. Cooked up a lentil dinner and had a good night of sleep.
June 19, 2021
Juneteenth! The first time it was a national holiday because President Biden signed it into law as a national holiday just a day or two before. Speaking of presidents, I started the day by checking out the Mt. Rushmore National Monument. I decided not to go into the park, because I had other things I wanted to do during the day. After the sighting of Mt. Rushmore, I climbed a pretty good sized boulder. I'm realizing this is one of my favorite activities here in the West. Several years ago, I climbed Grand Teton. That was an awesome experience and an awesome challenge. Now, at 61 years of age, I'm dialing it back a little. Bouldering is an activity I thoroughly enjoy. The place where I climbed was in a park that is full of intense rock walls where experienced climbers impressively go up these challenging and very high (100+ feet) structures. I ran into two recent Notre Dame grads, Cole and John, who were attempting to climb one of the walls, called "Waves." Sadly, they didn't make it up, but it was a valiant efforts.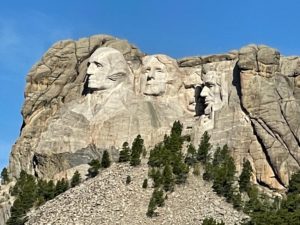 I was told by many people that I should see Devil's Tower when I was in the Black Hills. So, early in the afternoon, I set out for Wyoming to see this incredible work of nature. I'm surprised it is not considered one of the world's seven wonders. It is remarkable. I saw it from quite a distance, because it is standing alone in the midst of the prairies. One notable other geographical characteristic I noticed as I got closer were bold red clay, within a mile or two of the tower. The tower is igneous rock, created underground, somehow shaped into this very symmetrical, towering rock. There are even same- (or similar) sized columns that were naturally formed on the wall of the tower. It really is remarkable.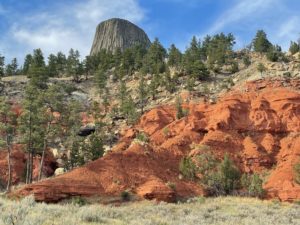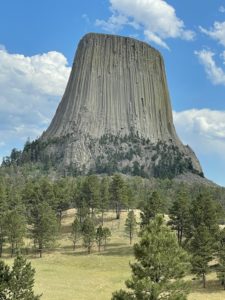 It took me 2.5 to 3 hours to drive to Devil's tower from my temporary home in South Dakota. I arrived back at about 8:30pm. Was so tired I didn't want to cook, but all of the restaurants in Hill City were closed or were closing. I topped off the day with two slices of pizza from a local gas station.
June 20, 2021
Today was the day to pack up my things in the Black Hills and head toward my brother's place in Denver. I got up at an ungodly hour and left the campground by 6:30am. It was about a 6 hour drive. I made one extended stop in Cheyenne, Wyoming to see if I could find Liz Cheney to thank her for her independence. Would have been happy to see her dad as well. But, alas, there was no sighting. I did see the old depot, however, which was nice.
I arrived in Denver, and had time to go to the pool and go to an early dinner in Boulder. We had dinner on the main drag there (Pearl Street). It had a wonderful feel, but it was very crowded, even on a Sunday late afternoon. Participating in the dinner were my brother Mike and his partner Kathy; their daughter-in-law and son, Deidre and Conor Honig; the star of the show was the child of Conor and Deidre, Xan: Mike and Kathy's first grandchild and my first great niece. We were also joined by Alan Mather (brother) and sister-in-law Amy. They had traveled to stay with Mike and Kathy from southwest Minnesota after the Aunt Beth's memorial service.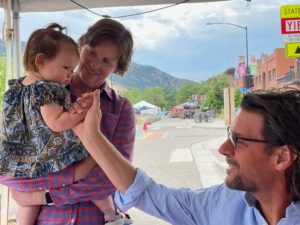 Back to Boulder: It reminded me a bit of Athens, but much busier and more upscale. For example: Pearl Street has one of about 12 All Bird shoe stores in the country. They also had great bike stores, climbing stores, outstanding book stores, and more. I will definitely be spending more time on Pearl Street. Fortunately, my brother Mike pastors a church in Boulder. I'll take advantage of the church parking.
June 21, 2021
Not much to share from today. According to the freight company, I was supposed to receive my Roofnest Sparrow Eye (Car top tent) today. They had given me an estimated time of delivery. When I called to check in ahead of the time, they told me that it would not be delivered today. Bummer. I thought I'd head out to a nearby campground this week to check out the car top experience. But, I filled my time with a 25 mile bike ride with my sister-in-law, Amy. I ran a couple of errands, and mostly just felt like a slug. It was weird being in a house. Not sure how I feel about it after about a week of camping. There were certainly conveniences, but I miss the free and open space in the camping world.
June 24, 2021
I got my cartop tent and mounted it on the car with the help of one of Mike and Kathy's neighbors. Looking forward to the future adventures in it!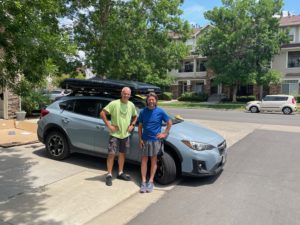 June 25, 2021
Went to Colorado Springs to connect with Ian, Kelli, Nick and Holly Brennan. Ian and I worked together in the mid-1980s at Harlaxton College, the British Campus of the University of Evansville. That position launched my career. It was a unique place, and the work with a diverse and energetic group of students convinced me that I could make a career out of this! Ian and Kelli were a big part of that experience for me, and they were great hosts in Colorado Springs. Among other sites, we visited the unique Garden of the Gods.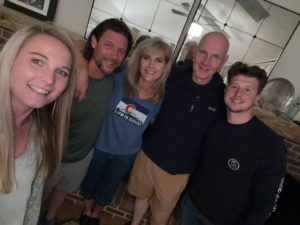 June 30, 2021
I took had my first overnight in the Roofnest Sparrow Eye. I just took a little trip up to Nederland (Ned) from Denver. I was going to stay two nights, but the rain was coming, so decided to just stay one night. on the morning of July 1, I had breakfast at a little train car-cafe in Ned. Met a local (Scott), who made suggestions for stops the next day. I did have one fairly short hike (shortened because of rain), and then went to a "Ghost Town" in Gold Hill, CO. There was a little General Store there. Very cute. Very few people there, but I did start to talk with a couple, and learned that they had lived in Athens. He did his post-doc at OHIO and she was a nurse at the local hospital. How about that?! It was great to connect with the spirit of enthusiasm I experience so often living in Athens and being part of the Ohio University community. I felt the spark. . . some 1,300 miles from home–in a ghost town, no less.
On my way down the mountain from Ned and the old mining town, I stopped in Boulder Canyon and climbs boulders. I have a fear of heights. I'm finding the bouldering to be an opportunity to confront this fear. It's also good exercise and a good problem-solving activity. I really dig climbing!
July 1 – 4
This was a down time in Denver. I hung out with my family: brother (Mike); sister-in-law (Kathy); nephew (Conor); Conor's wife, Deidre. The highlight was spending time with 15 month old Xan, the daughter of Conor and Deidre. She was active and engaged. Can't wait to go bouldering with Xan in a few years. She is shown here with Clinton.
July 5 – 11
I was visited by my daughter, Emily. This was my gift to her for completing a very successful college career at Berry College in Rome, Georgia. Our time together was full. We started in Colorado Springs, where Ian and Kelli hosted us and took us to the unique site, Garden of the Gods. We followed that with a hike on the Mt. Muscoco Trail. This tested my fear of heights. There was one point where Ian, Emily and I were all standing on a high precipice, hundreds of feet off the ground. It was terrifying for me. I considered how Emily has often been tentative about activities that might seem daunting. But, at this moment, I was the one terrified. She was calm and connected to the ground under her feet and to appreciating the view. I was the one gripped in irrational fear.
After Garden of the Gods, Emily and I went to the Denver area to visit with Mike, Kathy, Conor, Deidre, and Xan. Mike and Emily bonded over their mutual love of and interest in poetry. Mike even included Emily in a weekly Zoom conversation he has with a poet in Indianapolis. We also visited with one of Mike's good friends, Mike Green, who spent his career working with people with disabilities. Mike Green and my brother, Mike, share a belief that labels such as "disabled" or problematic and dehumanizing. We all engaged in a rich conversation that centered on how to build a community of hope during a time when the world is on fire.
Emily and I then went to Ned, where we stayed in an Airbnb for one night. On the drive up, a black bear crossed the road ahead of us. Emily was able to grab a really good picture of the bear when it settled down near us on the side of the road. The next day, we hiked the Lake Mitchell trail. It was a beautiful hike. A highlight for both of us was seeing a moose on the trail. Emily had been disappointed not to see a moose during a trip to Yellowstone a few years earlier, so this made her day.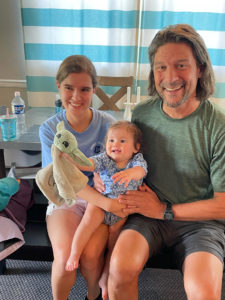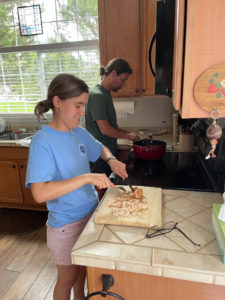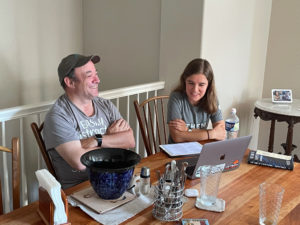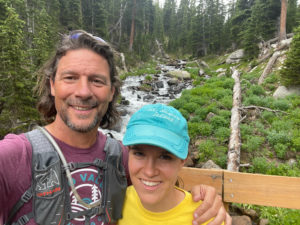 July 14
I set off from Denver with my car top tent. The first stop was Fort Collins, CO, where I stayed in a KOA campground and visited OHIO CSP alum, Charlotte Clarke. It was great seeing Charlotte, who had contributed to a research project Laura Harrison and I conducted on student activism. And, I would be remiss if I didn't mention that Charlotte was, herself, a student activist when she was a the university. One of the major concerns taken up by Charlotte and her colleagues was the rising tuition and fees costs for OHIO students. I always admired Charlotte's passion for social justice, and we had a great time revisiting old times.
July 15 – 17
I spent the next two nights in Craig, CO, which is close to the resort town of Steamboat Springs. I found my campsite (a farm in Craig, CO) through the app HipCamp. While Steamboat Srpings is primarily known as a ski resort, there were plenty of summer activity options. There were mountain bike trials (a range) and kayaking through the local river. I hiked the Fish Creek Trail, which had a large waterfall near the trailhead. The hike was pretty rocky near the top, where there was a mountain lake. At the end of my last day, I went to Strawberry Springs, a good place to relax in natural, warm spring water.
July 17
I set out from Craig on the 17th, with hopes of getting to the Tetons on the same day. On the way north, I stopped at a coffee shop/book store in Rock Springs, Wyoming, where I met Maddie, the barista. Since I was the only one in the shop, we had a chance to chat about her education at the local community college and about my sabbatical project. Maddie described her interest in environmental sciences, and the opportunities she had at her college to engage in research with a faculty member. She went on to explain that since Wyoming only has one 4-year university, the community colleges often fill a gap by providing students research opportunities. She then went on to suggest that I stop in Pinedale on my way to the Tetons to take in the sights of the Wind River Mountain Range. I did diverge from my route and drove into the mountains to check out the views. Maddie was right. It was a beautiful place.
The drive through the Wind River was a pivotal moment in my travel adventure. Up until this time, I could say that my mountain travels were best described as joyful. I consistently was filled with waves of positive emotions–often smiling to myself as I was hiking in the mountains and encountering beautiful people along the way. For some reason, on this day, I was hit with a wave of depression–perhaps the most serious infliction of depression that I've experienced in my life. I've known "dark nights of the soul" before, often attributable to something I was going on at that time in my life. This time it was like a delayed reaction–a wave of sadness that I had kept at bay for some time. Finally, the levees broke. As I pulled over to see a beautiful site, I was overcome with tears. At this time, I was aware that it was best not to suppress the emotion. I believed that this sadness was just a human experience that I needed to have. My theory is that the primary catalyst for this depression is a long-standing shame and resulting loss of myself in relationships, about which I won't go into detail here. But, I will just say that it has been a helpful and important part of my journey. And this reminded me that I was navigating a journey that was as much inward as outward.
After leaving the Pinedale area, I proceeded to the Teton Valley in Idaho, where I stayed on a farm outside of Driggs. This proved to be an important and memorable place from which to experience the Tetons and started a fun relationship with Paula and Tom Moylan, my fellow campers in Driggs.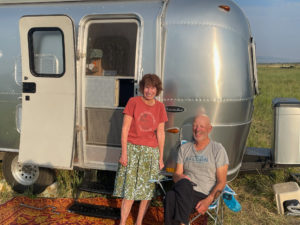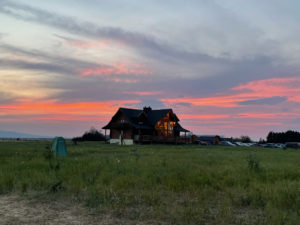 July 18
My big adventure on this day was a kayak trip down the Teton River. It was a day of calm, with the Tetons range and, particularly, Grand Teton coming in and out of sight as I snaked down the curves of the river. There was also a fun encounter with a moose, which was standing in the river, feeding off of a tree on the bank.
When I returned to the campsite at the end of the day, I had a fun and interesting conversation with Tom and Paula, who were on a several weeks long adventure themselves. We commiserated on some of the strange communication by our camp host and her failure to follow through on a promise to clean out the camp toilet. We shared a desire to get into a little mischief by checking out the mysterious large lodge and discovering it was a hostel–housing a dozen or so fellow travelers. Ultimately, I decided it was okay to break camp rules by contributing my trash to the hostel pile of trash–especially since the toilet was unusable.
July 19
On this day I said goodbye to Paula and Tom and drove across the pass from the Teton Valley of Idaho into the Jackson and the Wyoming side of the Tetons. I stopped at a trailhead on the pass between Idaho and Wyoming and hiked the Ski Trail. It was a trail with beautiful meadows and Ski Lake at the end of the trail. On the hike, I met an older couple of from Utah. They great company. They asked about the catalysts for my trip. I told them it was a personal and a professional journey, and I shared with them about my friend, Mike Sweeney, who, following his terminal cancer diagnosis, said that he wanted to "squeeze every bit of juice out of life." This was my attempt to do just that. I got emotional when I told them about it, and they showed great compassion. It really is great meeting people on the trails!
July 20
This was a cool day. Last night, I found a campsite (Moose Campground) near Driggs. It was my first camping experience on public land (i.e., it was free). I got up in the morning and took a very cool bath with the water from the river next to my site. I left the campsite and went to the Wyoming side of the Tetons and hiked on the Taggart Lake trail. It was a beautiful hike with bright green foregrounding Grand Teton. The excitement was a bear sighting, which was a little too close for comfort. The bear was pretty close, but feeding on a small tree. I got behind the bear (still on the trail) and snapped a picture. As I turned away to continue up the trail, I heard a sudden movement from the location of the bear. I reached for my bear spray as I turned in the direction of the bear. It was running away instead of toward me. Turns out, the bear was as skiddish about encountering me as I was the bear. My switchback was going to take me in the direction of the bear, so I just kept calling out "Hey bear," "Hey Boo Boo," with my can of spray in hand.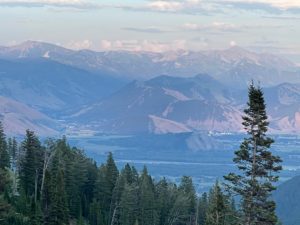 I ate gazpacho soup in a restaurant in Jackson and then headed back to Idaho, where I found a place found another public land campground: Moose Creek.
July 21
One of my favorite pastimes during this adventure is discovering the virtues of public libraries throughout the western US. I went to the little library in Driggs, Idaho to get some work done. It is a tiny little library with two relatively small public rooms and then a small meeting room. The librarian on duty was immensely helpful as I needed to find a private space for a meeting–which was an interview with Mike Green, who I had met through my brother, Mike, and visited with in Denver. It was a delightful conversation. After that, I went back to Jackson, WY to have dinner with Leslie from the Teton Science School. I have worked with the TSS staff for a few years, taking the Ohio Fellows to this location for a week-long program in which the TSS faculty lead students through a learning experience in which the local eco-system serves as a teaching laboratory on leadership development. It was great visiting with Leslie. After dinner, I didn't want to go back to the Idaho so I parked on the side of the road in the national park, in front of Grand Tetons. I was lined up with other campers. I think it was technically not a legal camping place, but we made it through the night without interruptions by law enforcement.
July 22
I met with Kevin Krasnow and Josh Kleyman from the TSS for a hike around the Murie Ranch. The ranch was the former home of Mardy and Olaus Murie, who were important 20th century conservationists. In particular, Mardy was known for leading the protection of 1,000,000 acres of Alaskan wilderness. Our hike went along the Snake River.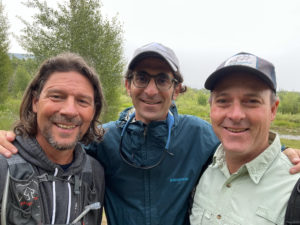 July 25
After a weekend back in Colorado, I picked up the trail again, stopping over in Pinedale, Wyoming overnight. Josh and Kevin from TSS had suggested I camp along a river there. As I drove up and down the river in the area, I kept seeing "No overnight camping" signs. It was getting late, and I wasn't sure what to do. I saw a farmer on his tractor coming down the road that paralleled the river. I waived him down and asked if he knew of any campsites nearby. He pointed me toward a barely visible road on BLM (Bureau of Land Management) land. I drove the Subaru back behind the hills and nestled in a spot surrounded by Sage Brush. The bugs were terrible around the car, so I walked up one of the hills. There was a comfortable breeze, no bugs, and a perfect view of the setting sun.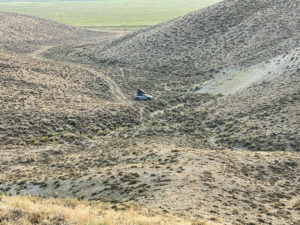 July 26 – 27
I drove into Idaho, toward the Sawhill Mountains. There was a scenic viewpoint as I entered Idaho from Wyoming.
I met a woman at the parking lot by the viewpoint. She was around my age, and was living out of her small sedan. She said she was from Oregon and had quit her job a few years before. She decided she would rather live out on the open road in her small car with little money than be tied to a job. I'm sure there was a deep and rich story, but I didn't pry. As I drove toward the Sawhill Mountains, I passed the Craters of the Moon National Park. I didn't know about this park, but stopped to see what it was all about. It was one of the most unique sites I've seen on my trip. There are thousands of acres of cinder cones, residual from millennia of lava flow. The area is fascinating with marks of glacier movement and regeneration of trees and flowers interspersing the lava fields.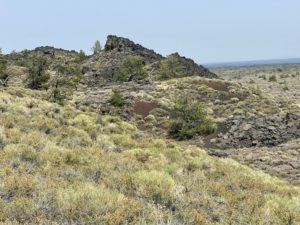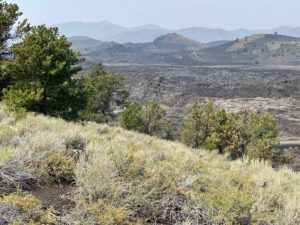 I drove from Craters of the Moon to the Sawhill, Mountains. I wound up staying a few miles on the other side of the resort town of Ketchum, which I was told was known as the "California of Idaho." It's nice to know that there is one! It was a beautiful little town, full of restaurants and bars, and with some good outdoor supply stores.
On the morning of the 27th, I went to a small cafe, where I heard the barista talking with a tourist couple about the Alice Lake trail, which was about 40 miles from Ketchum. I decided to head that way. It was a pretty tough hike. I went out and back to the lake. There was a loop that some hikers do as an overnight backpacking trip. At the beginning of this hike, I asked the first person coming down how the view was at the destination. I caught myself and decided I wouldn't ask that question. Rather, I'd ask people who their hike is going. I wanted to be focused on the beauty in front of me–to enjoy the journey. I will say that the destination, Alice Lake, was incredible. But, the walk was beautiful in its own right. There were beautiful aspen groves and flowery meadows and a lot more to see than just the lake. But, the lake was, indeed, fantastic.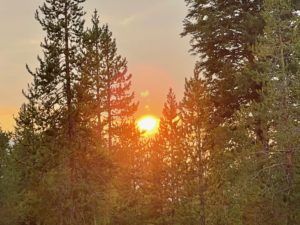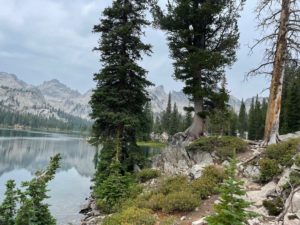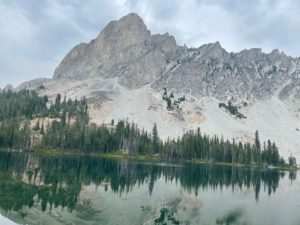 July 28
I had been told by several people, including Kevin and Josh at TSS, that the Mesa Falls were worth seeing. Indeed, that was true. In addition to the falls themselves, which were magnificent, there were interpretive signs telling the story of post volcanic changes in the local geography. It was very cool.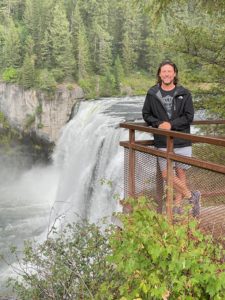 On my way to the falls, I had called my friend, Ken Edwards. I was headed toward Montana, and I knew that Ken had been there a number of times, in a family cabin. So, I thought I'd check with him on things to see in Montana. He offered his family cabin for me to stay for an overnight. In order to get to the place in Cooke City, I drove through Yellowstone National Park. It was very crowded, but there were beautiful views, with the highlight being herds of bison scattered throughout fields near the road. I pulled over several times to see these awesome creatures, some of them rolling around on the grounds, generating big plumes of dirt.
The Edwards' cabin was much as I would expect it. It was a very comfortable place to spend the night, and within easy walking distance of this small resort town. I had both dinner and breakfast at restaurants. At both places I heard managers tell customers about the difficulties in getting help (e..g., servers, dishwashers, etc.) this year.
July 29
On Ken's advice, I took the Beartooth Highway from Cooke City to Red Lodge. The scenery was remarkable. Although the drive is just short of 70 miles, it took me several hours to make the drive. Lakes and beautiful mountain vistas lured me off the road many times along the way. I had one particularly interesting stop, where I met a couple who were with their adult son. The woman started to talk with me about her faith and asked me about mine. While I grew up in the church and have been active for much of my adult life, I don't have a literal belief in the Christian story of salvation. I do value the church community and it being a setting where people come together to search for truth and meaning in their lives. So, I did share with the evangelizing woman that I didn't want to misrepresent my beliefs, and I respected hers. I also told her that I am open to mystery. After hearing more about my work and my life, she asked me if she could pray with me. Although I'm sure I don't believe in prayer in the way she does, I thought, "Why not? I'm looking to have experiences!" So, I stood on the side of the road, holding hands and bowing heads with these strangers. They prayed for Mike Sweeney's healing and for my safe travels. I was appreciative of their compassion, while also being a little uncomfortable with the conversation.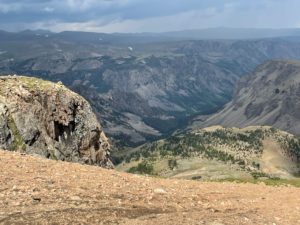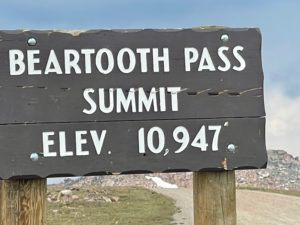 The road ended in Red Lodge, Montana–another awesome little resort town, with lots of cool stores, cafes and restaurants. Ken insisted I go to a particular candy store there. Not being much of a candy eater, I went to please Ken. It was pretty cool with bins after bin of candy that shoppers could load into bags. The candy was then weighed for $$. After a couple of hours in Red Lodge, I headed for Bozeman.
I arrived in Bozeman during a street festival, which happens every Thursday evening during the summer months. I knew that Sophie's study abroad roommate from her time in Ecuador was living in Bozeman. When I arrived that evening, I walked down through the street fair, with live music and festivities. Even in the rain, there was a spirit of celebration and community. As I walked down the street I happened to see Keni (Sophie's friend) standing in a doorway, hiding from the rain. We then walked through the streets, caught up with each other, and went to see Alex (another Ecuador traveler-studier) I had met during my visit. All in all, it was a good evening!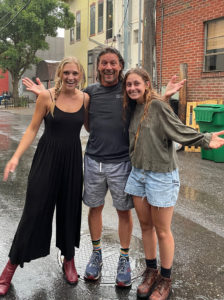 July 30
After a night at another HipCamp farm I went to the Bozeman Public Library, but my laptop would not charge. So, I went looking for the campus of Montana State University, where I could get some tech help for my beloved MacBook Air. It worked. After purchasing a new charge cord, I stayed on campus to catch up on work.
July 31
On this Saturday, I made a fairly long drive from Bozeman to Coeur d'Alene, Idaho. The path was very rural, and I went through no large towns or cities. The main landmarks of the drive were a cool mountain scene fairly close to Helena, Montana and fresh fruit stands sprinkling the road way. My destination was the home of former Higher Education doctoral student, my advisee, Randy Ware; his wife, Lezlee; and their two precocious children. Their area of Idaho was a hot bed of COVID, so we stayed in eating and drinking in the house. It turned out that Randy was in a job search and was a finalist for a position in Eugene, OR. He landed the job and so the family is on their way to a new start in a new place.
August 1
I said goodbye to Lezlee, Randy and the kids in the morning and headed back east to what has so far been a highlight: Glacier National Park. I had tried for days to procure a ticket to drive the "Going to the Sun Road," the major thoroughfare of the park. I wasn't able to get the ticket, but thought I'd try to get in anyway. After waiting in line at the park checkpoint, I was told that I could enter after 5pm. So, I waited until just after 5pm and made the long and beautiful drive. After driving the entire length of the park, I didn't get to my campsite until between 9 and 10pm.
August 2
I woke up to rain, and decided this would be a good day to spend in the library. It had stopped raining by 5pm, so I went back to the park for a short hike through some beautiful cedar trees.
August 3
There were two options for getting into the park for non-ticket holders—before 6am or after 5pm. On this day, I arose at 4:15am and went into the park, so I could beat security to the checkpoint and get parking at the very popular Logan Pass. I hiked the Highline Trail, starting the actual hike in pretty heavy cloud cover at 6am. As the clouds cleared, the trail was beautiful! This signature trail in Glacier National Park is 14.9 miles (out and back), with an elevation gain of 2578 ft. I added the very steep spur that overlooks the Grinnell Glacier. I was impressed with a few people who appeared to be in the 75+ year old range making this steep 1.2 mile (out and back) climb.
I stopped at the bar/restaurant at the entrance to the park and had good conversations with a couple of young guys who were working at the park. One was on summer break from the University of Minnesota. He was a lively young guy. An "enthusiast" like me. We had a political discussion, which I found slightly disturbing, but won't get into the reasons here.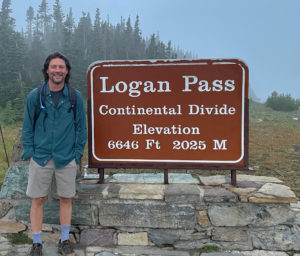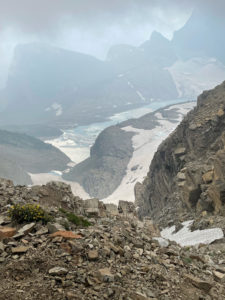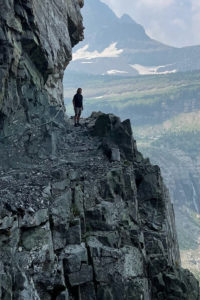 August 4
I again arose at 4:15am and went into the park to hike the "Trail of the Cedars" to Avalanche Lake; it is a 5.9 mile out and back hike. There were a number of beautiful aspects of this hike: the grand cedar trees, the beautiful stream and waterfall, and then the lake at the end of the trail. This is a wonderful trail, with only a 757 ft. elevation gain. I ended the day at the park entrance with a scoop of huckleberry ice cream.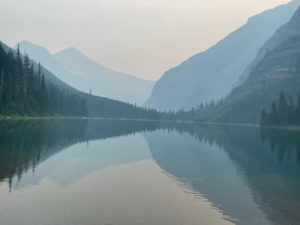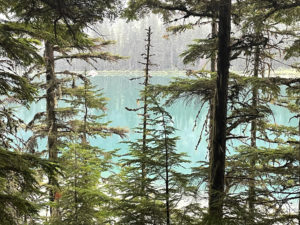 August 5
This was a day of driving. I had a meeting in the mid morning, and planned my drive to arrive in St. Regis, Montana to use the public library for my meeting. I followed the GPS to St. Regis and was surprised when it terminated at the St. Regis Elementary School. I saw no sign of a public library. I knocked on the door of the school, and was met there by an administrator who told me there really wasn't a public library in St. Regis. It was challenging, because I also had no phone service there to communicate my circumstances that prohibited me from meeting. I then drove through northern Idaho and arrived the small town of Vantage in the Columbia Basin. The wind was very strong that night–I'm guessing around 30+ miles per hour. I woke up a few times, concerned about how my Sparrow Eye tent would hold up. It did very well!
August 6
My desired destination on this day was Olympia, WA, the home of Susie Coomes, sister-in-law of my former professor, Mike Coomes (BGSU). Mike and his partner, Judy Gardner, along with their son, Brendan, were visiting family, and Mike invited me to hang out with them for a couple of days. Before I arrived in Olympia, I detoured through Mt. Ranier National Park and took a short hike (more of a walk) through the Patriarch Trail–a beautifully treed area with a suspension bridge. After the detour, I arrived at Susie's house and had a wonderful dinner with Susie and Judy, while Mike was out socializing with other former students of his. After tent camping for several nights in a row, it was nice to sleep in a house, and have access to laundry!
August 7
The big event of the day was the Olympia Brew Fest. It was a slightly cool and breezy on the Port of Olympia, but it was a beautiful event, with lots of celebration of hops and wheat and malt. I enjoyed hanging out with Mike and his family. We made a couple of additional stops. I was the designated driver, so sipped water after the Brew Fest.
August 8 – 11
I took the drive up to Seattle and stayed there for 3 nights. I spent all three nights in hotels–the first time I spent a night in a hotel on my adventure. The initial reason for the hotel stay was that I was conducting a workshop for a national organization for music therapists on using appreciative inquiry in the classroom. It was important that I had a place with a good technology connection, and where I wouldn't disrupt others, such as in a public library. During my time in Seattle I: climbed up Queen Anne's hill to get a view of the city; walked from the Queen Anne neighborhood to Ballard; took in the Seafood Market; the sculpture park; and went to the huge REI. Ballard was a super cool neighborhood with historic homes and cool restaurants. Along the 3 – 4 mile (each way) walk, there was a great community flower garden; and an old marina; as well as a couple of campsites with homeless people.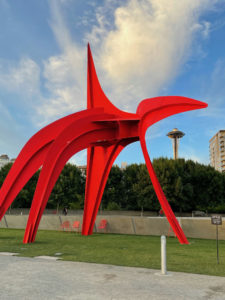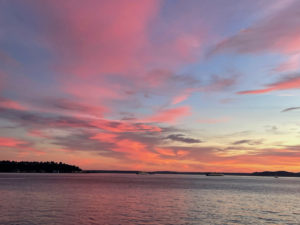 August 12 – August 31
During the latter half of August, I left my car in Seattle: flew to Denver and then to Atlanta and then drove to Bowling Green, OH, on to Athens, OH, and then to Columbus. I visited friends, took care of some necessities at home, and enjoyed my time. At the end of the travel and visiting, I was ready to hit the road again. I will admit that I enjoyed seeing old friends in Athens, but also was trying to remain fairly discrete, so as not to be pulled into some aspects of work during my sabbatical.
Hanging out with Paula Wishart and Mike Coomes in Ann Arbor
September 1
I flew back to Seattle and picked up my car. From Seattle, I went to Bay View State Park, my first of many nights in various state parks in Washington. Sue Mather suggested that I visit a place called la Conner, which was near my campground. I am so glad I did. First, I went to a restaurant called "Forks," named for the old logging town on the Olympic Peninsula. For over 20 years, I've been in search of a plate of shrimp and grits that matched a dish I had at a wedding in North Carolina in the late 1990s. I've tried shrimp and grits all through the South and the Midwest. It turns out, I had to come all the way to the PNW to discover it. I'd go back to la Conner just for the shrimp and grits, but it is just a lovely little town. It is a place I definitely want to return to. Next time, I'll take one of the river cruises that originate there.
The campground at Bay View had, well, a great view of the Padilla Bay. I saw it for the first time in the evening. The following morning, the water had receded, which gave it a different look and would have been perfect for oyster harvesters. A special feature of my campsite itself was that it was surrounded by blackberries. They made it into my morning oatmeal and made for great snacks throughout the day.
September 2
I drove to the port town of Anacortes, and hopped on a ferry to San Juan Island. Once I got there, I rented a bike and took a 12 mile map-led tour. The topography of the island reminded me of riding through the hills of Athens County. It was hard work! At one beach stop, I chatted with a retiree from the Indianapolis area. It was another in a series of conversations that I would say seem unremarkable, but are at the time appreciated for the warmth shared. The highlight of the trip, however, occurred when I parked my bike on the side of the road to walk a short 200 yard trail to the little lighthouse. No one else was in the area as I approached the lighthouse, but a bald eagle lit on the top as walked up. Against the clear blue sky, the eagle perched on this old lighthouse was quite a sight. It stayed for several minutes, while I had a chance to take in the view.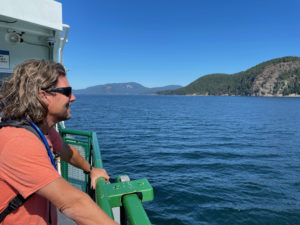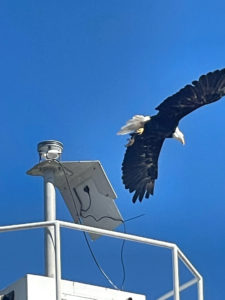 September 3
After exploring the previous few days, it was time to get to work. I traveled to beautiful Bellingham, a port town, which I will return to and say more about. But, today was a work day. I first went to the campus of Western Washington University, sat outside on campus and accessed the internet for a Zoom meeting. The campus was beautiful and very quiet; it turned out that the semester didn't begin until after Labor Day. After my Zoom meeting, I drove into town and went to the Public Library to do more work. After a few hours, I returned to la Conner, and went to the local craft brew pub. I had a wonderful mosaic IPA and met a guy named Mike, who had moved to La Conner several years ago, after growing up near Jackson, MS. He confirmed that la Conner is a wonderful destination and a great place to call home. I believe it.
September 4
This is a banner day. I returned to Bellingham, and walked around the city. My travel book referred to Bellingham as a smaller Portland. It is many things–notably, a college town, the gateway to Mount Baker, and a celebration of diversity. Truly a beautiful place. I also found a cool little neighborhood or suburb called Fairhaven. Fairhaven sits just beside the water and has a wonderful collection of book stores, cafes, and restaurants. I moved my campsite to a place near there–a HipCamp farm. Had a good conversation with a couple from Seattle, who were just enjoying the Labor Day weekend in the Bellingham area.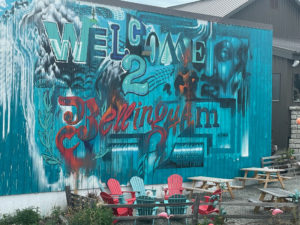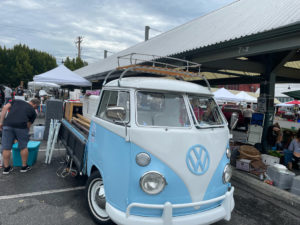 September 5
I went back to Fairhaven to do some work at a cafe, and then drove down the scenic Chuckanut Drive toward my destination–a whale watching tour out of Anacordes. The cruise was very cool, and I saw approximately 15 – 20 whales. I didn't want to just hold my camera up to the water, waiting for the whales to emerge. So, I decided just to take in the whale jumping without trying to capture their pictures. It was a beautiful 4 1/2 hour adventure. I returned that night to the HipCamp site.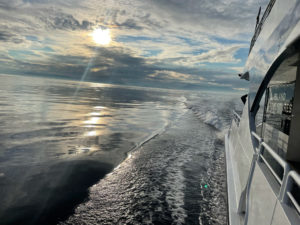 September 6
I started the day driving up Chuckanut Drive. I stopped to hike the Fragrance Lake Trail. This was a steep but fairly short trail (5.8 miles, out and back). It was my first hike in awhile, and it hit me where I needed to be hit. Beautiful trail with refreshing Lake Fragrance at the end of the trail.
I checked in at Larrabee State Park, my home for two nights. There was a beach trail from the campground. I found a rock cliff to climb on. Sat and took in the sights. Went into Fairhaven for a cup of coffee and some work, and then returned to the beach in the evening to watch the sunset over the bay.
September 7
I stayed at Larrabee State Park for another night. Spent the day in Bellingham, mostly at the Public Library. My campsite was near a train track. That night I counted 8 trains from the time I went to bed until I left my tent in the morning. If I go back to Larrabee, I'll pay a little extra for one of the campsites away from the tracks.
September 8
I drove through Bellingham, toward Mount Baker. I stopped along the way at Silver Lake State Park. Someone had told me about it, but I couldn't remember who! I hiked a beautiful 2 mile trail (easy) through the park. The lake itself didn't do much for me, but the trees along the trail were something to behold.
I traveled on toward the Mt. Baker National Park in search of the Heliotrope Trail. The drive up to the trailhead was about 8 miles off the main road: a very rough drive. At the top, the trail is 6 miles (out and back) with a 2,000 ft elevation gain. It is a beautiful trail, and the most memorable part is the mountain stream crossings. I crossed two, which both required a lot of caution. The third stream was on a steep incline, with a high volume of fast-moving water. There was no way to step on dry rocks to cross the stream. I climbed up the bank quite a way, and still couldn't find a way to safely move across. When I returned to the main trail, I ran into a couple who were content to turn back, urging me to do the same. I listened. As I headed back, I remembered there was a sign to what appeared to be a spur, labeled, "Climber's Route." I found it on the way back and went up a very steep incline. As I got close to the snow fields, the trail disappeared, and accessing the wisdom that kept me from crossing the last mountain stream (my body giving out was another sign it was time to turn around), I headed back down the mountain. An observation from the high altitude meadows: They were becoming noticeably less colorful than the high elevations from a few weeks before. But, there was still a charm in the emerging gold, faded green and patches of red berries–not to mention the beautiful purple wildflowers.
After leaving the Heliotrope trail, I drove toward Artist Point, which had a gorgeous view of Mount Baker. I parked below the vista point and climbed up the Wild Goose Trail (my favorite trail name so far). It was a great vista, but view of the top of the mountain was obscured by clouds. After grabbing some pictures, I made my way back down the Wild Goose and drove back to Silver Lake Park Campground, where I arrived late and spent a restful night.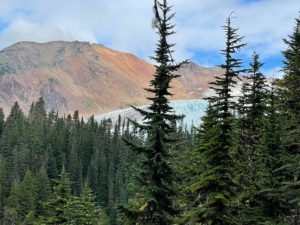 September 9
It was a clear day, so I got up early and decided to make the hour drive back to Artist Point. It was well worth it as the view of Mt Baker was very clear!
After enjoying the view of Mt. Baker, I headed back west toward Bellingham. I saw a sign pointing me toward the Nooksack Falls, in the Mt. Baker National Park. After a nice interaction with a retired couple from the area (and exchange of pictures), I continued my travels west, where I stopped at a coffee shop, off the beaten path, near Silverlake. While sitting outside, I saw a Stellar Jay hopping around the grounds. It is a bird I'm pretty sure we don't see out east.
I went back to Bellingham and spent a couple of hours in the library, and then headed down to la Conner to Forks restaurant to enjoy the shrimp and grits again before I left the area. It was worth the drive. I stayed the night be in the Bay View Park. Since I'd been there before, I knew the quieter sites, and stayed on what is called the "back loop." If you stay at Bay View, I recommend this part of the campground.
September 10
I headed toward Rainier, where I was scheduled to meet Ellen Edwards (who is from Athens and the daughter of my friend, Ken) to tackle a couple of hikes over the weekend. I was ahead of schedule for our meeting, so I stopped at the Maple Valley Library to do some work. Ellen, her hiking buddy, Ken (not to be confused with her father), and I met in the early evening at the White Pass Lodge. We then headed to public lands to spend the night, rent free, before our big hike the next day. Shortly after we got to the site, a couple emerged from a trail. they were 70ish year olds, carrying large and heavy packs. We learned that they were hiking the entire Pacific Crest Trail. They were a bit distraught because they learned their ride to Packwood, where they were planning to spend the night, was not going to be able to take them. After a short conversation, they hiked out to the main road, hoping to hitchhike to Packwood as the sun was going down. After 45 minutes or so, Ellen, Ken and I decided to check on them, and found that they were standing out by the dark road. We discussed the situation, and Ken pointed out that Packwood was as close to the trailhead for tomorrow's hike as was White Pass. So, we consolidated our supplies and gave them a ride to their destination. We wound up finding another National Forest open space where we could sleep for the night.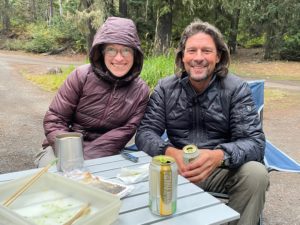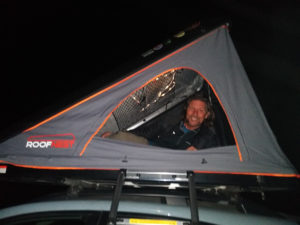 September 11
We got up early in the morning and headed into Packwood, where we grabbed a hot drink and morning pastries at Mountain Goat Coffee. I had a wonderful raspberry pastry. Then, we headed up to Paradise to start our hike to Muir Camp, which is a basecamp for climbs up Mt. Rainier. It was 11am before we got started. From the trailhead we had a clear view of The Mountain (as the Washingtonians call it). There were a lot of folks on the Paradise Trail, but far fewer when we veered off toward the base camp. After exiting the Paradise Trail, the majority of the hike to Muir was through flat, loose rock piles and snow fields. Ellen and Ken had brought extra crampons, which I carried until we reached the snowfields. Whether because of the altitude or just the challenge of the hike/climb, I started to get light-headed and questioned whether I'd be able to make it. Ellen led the way, followed by Ken and I brought up the rear. Ellen and Ken are frequent hikers in the high elevations of Washington state. While I'm in pretty good shape for a 61 year old, I was clearly not in the condition they were in. As I started to get light-headed and exhausted, I began to look ahead with concern about the distance we still had to climb. The trailhead elevation is 5400 ft, while the Muir camp is just over 10,000. In addition the challenges of the elevation, climb and footing, there were deep crevasses that we had to navigate around, which added considerable distance to our hike. Ellen and Ken would have to wait for me whenever they got to a crevasse, so we could develop a plan about how to navigate these deep gaps in the earth. As we continued up the mountain, I realized I was stopping for rest every 5 – 10 steps. Ken and Ellen had both given me strategies for moving forward in the midst of this kind of challenge.
Two things they suggested: 1) Take slow steps; and 2) think of a word that would serve as a motivator for continuing. I started experimenting with words–the names of people I care about, and other words, representing the challenge–e.g., "strive." Both of these approaches worked for a little while, but then I fell back into the 5 – 7 step series and then resting on my hiking poles. As I looked ahead, I knew this would not get me there. So, I tried counting, with the plan to take 50 steps without resting. I wound up moving ahead with groups of 40 – 60 steps. I also stopped looking too far ahead–just focusing on the series of steps. A few times, I looked behind me to see the progress I had made. That allowed me to rest and to appreciate my accomplishments so far. After some time, and with the campsite in view, I did make it to the top–exhausted and proud of what I had done. I joked with the Park Ranger that I would pay big money for a mule to take me back down. (There were no mules in sight.)
There were not many people on top of the mountain. Perhaps 3 other groups. Two couples and one larger group of 7-8 people. One of the couples had followed us up the mountain. They were younger–probably in their late 20s to early 30s, and they were wearing trail runners. No crampons or special hiking boots. I talked with that couple. They said they had just planned to hike the Paradise trail, but decided to start the other trail. Apparently, they were early in a dating relationship. They expressed having similar feelings and fatigue to what I experienced coming up the mountain. In fact, the woman said that she twice stopped and cried on the way up. I felt a great deal of empathy and camaraderie with them and respect for their efforts.
After about 45 minutes to an hour on at the camp, we started our descent. We spent more of our descent on the snowfields, bypassing the rocky terrain as much as we could. While not easy, the descent was easier. When we arrived at the trailhead, about 9 hours after we started, I was beat. I was skeptical that I'd be able to do the relatively hard climb the next day.
We went back to Packwood, having a beer at the Brewery and then a pizza at another restaurant. At the brewery, we met two PCT hikers–one, Eli, was an IT worker from Louisville, who apparently regularly takes breaks from his life, sells possessions and sets off on these long term adventures. The other was a young Belgian guy who I didn't get much of a chance to talk with. Ken, Ellen and I returned to our campsite in the national forest with Eli and the other hiker in tow. I rested well in my tent.
September 12
We started the day again at Mountain Goat. On the way to town, three elk crossed the road in front of me. Pretty cool. At the Mountain Goat, I enjoyed a vegetable scone, which was a lot like a most excellent quiche in scone form. We then headed for Sunrise, WA, where we would start our 10 mile hike, with close to a 4,000 ft elevation gain. One of the signature vistas has a great view of Mt. Rainier. However, we weren't able to see the mountain at all because of the clouds. Still, the hike was beautiful and challenging. I was surprised by my recovery from the Camp Muir hike the previous day, but was exhausted by the end (as illustrated below).
At the end of the climb, Ellen and Ken returned to their respective homes in the tri-city area, and I went back to Packwood–had really good tacos and a beer at the brewery, and then went back to the camping spot–this time alone.
September 13
With some reservation, I left the Mt. Rainier area and headed toward Port Townsend on the Olympic Peninsula. Because of the beauty of the places I've visited on this adventure, I often have some ambivalence about leaving to go to a new place. That was the case with this transition as much as any I'd made. I was attached not only to the grandeur of Mt. Rainier, but also the potential for what I could experience there–more great climbs and vistas. But, I also was aware that I could wait there for days and not have another good view of The Mountain. It seemed the best course of action was to pick up and move forward. And I knew the Olympic Peninsula and Olympic National Park had a lot to show me and teach me. So I moved ahead.
After my extreme-sport weekend, I decided it was time to rest and relax. So, I checked into the Fort Warden State Park, near Port Townsend, and immediately headed for the downtown, where I discovered the Vintage wine bar on the waterfront. After having a glass of the red blend, I headed a wonderful little bookstore called "Phoenix Rising." It has a new age feel. While it didn't have a huge collection, it had a number of books that enticed me. I ended up with "Morality: Restoring the Common Good in Divided Times," an analysis of the world today by Jonathan Sacks.
After the bookstore, I headed to Doc's Marina Restaurant. I was lucky to find a seat at the bar at this very popular restaurant, which I'd read about in Lonely Planet. I sat next to a professional photographer, Mark, who suggested I check out Indian Island, and gave me specific directions to get views of an interesting sea life culture. I had a wonderful seafood pasta. Luna, the bartender, was engaged with the bar patrons. I support Lonely Planet's positive review of this restaurant. If you're lucky enough to get an outdoor seat, the view is excellent.
September 14
I spent the morning finding and then exploring the area of Indian Island described by Mark, the photographer. It was certainly beautiful. After that 1 – 2 hour adventure, I went to the library to do some work, and then went to the tasting room for the Vintage winery. This time I had a glass of the cabernet. It was awesome. Because of my full car and inability to properly care for a bottle of wine on my travels, I didn't buy a bottle, but will be ordering it when I get a chance. I went back to the Doc's Marina for dinner, but it was closed, so I went back to the campsite and enjoyed a freeze-dried dinner.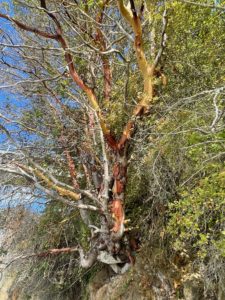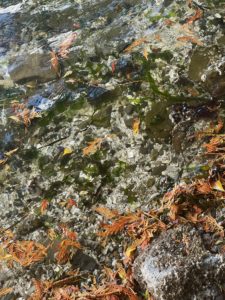 September 15
I started the day by going back to Indian Island, hoping to have access to more of the coast (if the tide was out). I think it was a bit better, and I took a few more pictures, before heading off for Port Angeles and the Olympic National Park. Port Angeles is a little smaller than Port Townsend, but boasts access to the national park and the the wonderful Hurricane Ridge, which is a view point for the Olympic Mountain range. On my way up the mountain (to Hurricane Ridge), I stopped and checked in at the Heart of the Hills, an Olympic National Park Campground. The view from Hurricane Ridge was majestic, if a little obscured by clouds. I went back down the mountain and searched for a brew pub. I found it at Hangar 19, near an old local airfield. Had a smooth red ale, and headed back to the campsite to prepare for the next day's hiking adventure.
September 16
The trailhead for the Lake Angeles trail is very near the Heart of the Hills Campground. So, I took a short drive to the trailhead and prepared for what I expected to be a loop from the Lake trail, up to the Klahhane Ridge Trail and back to around to the trailhead (not an out and back). This loop has a pretty long spur that many overnight campers take. With the spur, many people take 3 days for the hike. I planned to do the hike, minus the spur, in one day. So, I started fairly early in the morning, after consuming an eggs and sausage breakfast. The first part of the trail to the lake was in the shadows, even though the skies were clear. Once I arrived at the lake, I bumbled around before I found the Ridge trail. The ridge trail, in particular, was steep and often had precarious footing. The rewards were great with wonderful panoramic views of the Strait of Juan de Fuca and Canada on one side and the Olympic Mountain Range on the other. On the ridge, I met a married couple (man and woman). It was the woman's 71st birthday. She shared that she was from Colorado. She loved Washington, but it was easier to get out and hike year-round in CO than in WA, because of the ongoing rain. But, challenging hikes were her thing. We had the entire conversation, as we stood side-by-side on a narrow ridge where a fall would not have turned out well. I walked away from the conversation respecting her/their continued interest in exercise and nature, and our mutual trust in a potentially precarious place. As I continued along the trail, I mistakenly took a switchback trail down from the ridge. By the time I discovered what I had done, I felt like there wasn't enough time to finish my loop. So, I went from the bottom of the switchback trail onto an ascending trail back to Hurricane Ridge. Once I arrived at Hurricane Ridge, I had hiked almost 7000 ft of elevation gain. I was spent. The next challenge was to find a ride down from the Hurricane Ridge visitor's center to the trailhead. It would have been a 9 mile hike back down, and I really wasn't excited about that. All of the cars on Hurricane Ridge had to pass by the trailhead as the road ends at the ridge. I had talked to two solo hikers (One was truly a great conversation and connection) on the trail about the possibility of a ride, but they were each probably 30 to 45 minutes behind me by the time I got to the visitor's center. After walking around, I saw a young guy get into his SUV, and I waved him down. When I told him I was looking for a ride part way down the mountain, he quickly said, "Sure." His name was Daniel. He had recently completed his military service, and was on a similar adventure to mine–a 6 month adventure around National Parks in the Western US. He started in Florida, and was halfway through his journey when we met.
September 17
Friday was a library day. I spent most of the day in the library. It was rainy and cold. The night before I had gone to the municipal pool to take a shower ($6!). Overall, my mood was low. I was tired of camping, especially in the bad weather. At times during my journey, my mind has been heavy with the burden of spoiled relationships in my past. This was one of those days. I was in a funk. I knew it would pass, but I was hoping it would do so sooner rather than later.
I went off to explore Port Angeles' finest pubs. I found the Next Door Gastro Pub, where I enjoyed a wonderful plate of "Crab Puppies." When I was driving back up the mountain, I stopped at the ranger checkpoint, and learned that the park service was recommending that campers evacuate the campground where I was staying due to high winds. I found some relief in not spending another night in a cool and rainy campground. So, I returned to Port Angeles, and got a motel room for the night. I was so happy to be staying inside, have a shower and a toilet, and enjoy a comfortable bed. I was still hungry, so went to Bourbon West for, guess what–a bourbon (and a couple of tasty tacos).
September 18
I left Port Angeles and headed for the town of Forks, still on the Olympic Peninsula. Forks is known as the town where the popular Twilight vampire services was shot. It is also the gateway to the Hoh Rain forest. I stopped in Forks at a general store, where I bought a sweatshirt. I only had one with me, so needed to layer up as I moved into cooler weather. I then went to Hoh to run a trail. One of the good things about my cartop tent is that I can pop it up quickly pretty much anywhere, to take a nap or to change clothes. I popped up the tent and changed into my running clothes and set off on the run. Pretty early in the run, I tripped over a large stone with my phone in my hand, and cracked the screen. (Bummer) But, I picked up and started running again, this time with my phone in my backpack. The trail was slippery, rocky and with roots to step over and around. I tried to balance looking at the footing while also paying attention to the beautiful rain forest. I went a total of 6.5 miles, walking several times to negotiate pools of water and otherwise challenging footing. I also stopped to take a few pictures. Most of the trail I was on was pretty heavily traveled, and I enjoyed the calls of fellow hikers: "Way to go!" "Keep it up!" These little encouragements boosted my spirits.
From there, I drove to Kalaloch Beach, on the west coast of the Peninsula. It was refreshing to be on the coast.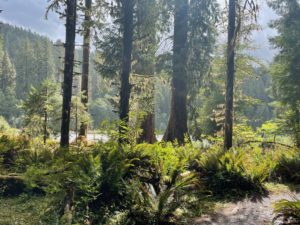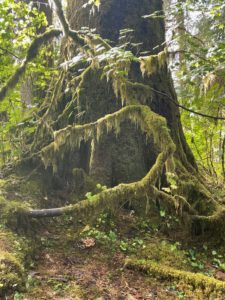 September 19 – 20
I left the beach and headed to Olympia, where I was picking up something from Susie Coomes–sister-in-law of my friend and former professor at Bowling Green State University, Mike Coomes. Graciously, Susie invited me to stay a couple of nights, do my laundry and enjoy her home cooked meals. Susie and I spent both evenings splitting a bottle of wine and laughing a lot. I'm grateful for my time with Susie. I should also mention that I used the opportunity to find a new organizing strategy for the many things in my car. I went to both REI and Target for containers, bags and shelving to put in the back of my car. I will now take far less time digging through the back of my car for socks, flashlights, etc.
September 21
I said goodbye to Susie and headed toward the Oregon Coast, arriving at Astoria in the middle of the afternoon. On the way to Astoria, I had a call with Jenny Bloom, a friend and the founder of Appreciative Advising. I'm grateful for my friendship with Jenny and her husband Steve Sanderson (who regularly comments on my FB posts!). Jenny always provides me with new insights about my work/our work. I skirted Astoria and found my campsite at Fort Stevens State Park. From there, I went for a run to the beach, where I had a wonderful and refreshing walk, listening to songs a friend had shared with me on Spotify. I love sharing song, especially when I like the songs I'm receiving even better than my own playlists!
I had dinner at the campsite and enjoyed my first campfire on the journey! Fires were forbidden throughout the mountain states and in Washington because of the climate issues and related forest fires.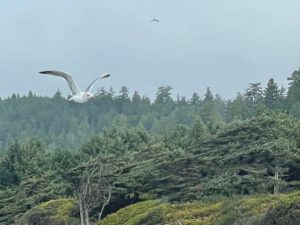 September 22
I slept well and woke up to drizzly weather. As weather often drives my schedule, I headed into Astoria to find places to work. This was a day of catching up on my travelogue. I started at a little coffee shop downtown. Although there was no indoor seating because of COVID, there were a series of tables on the sidewalk, covered by an awning. The rain was light. After enjoying a coffee and a pastry at the Astoria Coffee House, I walked around the historic downtown. This place had more per capita quirky, vintage stores than I've seen anywhere. It was a really cool vibe in the downtown. After walking around a bit, I went to the Astoria Public Library, where I spent most of the day. That evening, I went to Fort George Brewery for dinner. They did a good job of spacing people out at the bar. I ordered an IPA, and a young guy sitting down the bar from me started a conversation. He was a 24 year old military veteran from Oregon. We couldn't hear each other very well, so he asked if he could scoot closer to me. I asked if he was vaccinated, and he replied, "No, God will take me when he is ready." I said, "Oh, so do you put your hands on the steering wheel when you drive your car?" We moved on to other topics before I decided to go to the downstairs restaurant, where there was outdoor seating and a more extensive food menu. There weren't any available tables in the covered, semi-outdoors area downstairs, but a guy who was sitting in a large table by himself, nodded to indicate that I could join him. It turned out that he was visiting Astoria from Toledo, OH for work. We seemed to have more in common than the young guy at the bar and I did.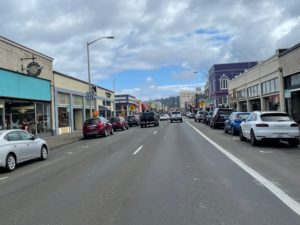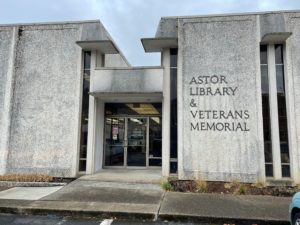 September 23
I drove south on the coastal highway to the Cannon Beach area. I first stopped at Indian Beach. It was a beautiful setting. I ran back up to my car to get my journal, and sat on one of many logs that was on the beach. I drafted a poem. Something about this experience has prompted me to try my hand at poetry. I'm not prepared to share any of these (yet). I would only say that I am very much a novice and it is the first time I've drafted a poem that didn't start with, "Roses are red, Violets are Blue. . ." But, the coast in this Cannon area is just striking. On Indian beach there is a series of rocks–different sizes and shapes. They stand in clusters, each catching crashing waves from the Pacific Ocean. The Indian Island lighthouse is another landmark that stands out on this beach. After spending an hour or more on the Indian Beach, I went down to the Ecola Beach Park, where there was a trailhead for the beautiful Crescent Beach, not to mention a sign commemorating this as a site for the movies, Goonies. I hopped on the trail to Crescent Beach. The surroundings were green and lush. One of the most unique parts of the landscape, relative to my other hiking experiences, were the large swatches of ferns. At the end of the trail was a set of wooden steps that descended to the beach. Instead of looking at the steps, I scanned the beach, which looked magnificent. I was suddenly awakened from my gazing descent, when I stepped into a hole. A step was missing. Fortunately, my hands were on the rails as I dropped down into the hole. After I shook off that little scare, I thoroughly enjoyed my time at this unique and pristine beach, and then made my way back up the trail to my car.
The local state park camping ground was full when I got there, so I wound up staying at a private marina, where I had a great conversation with my campground neighbors–an older couple who were tent camping (on the ground).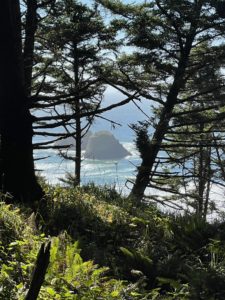 September 24
I decided to drive south to Newport, which is notable because it is the other large port (beside Astoria) on the west coast of Oregon. On the way, I stopped to see the port at Depoe, which claims to have the narrowest natural navigable harbor. This seems to be true. Again, the state parks near Newport did not have vacancy, so I proceeded south on the coast to Waldport, where I grabbed a spot at a KOA campground. I felt like my exercise was dropping off, so I ran on the bridge across the Alsea Bay. The wind direction and temperature changes were a shocker. The bridge and bay were beautiful! I decided to pick up Chinese food from a restaurant in Waldport for dinner. My first time eating this fare since I started on my journey.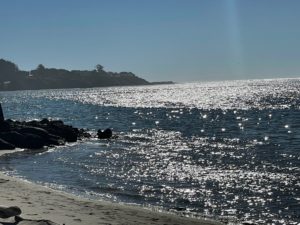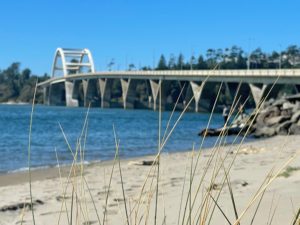 September 25
I went to Newport from my campsite on this grey day, deciding it was a good day to do some work. The library was closed on Saturdays, and I couldn't find a good independent coffee place, so I settled for a Starbucks in a strip mall. After working for a couple of hours there, I headed to the harbor. I parked the car and went into an art gallery, which was nice and beyond my budget. The street was a little too busy, and I needed to get something to eat, so I decided on the Rogue Brewery, a well-known national landmark among craft beer aficionados. I ordered a flight of beers (i.e., a sampler) and a salad. Both were delightful. I was joined at the bar by a couple, Denise and Will, who were celebrating their 25th anniversary. We hit it off and shared stories of love and loss. I know it sounds corny, but it was really awesome. The conversation prompted me to reflect on my relationships, and I am grateful for my new friends. I knew this was going to be my last day on the Oregon coast for a while; so I pulled over on the way back to my campsite, and took in a cool, rocky beach site along the way.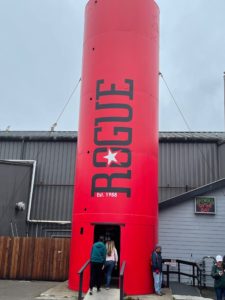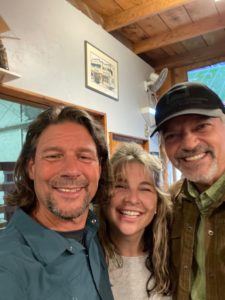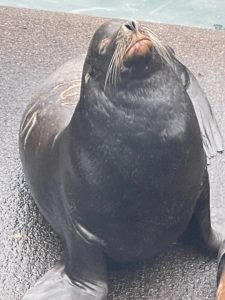 September 26
I left the coast and headed for Eugene, home of the University of Oregon. As it happened, Corvallis, which is the home of Oregon State University, was on the way, only an hour drive from Eugene. My little detour into downtown Corvallis; what a charming college town. The weather was great. The downtown has cool independent restaurants, coffee shops, art stores and, of course, bars. I stopped at a small coffee shop for a to go coffee. Made a mental note that this would be a great place to return to, or to encourage adventuring graduates from our HESA program to check out when they are job searching.
From Corvallis, I headed to Eugene, where my first stop was a trail head. The hike is about 6.5 miles, out and back, with a 1500+ foot elevation gain. So, it was pretty good exercise after a few days of taking it easy.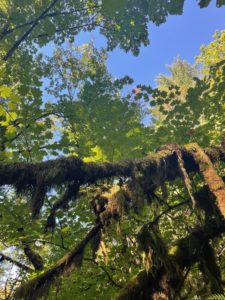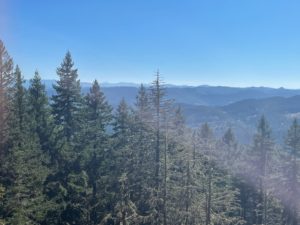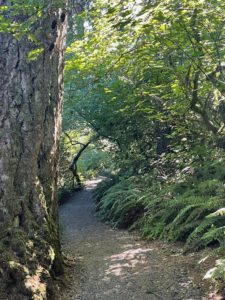 After the hike, I headed to the home of Lezlee and Randy Ware. I had visited the Wares at their home in Coeur d'Alene a few weeks earlier. Fortunately for me, they had recently moved. They provided great hospitality, as always, with good company, a good dinner, and laundry facilities. After the visit, I headed to a nearby campground for the night.
September 27
This was mostly a day of travel, but I started at a coffee shop in Eugene to do some work. After leaving Eugene, I made my way up toward Portland. I stopped at the Sokol Blosser Winery, where I had a glass of Pinot Noir, the go-to wine in Oregon. I arrived in Portland and was hosted by Amy and Scott Robison, former colleagues in the College of Education at Ohio University. They, along with their two boys, were wonderful hosts.
September 28
Amy has a pretty flexible work schedule, so she and I went to capture some sights in downtown Portland. The current state of Portland–and particularly the prevalence of homeless people–is common knowledge, and I saw it in spades in the time I spent there.
My priority was to see Powell Books, the mammoth bookstore. It was, indeed, a bibliophile's delight.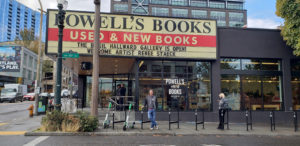 After spending an hour or two there (and it could have been a full day), we went to the Chinese garden, which was built through a partnership between the city of Portland and their sister city in China, Suzhou. The garden was magnificent. It was surrounded by walls and in the midst of an area of the city with missions for the homeless. It was a notable contrast between what was inside the walls and outside of them.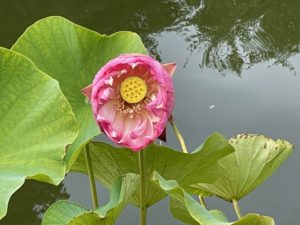 From the China garden, we went to Voodoo Doughnuts. I left there with a chai flavored doughnut and a sugar rush. From there, Amy and I went to the Grotto, a Catholic haven on Rocky Butte, a cliff that is on the edge of Portland. It is a center for meditation, and a peaceful site in this large city. Not having eaten many sweets in recent weeks, I was crashing from my afternoon snack, but it was still an inspiring place.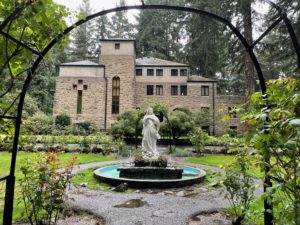 September 29
This was a great day. Like my other Portland friends, a former student from Harlaxton College in the UK from 1985 to 1987, Vivien Kildani Crew, invited me to see the sights along the Columbia River Gorge, and a few wonderful waterfalls, including the most notable, Multnomah Falls. The sites were terrific and it was a wonderful reunion. In addition to our sightseeing, Vivien brought along her yearbooks from the time we were together decades before, and we had an awesome time reminiscing and appreciating the opportunities and growth we had both experienced over the decades since we were together at Harlaxton.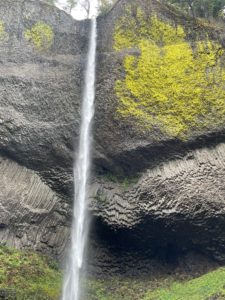 September 30
I started the day by saying goodbye to my friends, the Robisons. Cole was perhaps ambivalent about our farewell. See picture.
After leaving the Robisons' home, I headed to a breakfast place to meet with another former student, Charlie Collier. Charlie was an RA when I worked in residence life at Emory University in the early 90s. Our path crossed again a few years later when I was serving as assistant dean at Duke University and Charlie was a graduate student in the Divinity School. We had a wonderful visit, but it was too short, as I had to hightail it to a library to set up for the dissertation defense of Jonathan Duraj. With the help of a librarian, I was able to procure a relatively quiet corner and shepherd the virtual meeting. It was a smooth defense. Congratulations to Dr. Duraj!
After the defense, I set out for and arrived at my campsite in Silver Falls State Park in the late afternoon.
October 1
The Silver Falls State Park Campground is near the trailhead for the Ten Falls Trail. It was about a 10 mile hike with spurs, and 9 of the 10 falls were amazing. (The Winter fall was not at its best in the early fall.) Two of the falls included a cave behind the fall, so there were pretty cool views both in front and in back of the falls. During the hike, I was wearing my Berry College hat (alma mater of my daughter, Emily). I was surprised by someone who asked if I lived in Rome (GA); she had lived there, so knew this little awesome part of the world in the north Georgia mountains. As usual, I made some other friends along the way, and swapped picture taking with one couple, so we could all prove we were at the falls.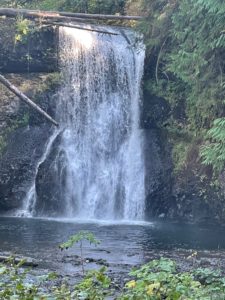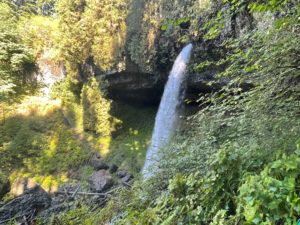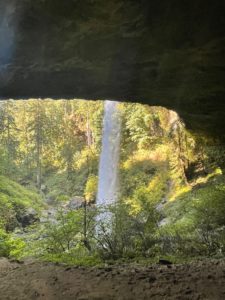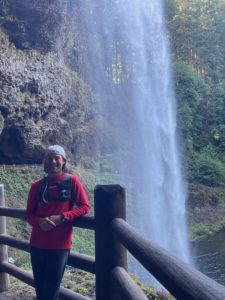 After my hike, I made my way to the town of Sisters, where I camped off the road in a National Forest. By the time I found the campsite, it was late and quite dark. I felt pretty fortunate to find the campsite this late!
October 2
I left the campground and headed west and south to the Blue Lake trail. It was a beauty, with lots of lava residual, much of it covered in bright green/yellow moss.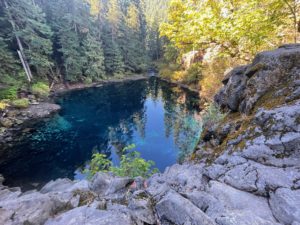 From the trail, I went to the town of Bend, and happened on their fall festival weekend. It was a wonderful and spirited town. Had a similar feel to Boulder with high end shops, including art stores, mountain and outdoor wear, and nice tourist shops. There were also nice restaurants and hotels in the downtown.
I knew there was a State Park south of Bend, in my intended direction. When I arrived at the park, I found that the campground had closed at the end of September. This was true for many of the campgrounds in mountainous areas because of access and risk issues due to snowfall. So, I bit the bullet and booked a hotel in Bend (not one of the nice downtown ones). But after not taking a shower for a couple of days, it was nice to have conveniences such as indoor plumbing.
October 3
I retraced my steps from the day before, heading south out of Bend. On the recommendation of my friend, Charlie, I stopped at Lava Butte, and had a wonderful conversation with Ginny, a Park Service volunteer. She gave me an introduction to the local history, geography and culture of the area. Ginny is among the many retirees who volunteer their time in the national and state sites of interest.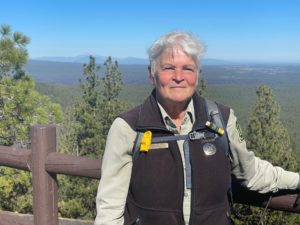 After my fairly brief stop at Lava Butte, I headed south to Crater Lake, a magnificent site.
I'd seen pictures of Crater Lake, but the place really takes one's breath away. The sky was very clear and the water was a striking blue. There were several places from which I could capture amazing images, the best of which was at the top of a pretty challenging trail.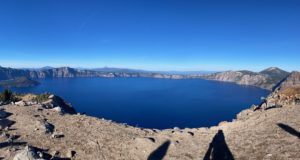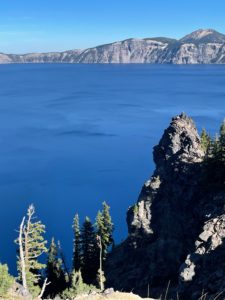 October 4
It was my plan to drive back to the Denver area to recoup from all of the time I had spent in my tent over the past few weeks. But at the apex of the trail at Crater Lake, I had a conversation with a fellow from Reno, who told me the views at Lake Tahoe had cleared from the summer fires. So, I decided to drive down through California to Tahoe, rather than taking the shorter route to Denver through southern Idaho. That path meant driving on an interstate that goes through the Reno area. The traffic was terrible. There might be a nice downtown in Reno, but I just saw miles of fairly modern strip malls in the middle of the desert. I didn't think this place was for me.
When I arrived at Lake Tahoe, I immediately went to the closest state park, which had no vacancy. The camp manager pointed me toward a private campground near the lake, and fortunately for me, within walking distance of a public library, cafes, restaurants and the lake itself.
October 5
I worked through the morning, and then went on a trail run/hike in the middle of the afternoon. According to the reviews on my trail app, the Saddle to Ski Run Trail was 4 mile trail (out and back) with great views. Unfortunately, the views were obscured by smoke, but it was a really good trail, and not heavily traveled on this day. I did see a few mountain bikers, though.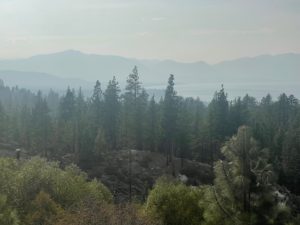 In the evening, I was very fatigued, and just read and did my best to rest.
October 6
I walked down to the water in the morning, and got a nice picture of the shoreline, a mountain, and the clouds.
I then headed out on Hwy 50 from Lake Tahoe to Grand Junction in Utah. After hitting a couple of towns very early in the drive, I ran into a desolate road, with large swatches of plains, broken up by mountain ranges along the way. I wasn't feeling well, and just persevered. Seriously, there were very few towns in the 400 or so miles of road that led to the Utah border. As I studied my Atlas, I noticed that highway had both a number and a name. The name was "The Loneliest Road in America." I concur. I didn't make it quite make it to the Utah border. At one point, mid-afternoon, I saw a sign to a campground; I pulled into the campground and tried to take a brief nap. My throat was killing me, and I just wanted to get farther down the road to get closer to my destination–Denver and family. As dusk set in, I saw a roadside park on a hill off the side of the road. I pulled in there, and had a quiet night. There was another camper in the little park. The RV seemed to be pretty settled in. The lights were on in the camper, but I never saw anyone outside. I wondered if it was legal to camp overnight there, but I really didn't feel like I had much choice. I popped up the tent and had a pretty good night of sleep, despite my very soar throat.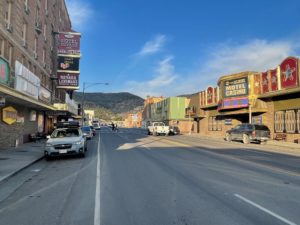 October 7
This is a day that will live in infamy (for me, personally). My goal on this day was to get to Great Basin National Park. It is best known for caving. I did not make reservations for a cave adventure, and so I only made the waiting list, without much hope of being able to see one of the magnificent caves. So, I decided to hike to Baker Lake–an out-and-back trail that is close to 11 miles, and with a pretty significant elevation rise up to the main view, Baker Lake. My throat was still pretty sore. As I dug through the jumbled mess that is the inside of my car to organize what I needed for the hike, I wound up closing up the car and locking my keys inside at the trailhead. Unfortunately, there was no cell service there. About half a dozen cars were parked in the area of my car. There were two trailheads, marking about 4 different trails. I really wanted to get up to see the lake. As it was pretty early in the day, I assumed I could figure out how to get out of my predicament when I got back to my car at the end of the hike. Specifically, I thought I'd meet people at the trailhead who could help me in some way. As it turned out, I only saw one couple hiking on the same trail I was on. They were older than I, and they were taking a lot of time. (I passed them on the way up and on the way down, and on the way back they were still pretty early in their ascent in the last mile or so of the "out" part of the trail.) As I was hiking about 3 miles from my car, my phone buzzed, so I knew i had cell service there. I stopped and called a friend to look up the ranger station phone number, so I could see whether they could help. When I did call, I was told that the one law enforcement officer for the Park had called in sick, so there was no one on staff to help me into my car. Momentarily, I considered that the absence of the police officer might provide other opportunities at the campground ;). But, instead of exploiting that reality, I called AAA for the first time in my 14,000 mile and several week journey. They told me it would take some time to get to me, and they seemed to be unfamiliar with the roads in the National Park. I gave them the best directions I could and speedily headed back down to the trailhead. When I arrived there, mid-afternoon, I popped up my tent and climbed into my sleeping bag, as it was pretty cool up at this elevation. Whenever I heard someone outside, I would unzip my tent and peek out. I ended up having a few good conversations from my car top perch. The first was with a guy who had seen my Bobcat license plate and said that he was an Ohio University grad–both bachelors and masters degrees. Another guy was wearing an OSU sweatshirt. The most notable conversation was with a couple from Wisconsin. As their car pulled away from the trailhead parking lot, the car stopped and the woman ran over to my tent with a handful of food–granola bars, and orange and a small bag of trail mix. She had earlier asked if I would like a ride down to the ranger station, but the park service staff already knew where I was, so I didn't think it would be helpful, especially with AAA coming. When she came over with the food, she said, "We're concerned that you might get stuck here overnight. We hope this helps–from one Midwesterner to another."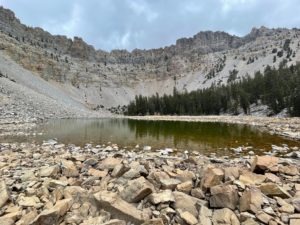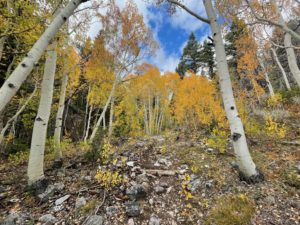 After waiting for 3 hours from the point of my call to AAA, the rescuer came. It took him about 30 seconds to open my door, and then I was off. I decided my next stop would be Grand Junction, CO.
October 8
I got to Grand Junction. Still not feeling well because of what had become a pretty bad head cold, I decided to stay at a Hampton Inn in Grand Junction. It was good to have a shower and a flush toilet. I walked down the street from the hotel to the downtown on what was a pretty dreary late afternoon. The downtown was very pedestrian friendly, and had cool shops and restaurants. I opted for an Indian restaurant, taking my food back to the hotel to clean out my sinuses.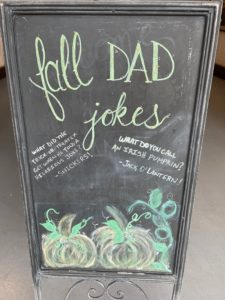 I rested well and looked forward to getting all the way to Denver the next day.
October 9
I arrived back in Denver, initially planning to stay in a hotel again because of my cold. I didn't want to inflict it on family members. It turned out that there was already a cold in the house. So, I just stopped at Walgreen's and got a COVID rapid test. It turned out to be negative, so happily cancelled my hotel reservation and stayed with family while recouping and focusing on my sabbatical and work with dissertation students.
October 10 – 30
I stayed in Denver for awhile, resting my car and tent and visiting family and friends. There were a few hikes and visit from Anna, who became my host for the next few months of my sabbatical year.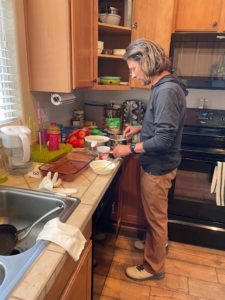 October 31 – February 26
At the beginning of this four month period, I travelled to Ames, Iowa to spend time with Anna and Floyd. It was a wonderful time. I made new friends in Iowa, and made occasional trips to other places, noted below: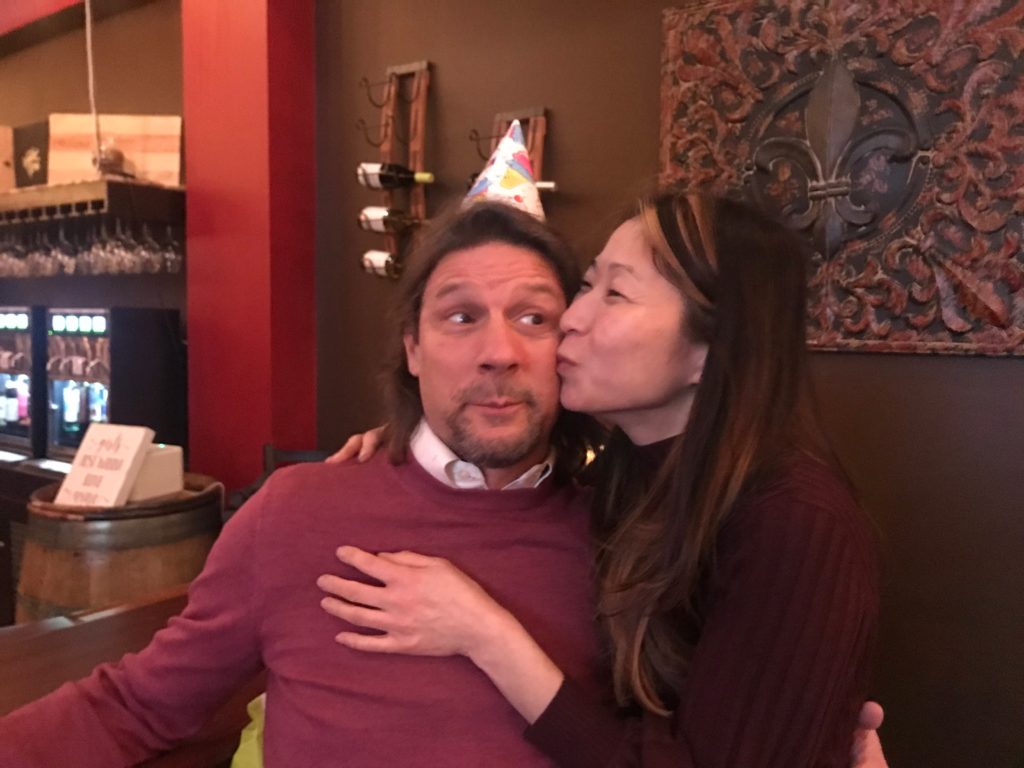 Birthday at Della Viti in Ames
Early January with Emily and Sophie in Asheville, NC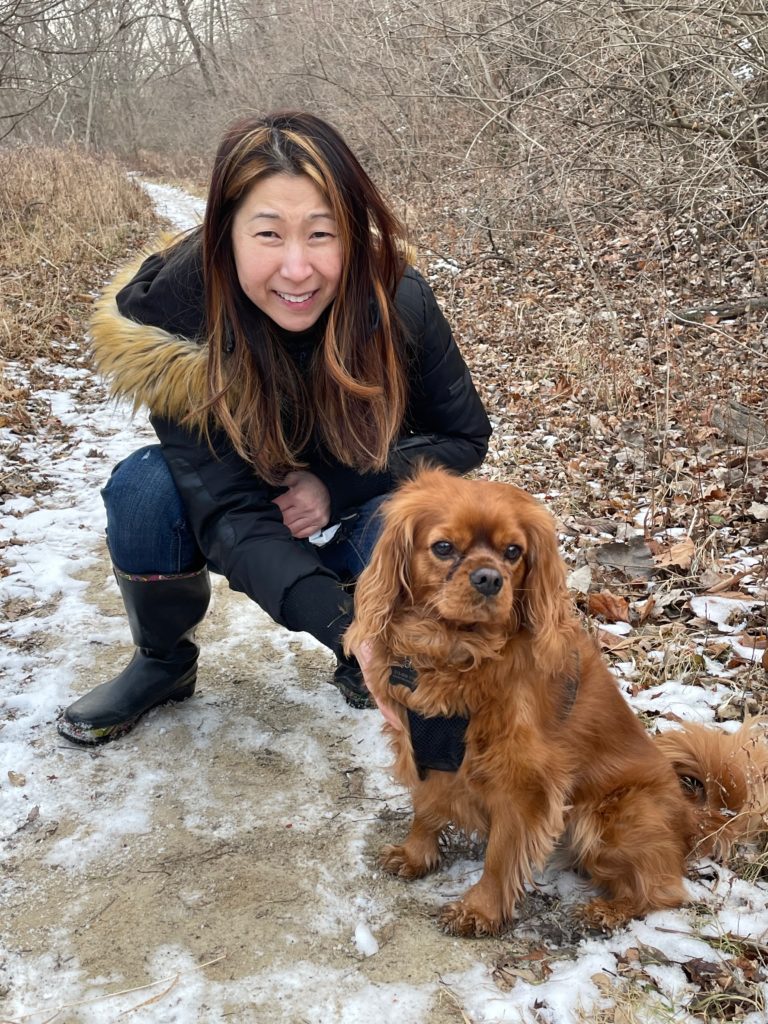 Good Times with Anna and Floyd in Iowa
New York City with Fellows, December 2021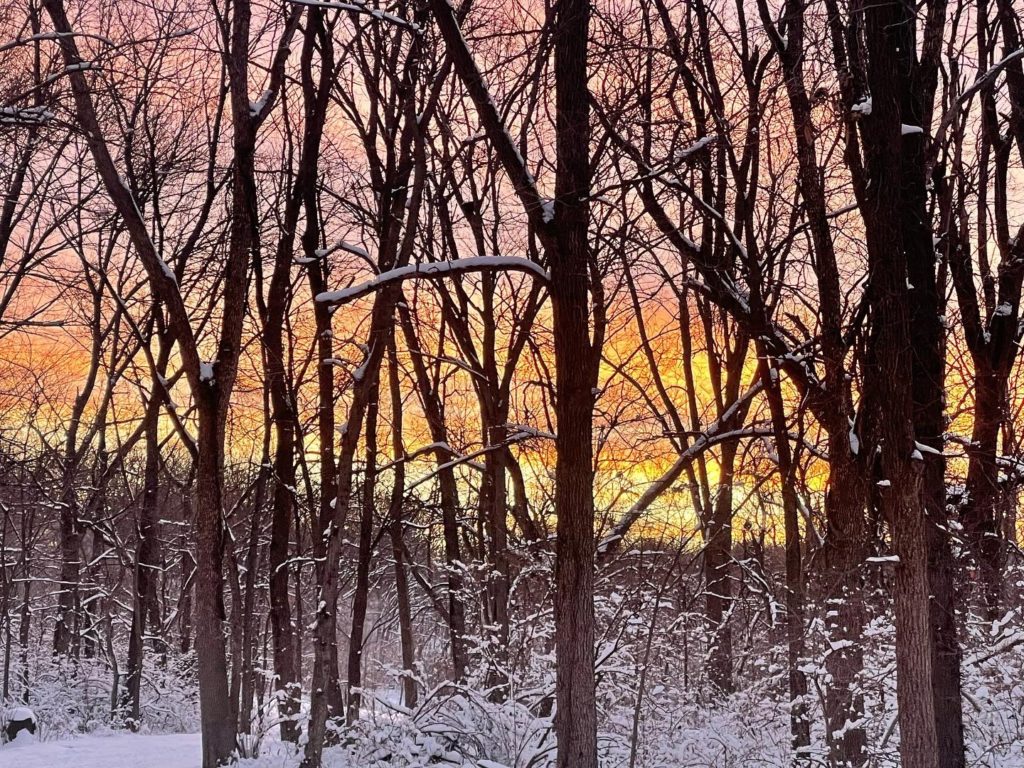 Morning at Carr Park in Ames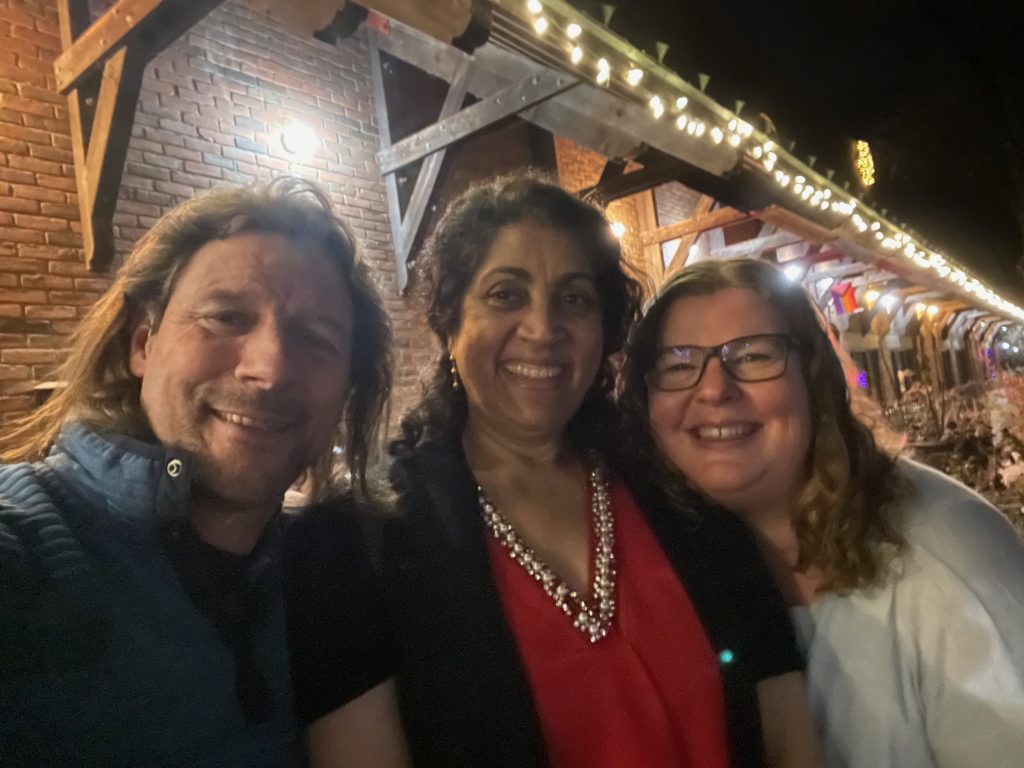 December in Athens with Work Family
February 27
I made a long drive from Ames, Iowa to Denton, Texas on my way to the Southwest Texas border. Dale and Molly Tampke, former Athens, Ohio residents and (current) wonderful friends put me up for the night. I'm always grateful to see Molly and Dale. They are missed in Athens!
February 28 – March 3
I drove from Denton to Corpus Christi and set up camp at the White Cap Beach at Padre Island Beach. The beach was beautiful, if a little chilly during most of my stay there. But, all is all, it was great to be camping again. The experience of waking up outdoors–and particularly in a place as peaceful as this beach–was wonderful and took me back to my glorious travel from the summer and early fall of 2021.
One of my activities during my stay on the beach was an interview with the Vice President and Associate Vice President for Student Services and Engagement at Texas A&M-Corpus Cristi. This Hispanic Serving Institution campus is located very near the Gulf of Mexico–a pretty nice setting for students. The leaders I met with highlighted how their work has transitioned during the course of the pandemic to more attention to student services and less to student engagement. They indicated that there are signs that this reality is now shifting back to the customary balance between the two foci.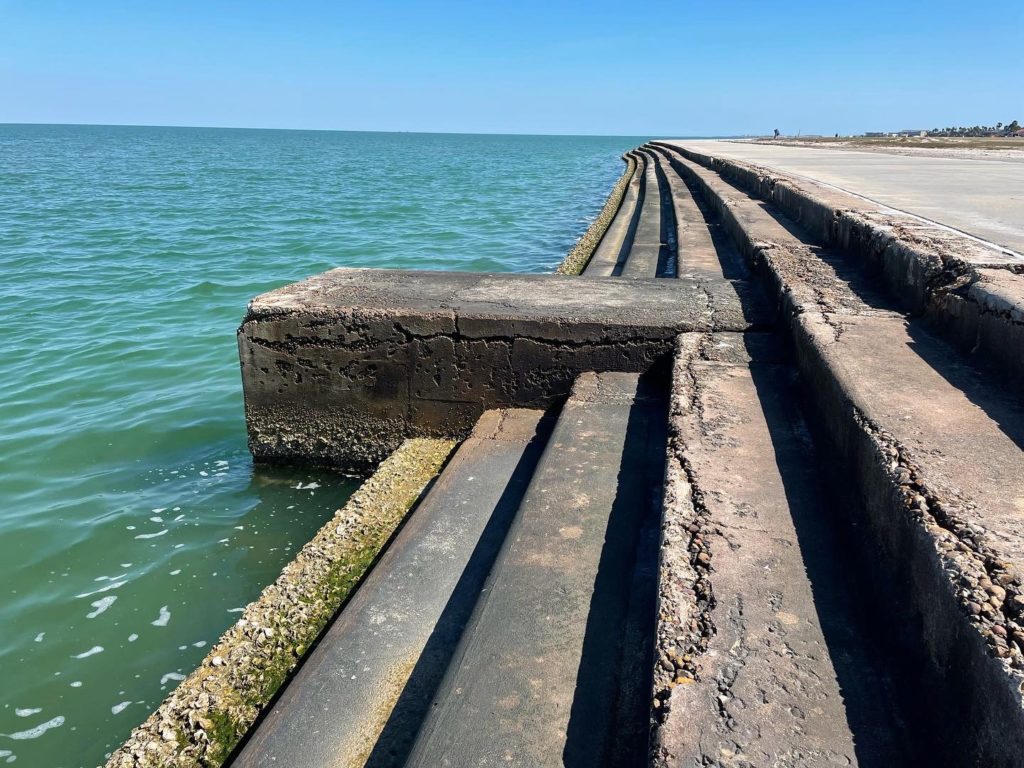 March 4 – 9
I looked forward to this episode of my adventure for some time. Five of the Ohio Fellows group decided to spend part of their spring break with me at the Texas-Mexico border to learn about the humanitarian issues involved in the border. The students arrived late on the night of the 4th. We were thrown a curve ball when the desk clerk at the hotel indicated that only one of the two student room reservations existed. After initially indicating that they were sold out, she did find another room. (The next morning, another desk clerk confirmed that we did, in fact, have the second room reservation.) We started the 5th by going to the Brownsville Bus Station, where an organization called "Team Brownsville" distributes supplies to individuals who have cleared an initial screening for amnesty. On this day, there were 17 individuals who came through the station. They came together from a detention center where they had spent a few days. They came from Nicaragua, Haita, Mexico, Cuba, and Venezuela (and perhaps some other places). They all looked tired, but also relieved to have gotten to this point. They were heading off to other places where someone (often a family member) was sponsoring them. They wore ankle bracelets for tracking, as they all had court dates back in the border area, and were expected to return at an appointed date.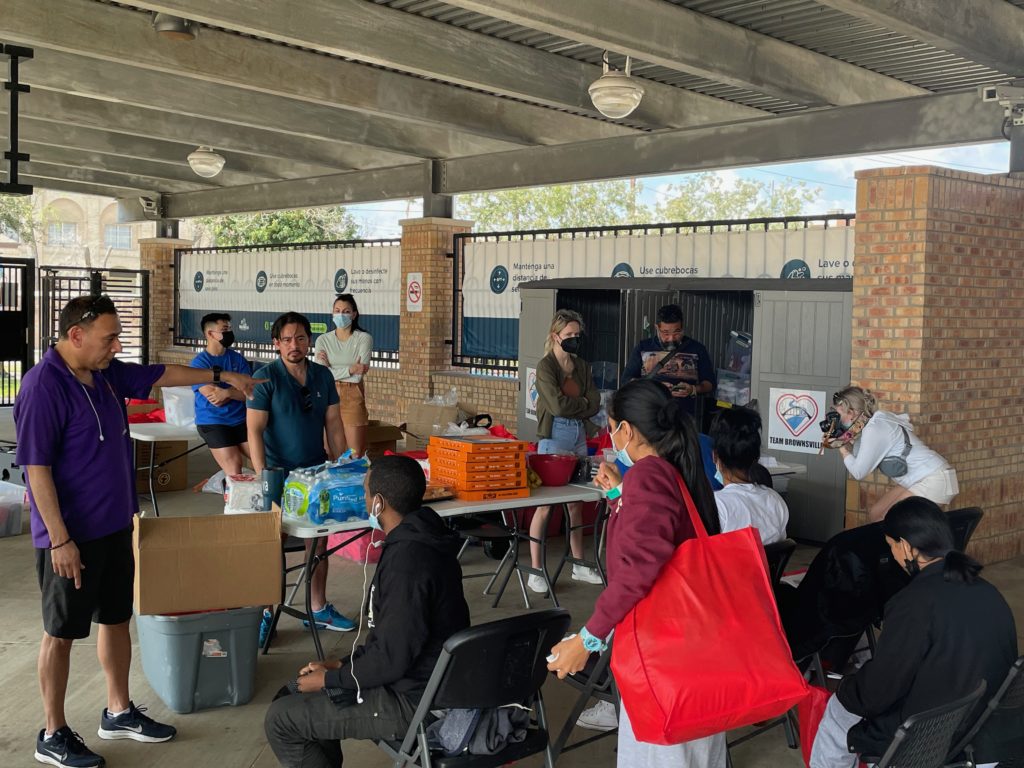 After going to the bus station, we drove to the outskirts of Brownsville to see Elon Musk's site "SpaceX." Our host, Juan Garcia, discussed the environmental impact (both animal life and vegetation) that resulted from hosting these activities in the area of a nature preserve. The picture below is from the beach side, with the SpaceX launch pad behind.
One of the students mentioned that March 6th was going to be the nicest day, weather wise, so we went to South Padre Island to take in the beach. No pics from South Padre!
On March 7th, we started the day at an urban farm. We talked with two of the young farmers who shared that they had left "uninspired indoor jobs" to work on the farm. They talked about the satisfaction of working on the farm and learning about sustainable farming. It was a refreshing divergence from our time in the midst of urban sprawl and over-developed seaside.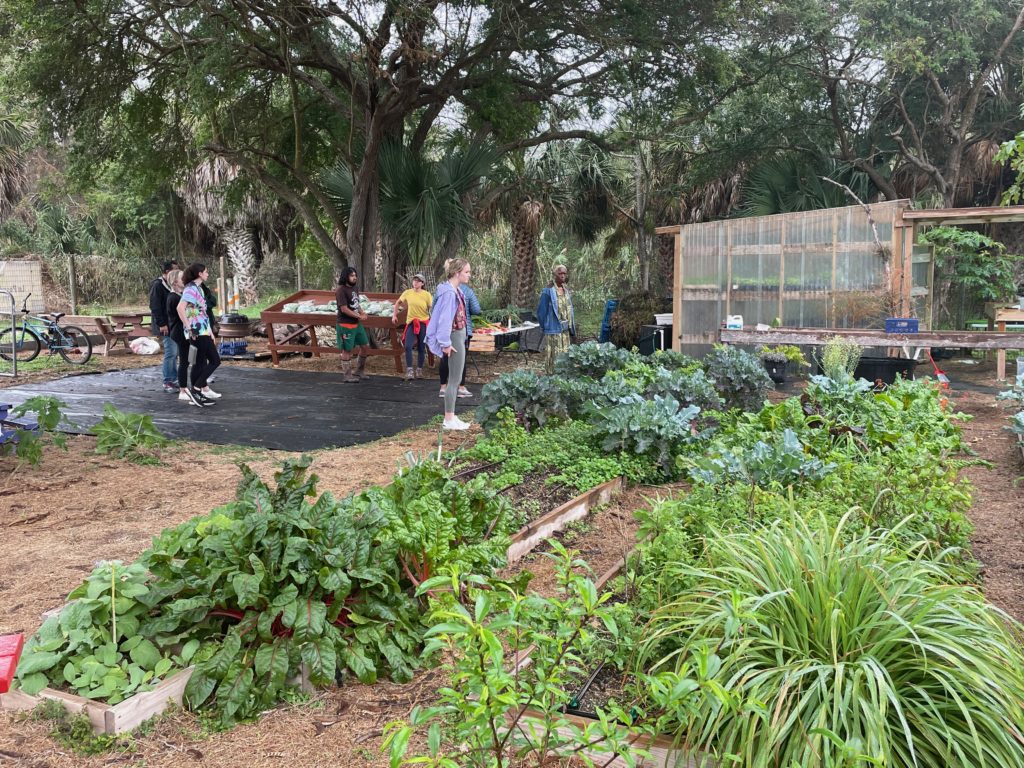 On the afternoon of the 7th, we went to the Catholic Charities Respite Center in McAllen. Upon entering this secure building in the downtown area, we saw many people in transit, mostly from Latin America, and were met by the Center's head, Sister Norma, who described the work of the Center. She explained that that the individuals who are at the Respite Center crossed the Rio Grande. After entering the country, they turned themselves into the Border Patrol, who brought them to this place. In the past year (since the Biden Administration assumed the White House), Mexico instituted a policy that they would not receive pregnant women or families with children under the age of 6 who made it across the border to the US. So, the Respite Center is populated by young families and pregnant women. They generally stay at the Center for a few hours up to a couple of days as they recover from their arduous trips to and across the border. They all have sponsors, often family members, somewhere in the United States, and the Respite Center guests all travel by plane or bus to their destinations–from Atlanta, to Indianapolis, to California and New Jersey. The students and I were struck by the courage shown by these individuals in traveling through dangerous and rugged parts of the world to arrive in McAllen. We were also struck by the appreciation they showed for people who helped them along the way. Not pictures are allowed inside the Respite Center, but I did get a photo in front of the building.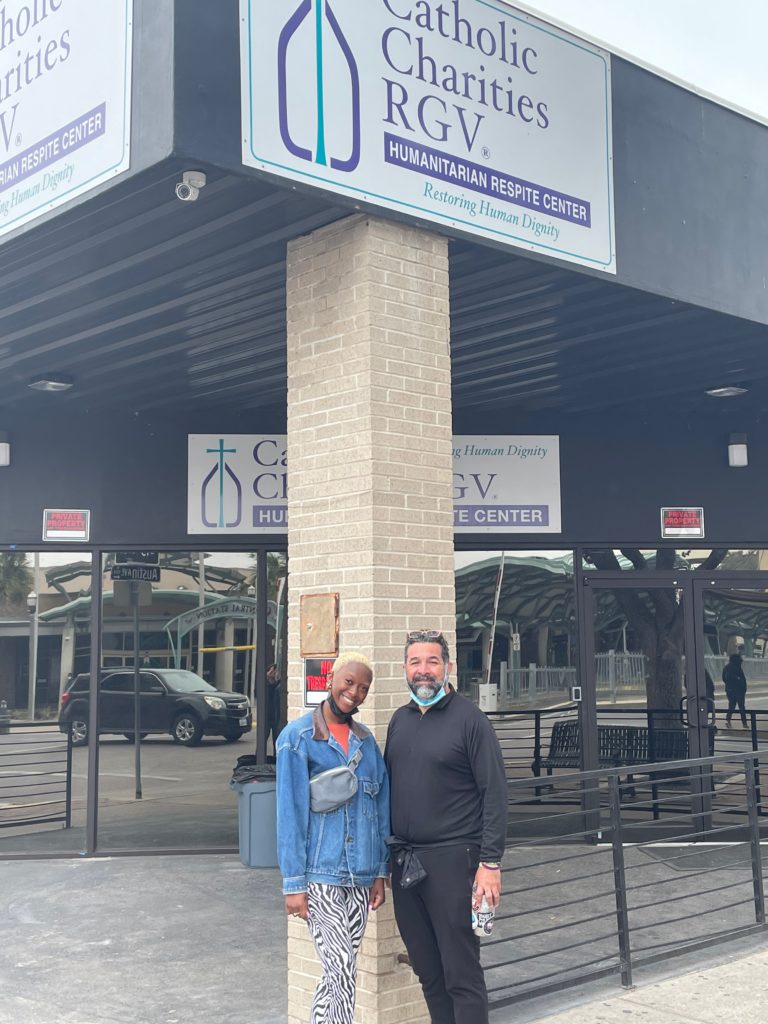 We returned to the Respite Center on March 8th for a good and full day of volunteering and learning. And the students left Texas the next morning.
March 10
I returned to the Padre Island beach on the night of the 9th and left the next morning for San Antonio, TX. I woke up cold and feeling poorly on the 10th, so was happy that I was going to stay at a hotel for a few nights in San Antonio!
March 11 – 16
Within my first 2 – 3 days in the hotel in San Antonio, I started feeling better, so started exercising and made a trip to Austin for a day (3/14). I had been in Austin one other time, but my first visit was busy with meetings, so I didn't get a chance to explore the city and campus. After a day walking around the campus, the city and diving into some interesting bookstores, I went to the home of Stan and Linda Carpenter. Stan is someone I've admired for sometime due to his contributions to the scholarship of higher education and student affairs work. I learned that Linda also has a doctoral degree in higher education and has worked in the student affairs area, mostly in nursing education. We had a wonderful conversation and some good Texas barbecue! And doggonit, I forgot to take pictures with Stan and Linda, but I did get some good pics of Austin. I'm including some pics of San Antonio here as well. When I left San Antonio, I made another stop in Austin. Most importantly, I stopped at REI where I purchased an outdoor heater to help me manage the cold morning and evening temperatures of many of the places I will be camping in the Southwest. I returned to Denton and the home of the Tampke's on the evening of the 16th.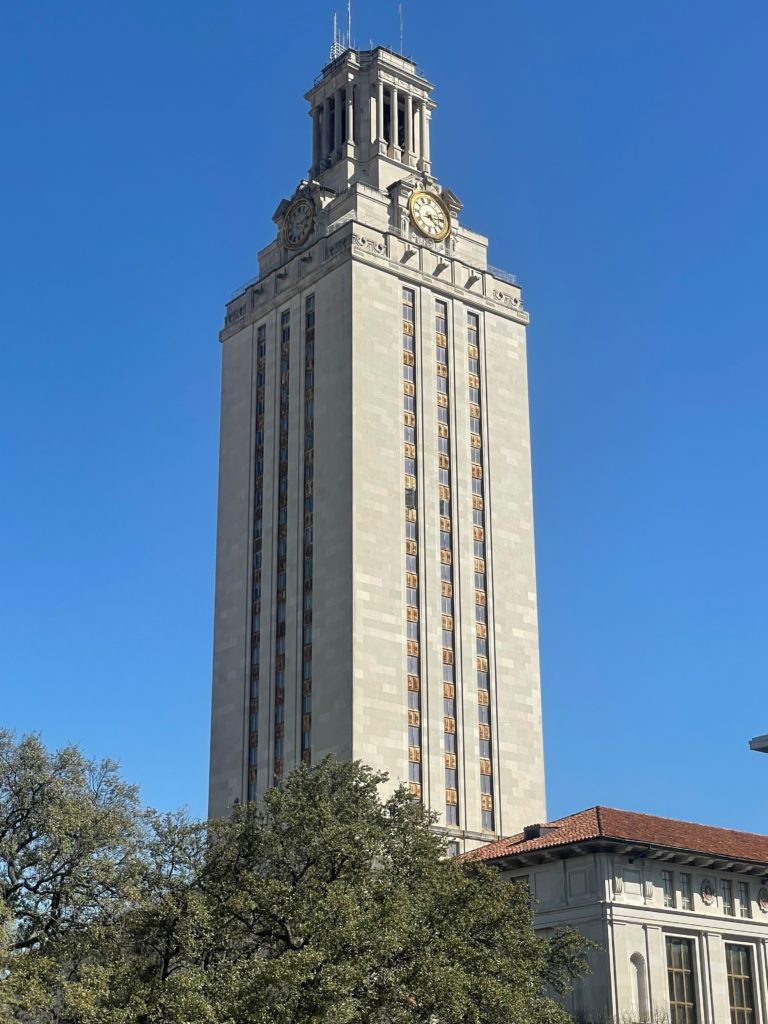 I started my first full day in Denton with a trail run and hike at Ray Roberts Lake State Park. The weather was really nice and the trail was in great shape. While it didn't rival the beauty of some of the trails in the Mountain states or the Pacific Northwest, it was great to get back out in the outdoors when the weather was so nice. The trail was gravel and dirt. The undulating terrain and clear trail made it ideal for a smooth run or bike ride.
March 17th is, of course, St Patrick's Day, and it coincided with Day 1 of the Round of 64 for the NCAA basketball tournament. I went to the Denton town square, which is a gem! It turns out that Denton is a left-leaning nest in the midst of a very red state. So, as I grabbed lunch and watched a bit of basketball, I encountered a warm and friendly community. I couldn't help but compare Denton to Austin. Austin is, of course, a wonderful gem in Texas. Denton is too; it is just a little more unassuming than is the home of the flagship state institution. I also couldn't help but think about my friend Marc Cutright, who moved to Denton for a professorship at the University of North Texas (UNT). Marc was the person who welcomed me to my faculty role in the Department of Counseling and Higher Education at Ohio University. Marc suffered through serious health issues at UNT. He eventually moved to Uganda, married a woman there, and inherited a family that he was committed to supporting. Sadly, Marc passed away in Uganda. I was grateful to have known Marc and to know that he and my friends Dale and Molly were able to enjoy this wonderful Denton community.
One of my highlights of the trip to Denton was getting together with Dale's buddies who make music weekly.
I flew to Baltimore on Saturday the 19th to participate in the NASPA (National Association of Student Personnel Administrators). For the past several years, I have represented the Journal of College and Character at this annual meeting. This year, my representation centered on two events: 1) an overview of publishing in the organization's three professional journals; and 2) a spotlight on JCC authors. Both sessions went very well. Overall, it was great to be back together with professional colleagues. I flew back to Dallas and stayed again with the Tampke's on the night of the 23rd. Had a great reunion with them!
March 24 – 27
I left Denton and headed toward West Texas. After a night in a hotel in Midland, I went to Fort Davis State Park, in the middle of the Davis Mountains. During my stay in Davis, I got back in the mountain camping groove. It was very warm during the day and cool at night, as it was considered "high desert" landscape. While I was staying in the park, there was an ultra marathon race going on. Among the marathoners was Miles (shown below), who was among 10 who started a 100 mile race. When I last saw him, he was just about 6 miles from the end of the run! This was about 27 hours after the race started. He told me that one person had finished ahead of him and one other person was still behind. That means there were 3 possible finishers of the very hilly, desert, very long run! Wow!!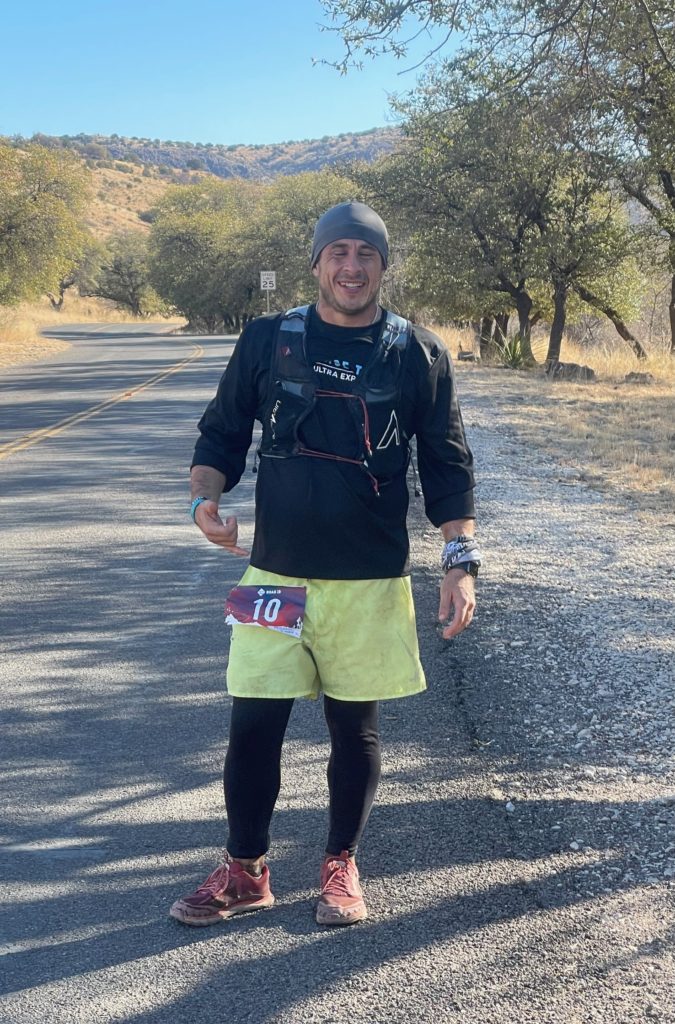 Overall, I was really happy to be back camping in such an interesting place, with great mountain trails for hiking. I met several people along the way from a young guy who was training to fly helicopters in the Navy to a friendly guy in a local convenience store who was also a Subaru Crosstrek owner. The second time we talked I realized he was wearing a pro-Trump hat. I wondered whether I should tell him that his people wouldn't like him driving a Subaru!
Overall, Davis was a pretty cool and very small community. I spent some time in a library and a coffee house to do some work. I should also mention that I traded in my annual National Park Pass for a Lifetime (Senior) Pass, as my age (62) qualified me to pay the same fee as the annual pass ($80) for the lifetime version.
March 27 – 28
I left the Davis Mountains on the 27th and headed south to Big Bend National Park. As I went from the Davis Mountains toward Big Bend, there was a notable change with the more grand Chisos Mountains. I was fortunate to get a campsite at the "Chisos Basin" Campground in the park. It was notably warmer in Big Bend; fortunately, each campsite had a shelter for shade over a picnic table.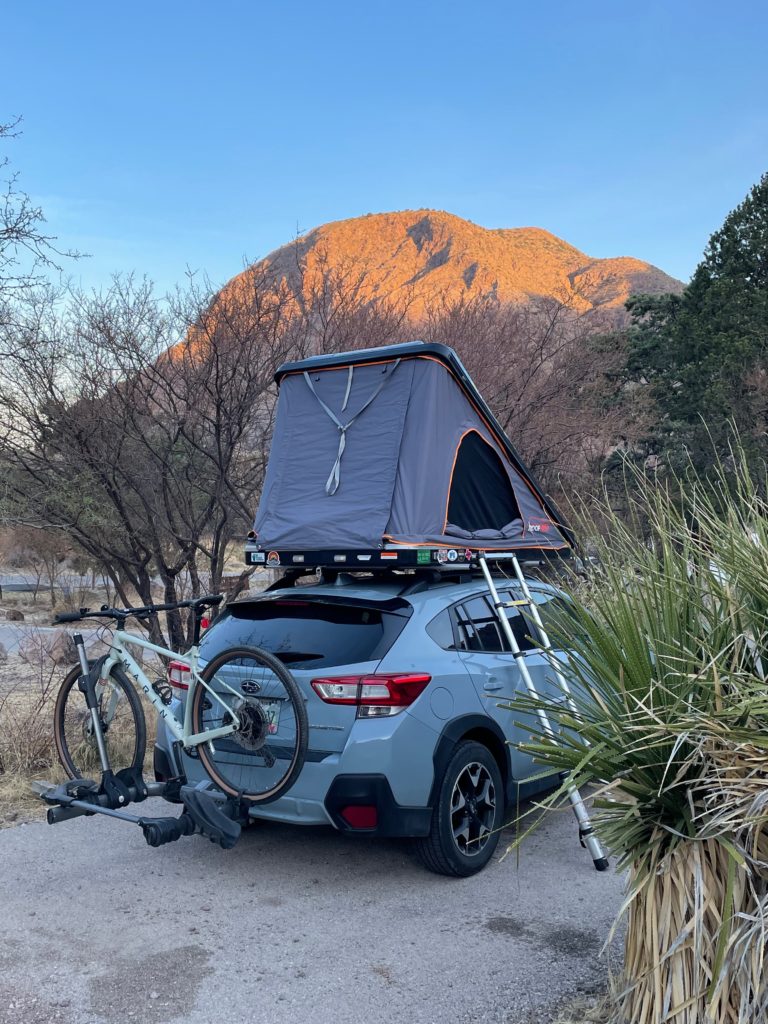 I arrived at the campsite fairly late in the afternoon, and set off on a nearby trail called the "Window Trail." It was a good workout–mostly a descent on the "out" and an ascent on the "back." Much of the latter part of the trail was in a canyon, surrounded by towering walls. The "Window" at the end of the trail was amazing, indeed. The window was near a river bed (dry at the time of my hike), and the rocks were smoothed and white, from the water that has, at times, run through these rocks. I sat in the window for several minutes, taking in this beautiful niche. As I started to head back, I ran into a young woman who was just arriving at the rock. She was on her own adventure; I was surprised to learn that she was a ship captain, originally from the East Coast, and was on a journey as she moved to the West Coast. We took each other's pictures in the window and then parted ways.
After a good night at the campground, I decided to head toward another notable site in Big Bend: the Sand Elena Canyon. On the way, I saw signs to another Canyon called "Tuff." I stopped there and hiked a bit. It was a charming white canyon.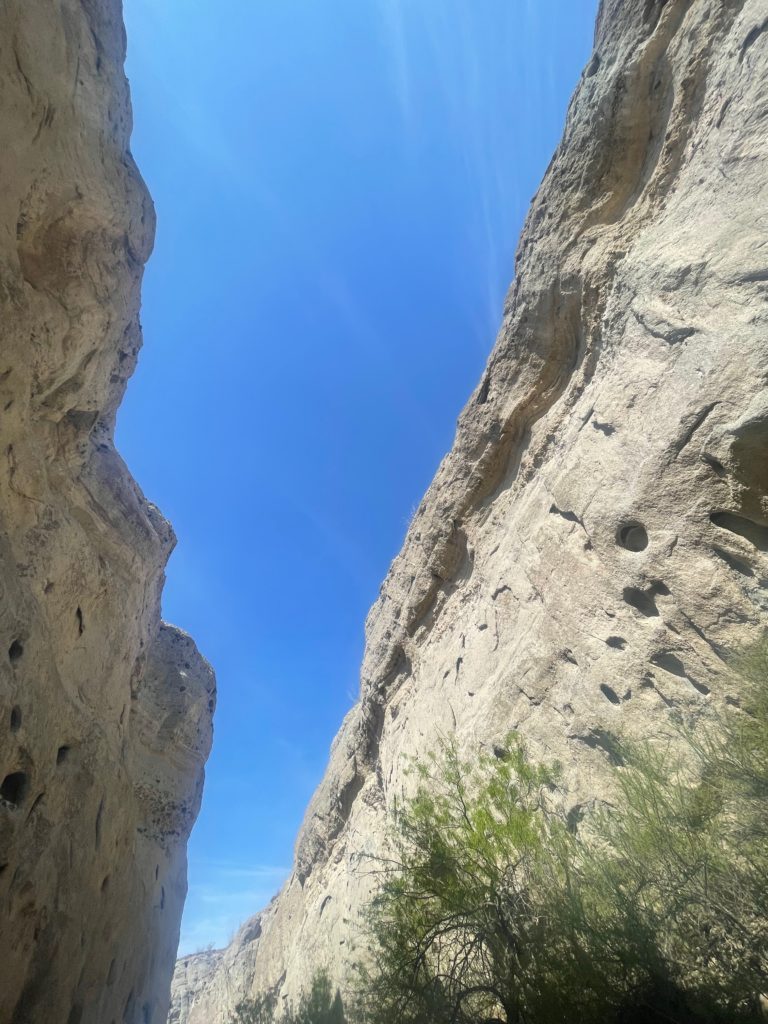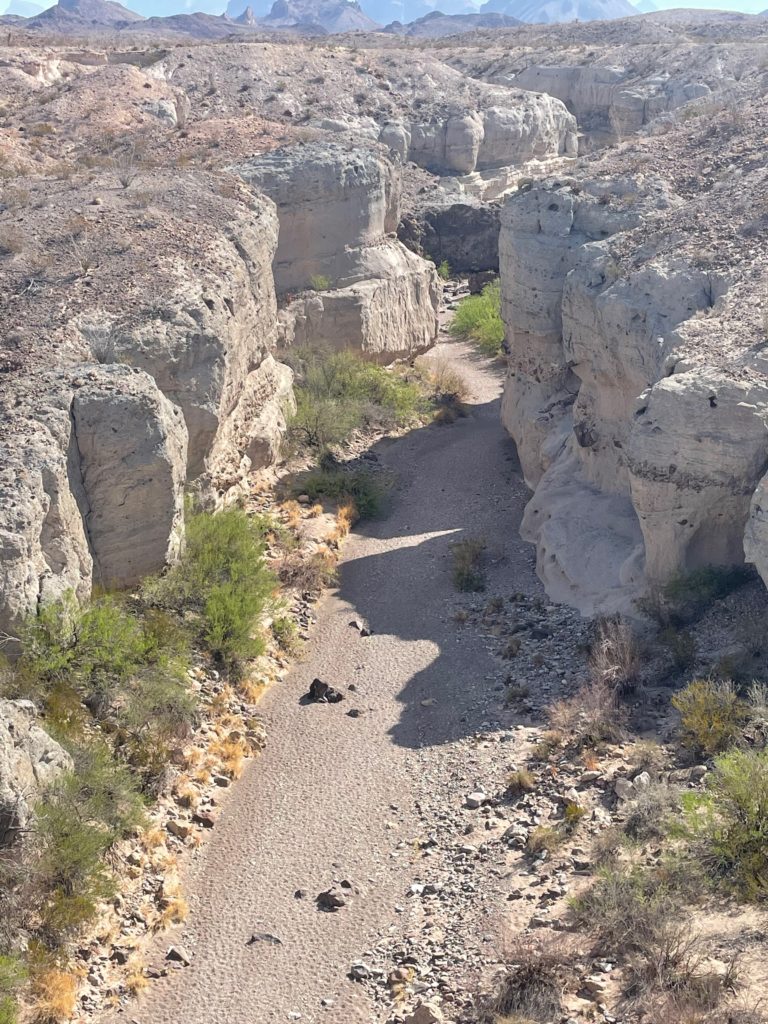 On another other day, it would have been a most dramatic site. But, Santa Elena was next on the list. There were many more people on this relatively short trail than there were at Tuff Canyon. It was truly remarkable–especially at the entry point at the end point of the trail.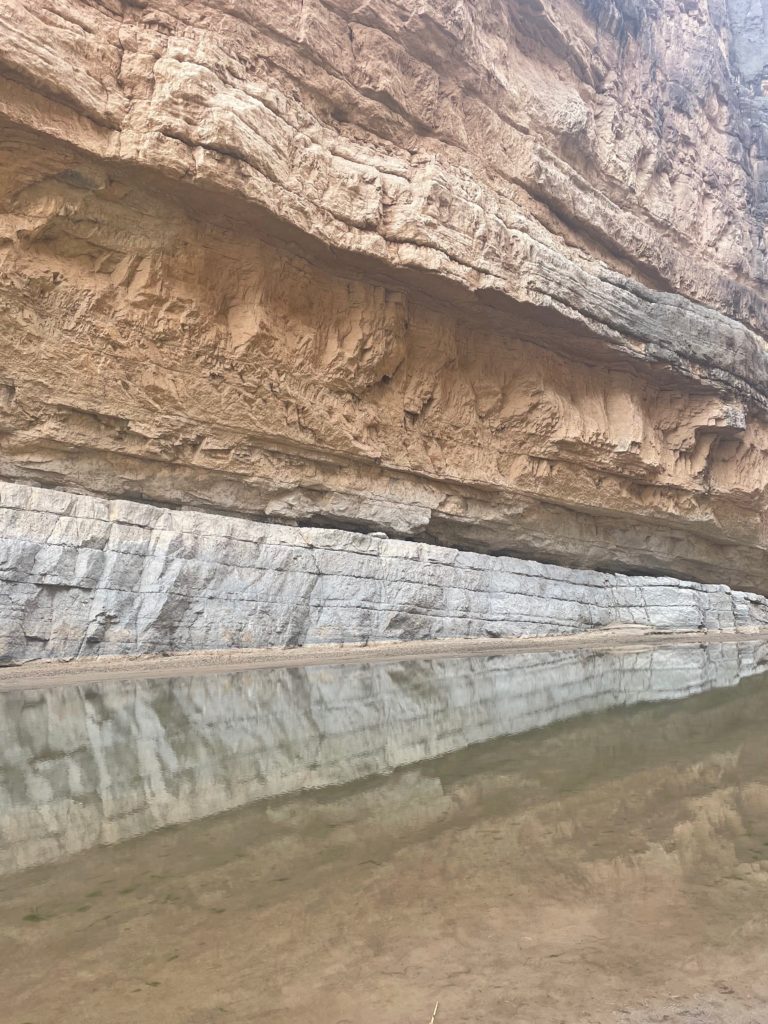 I returned to the campground and was able to capture some beautiful sunset views from Chisos Basin.
There are other notable sites at Big Bend, and I could certainly have spent more time there with more wonderful hikes and views. But, it was time to head north to El Paso.
My friends were leaving Organ Pipe on the 4th, so I joined them at Tucson Mountain Park, just outside of Tucson. The desert landscape in this area was very similar to Organ Pipe, which was about 1 1/2 hours away. There were some good bike trails near the campsite, so I tackled one of the gravel trails. It was mostly flat with an occasional big dip into a dry creek bed. The cacti presented some obstacles on the ride. My campsite was remote, which made for very dark and quiet nights.
On the 5th, I went to the Desert Museum, which was a mostly outdoor habitat for various desert plants, reptiles, birds and mammals. It made for a nice morning. After the desert museum, I went into Tucson to go to the public library. The main library was downtown. After doing some work in the library, I explored the area, which was excellent. I spent some time at Caffe Luce, which I highly recommend for a sandwich and coffee; they also had mixed drinks, but they didn't have better liquors. After lunch, I walked around to find a place to eat. I wound up at the Agave bar. They didn't have a kitchen, but I had a really nice salad there. They also had a great selection of tequila, mescal and craft beer. It had the feel of a neighborhood bar, where the patrons knew each other and the bartender was interesting and affable.
I made it back to the campsite before dark. The wind was very strong that night–not the best for tent camping. Still, my Roofnest Sparrow Eye held up very well.
On the 6th, I was ready for another long hike. I found a 9 1/2 mile (partial loop) trail between the campground and Tucson. It was not my most auspicious hike, as I very soon took a spur (accidentally) off the main trail. I wound up on a pretty high perch, and my trail app told me I was off trail. I tried to take a short cut down hill in an effort to get back on the main trail. Several times I slipped on loose rock and found myself with nasty needles from churro cacti. After plucking several needles off of my bum, my ankle and my hand, I made it back to the main trail. The main trail was very flat, but it was narrow in places; various forms of cacti hemmed in the hiker. When I got about 2 1/2 miles out on the trail, I saw a rattlesnake cross the trail about 10 feet in front of me. I waited as it went across the trail. But, it clearly saw me, as the tail was rattling and it turned toward me when it was about 10″ off the trail. I tried to wait it out, but it wouldn't move. I even walked away and came back, but it was still in its place, and still looking back toward me. To get to the punch line, I decided to head back to the trail head, so my 9 1/2 mile hike was shortened to 5 miles. That was okay, as the sun was very hot, even on this April Arizona morning.
After the hike, I headed into town. It was time to service my car (oil change and tire rotation), so I went to the Subaru dealer. Then I went back downtown to Caffe Luce and Agave. For dinner, I joined the Moylan group at an outdoor restaurant with live music. Tom and Paula met through dancing, and it was fun to watch them on the dance floor!
April 7 – 9
On Tuesday the 7th, I made my way to Silver City, NM. Paula had recommended this cool little town. On the way to Silver City, I took a detour through Patagonia, AZ. This stop was recommended by a former student and current Facebook friend. As I drove southeast from Tucson to Patagonia, I noticed the change in landscape. The farms and long grass were a departure from the desert-land, so heavily populated by cacti. Patagonia is a small town, most clearly marked by a downtown, about two blocks long, and on just one side of the street. It seems like a very community-oriented and peaceful place. I saw signs to the "Paton Center for Hummingbirds," a mile or two out of town. I stopped there and enjoyed watching these colorful creatures before heading northeast to New Mexico.
I had a few interesting encounters in Silver City. One was with the cashier at the museum, who turned out to be an Ohio University alum. They are everywhere! She went to OHIO as an older students, so described her experience as different from the typical undergrad there. She liked the town and her program, but didn't seem to be as excited about life as a Bobcat as many other alums I've met along the way. I also met a proprietor of a small artisan shop. I learned that she and her husband created all of the crafts in the shop. She had lived in Ohio (Cincinnati), and told me she went to a small college in Kentucky. I asked if it was Berea; to which she responded affirmatively. . .and with surprise that I knew her college. Finally, I met a man named Frank from southern Arizona. Frank was on a motorcycle trip to the Silver City area, where he was meeting up with friends. I learned that he lives in a cool, liberal small town in Arizona. Frank's wife is a college educator, and he shared my travel website with her. They both were interested in my reflections on the site. Frank and I had hoped to meet up again, but his next day was longer than expected as he and his friends explored the nearby mountain vistas.
April 9 – 11
My brother, Alan, and his wife, Amy, are spending much of their time in Santa Fe, NM, so that was my next stop. A bonus was that my parents were also in Santa Fe at this time. I was fortunate to have a Facebook friend in Athens, Dave Hayden, who was familiar with the area, and who could describe a scenic route from Silver City to Santa Fe. Lots of great sites along the way!
Once I arrived Santa Fe, we all went out to dinner in the downtown area. I learned that Santa Fe is the oldest and the smallest state capital in the US. It is indeed a beautiful place.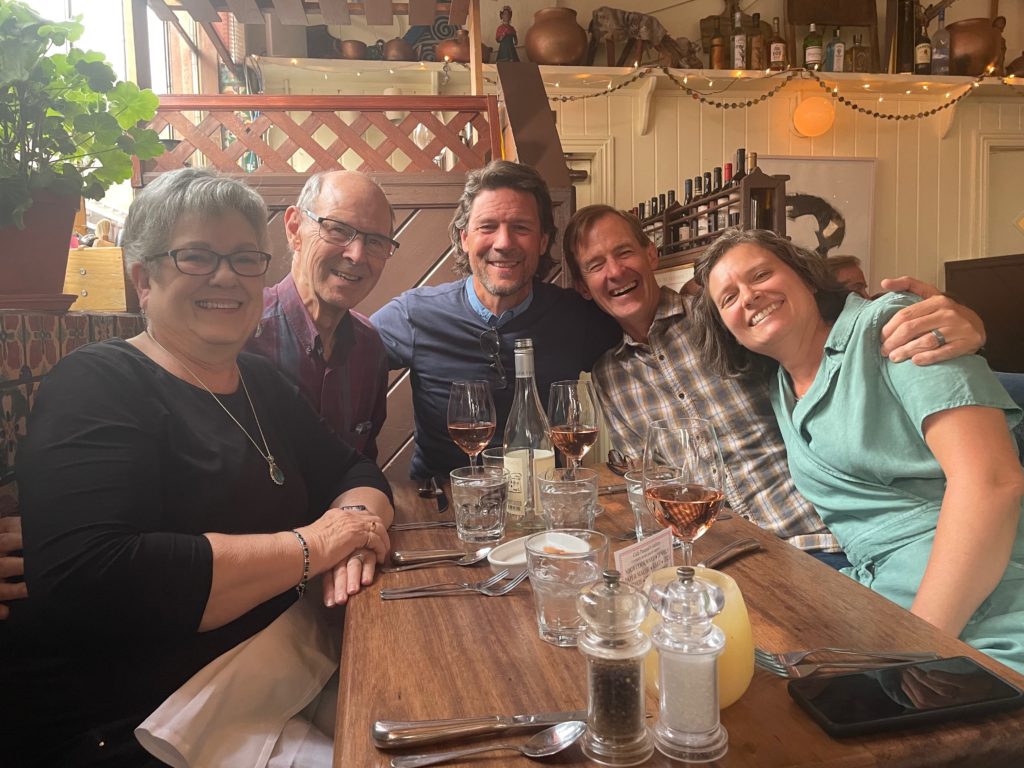 On the 10th, Alan and I hiked up a local ski mountain. Just before we hiked, I had accidentally kicked Amy and Alan's Peloton, which resulted in bruising and swelling of my pinky toe on my left foot. The trail was steep and snowy; despite my toe injury and a lot of pain, the hike was well worth it. And, in fact, the day of our hike happened to be "Sibling's Day," according to friends on Facebook.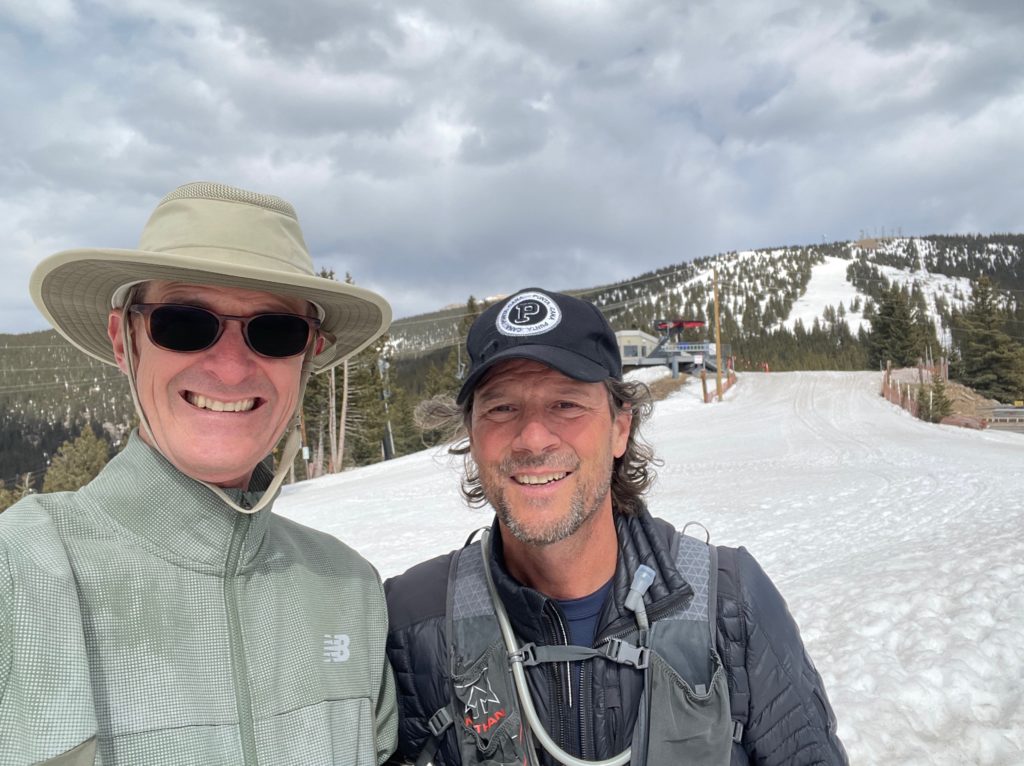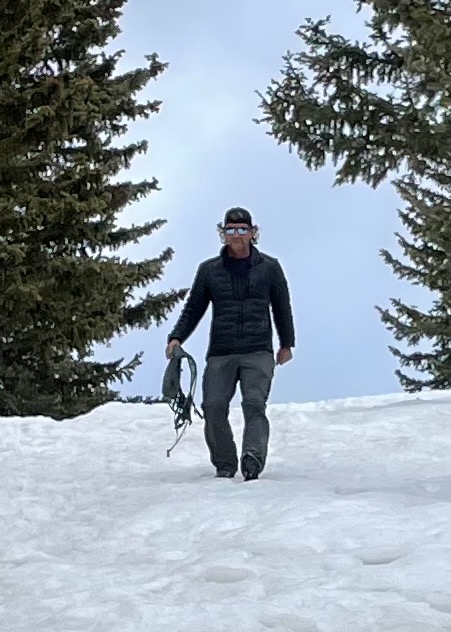 April 11
On April 11th, I drove from Santa Fe to Thornton, CO, where I stayed with brother Mike Mather and sister-in-law Kathy Licht. I had asked if I could see their grandaughter, Xan, during the one evening I was there. Fortunately, we were able to have dinner with Xan and her parents, Conor (my nephew) and Deidre. I always get a sense of welcome from Mike, Kathy and family. It is always a good place to visit.
April 12 & 19
This was a big day. I left Colorado to drive to Ames, Iowa to surprise Anna with an engagement ring. She didn't expect me to return to Ames for another couple of weeks. I told her that I was heading toward Sedona, AZ, but I was actually going to Della Viti in Ames to surprise her. It wasn't easy to get Anna to the wine bar after her radio show, which ends pretty late on Tuesday evenings. But, I succeeded, and it was a proposal for the ages. She accepted and we got married one week later, on April 19th.
The wedding was at the Ames public library. There were few attendees, by design. But, we are following up with two more events–one a reception in Des Moines on May 22nd, before we move to Athens, Ohio in early June.
The second event will be a ring ceremony in Athens, Ohio on Saturday, September 3rd. Details are still being worked out.
In Conclusion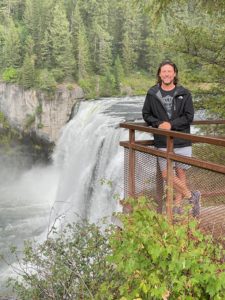 I set out on my sabbatical adventure in June 2021 with hopes of having a transformative experience, both personally and professionally. I have never wanted completely to separate my personal and professional identities and experiences. Indeed, I have always expected my professional life to be an authentic expression of my core values, strengths, learning and aspirations.
On a personal level, I departed my home in Athens with hopes of getting in touch with who I hope to be and how I can live fully and make a difference in the midst of some personal challenges and a time of social upheaval. I hoped that being connected to nature and being alone would be helpful in healing me and reorienting me to how I might contribute to the world. This time alone was, indeed, healing and reorienting, as were the many encounters I had with others who were on their own journeys. I didn't figure it all out, but I experienced life fully–imbued with great joys and, at times, facing fears and substantial sadness. I spent much time alone, and learned that I could be good company without being on a frenetic search for the silver bullet of fulfillment. I learned that I could take good care of myself, and I confronted personal limits as I climbed and hiked and stood on cliffs, looking into great chasms. I created poems, reflections and essays that grew out of the sabbatical experience gifted to me by the Ohio University. And, I learned about the journeys of others who I encountered on my adventure–others who were seeking renewal in their own lives.
Professionally, I was able to consider how my future work could fit with my self-discoveries. As I reflected on life in the university, I considered the current institutional crises that are oft-cited in scholarship and in everyday conversations within and outside of higher education. As I was experiencing such a rich life in the beauty of nature, I found myself often disappointed about the limits of institutional bureaucratic inertia that stood in such stark contrast to the natural world. I grieved the ethos of neoliberalism that too often marginalizes the realities of students' lives or contemporary, urgent social concerns. And in moments of honesty, I recognized my own complicity in feeding a culture of cynicism and self-absorption. As I grew in my connection to the world outside of academia, I recognized the ways institutional life (i.e., meetings, classrooom conventions, and pro forma conversations) buffers faculty, staff, and students from real-world concerns and from building a richer and more vibrant community. But, as those feelings sometimes crept into my awareness, I also recognized the successes that result from higher education, and the privilege and opportunities I have as a professor in higher education to foster students' dreams, and to imagine and build a better world in the company of my colleagues and students.
I would be remiss in not mentioning one significant outcome of my journey–my relationship with Anna. The relationship developed out of a connection between my personal and professional life, as we were introduced by one of my graduate students. (Many thanks to Hope!) For weeks, I lay in the darkness of my tent during the evenings in the Pacific Northwest, talking with Anna on the phone. Because of the early darkness and the prohibition against building campfires, there were few distractions. There was no television; reading was difficult; and I was not surrounded by people, as I was often in self-made campsites or in otherwise quiet spaces in state or national parks. It was in these dark nights I was able to learn about and connect with a special person, while maintaining distance from the trappings of contemporary society. I grew during these times. I was able to nourish my connection to other adventurers. I got to know a beautiful soul that has much to offer the world, and I was able to listen and experience her support and encouragement about who I am and who I aspire to be. I chose to be honest about my past with her, and she continually demonstrated compassion and understanding. And she reciprocated by sharing her own stumbles, while also describing her passion for living fully in the present and the future. I was able to spend cold winter months in the warmth of Anna's home in Ames, Iowa. Our relationship grew as we joined together through joys and celebrations along with the inevitable challenges that are part of life. When signs of spring came, I left Ames to continue my adventure on the road. This time, I headed to the Southwest, experiencing new sites. I planned a spring break trip to the border with Ohio University students, met new friends on the road, and even reconnected with friends I had met in the mountain states in July of 2021. This part of my travel was different from the spring. I was more conscious that this chapter of my adventure was a preparation for returning to my home in Athens and Ohio University. I thought more deliberately about how these learning experiences would translate into my work with students. The unique views of the Southwest and the intimate connection I had with nature again fostered creative insights about my future life and work.
Now, as I return to the world of higher education, I am appreciative of the opportunities and the privileges of being a faculty member at Ohio University and a member of the Athens community. I know that despite those aspects of institutional higher education that can discourage, distract, and separate people, there is much that is good and promising. Recently, my program faculty settled on our course assignments for next year. I look at the list of courses and imagine the potential in front of me and my students. I have high hopes as I design and dream about my courses, but I know that my vision alone will not dictate the outcome. I am entering this adventure much like the one I stepped into in June 2021. I dreamed and planned with much excitement, but with openness to new and unexpected experiences. Indeed the world I traveled through during my sabbatical sometimes led me in directions I never would have imagined. There were many crossroads; I often got lost, but always and everywhere I was able to make meaning of the turn I had taken. May I be as reflective and open to the possibilities for my classes and work in the Ohio University community as I was during my sabbatical, and know that off road adventures and even the darkness can provide unexpected rewards.