Travelogue II: October 31, 2021 – April, 2022
In Conclusion
I set out on my sabbatical adventure in June 2021 with hopes of having a transformative experience, both personally and professionally. I have never wanted completely to separate my personal and professional identities and experiences. Indeed, I have always expected my professional life to be an authentic expression of my core values, strengths, learning and aspirations.
On a personal level, I departed my home in Athens with hopes of getting in touch with who I hope to be and what I care about in the midst of some personal challenges. I hoped that being connected to nature and being alone would be helpful in healing me and reorienting me to how I might contribute to the world. This time alone was, indeed, healing and reorienting, as were the many encounters I had with others who were on their own journeys. I didn't figure it all out, but I experienced life fully–imbued with great joys and, at times, facing fears and substantial sadness. I spent much time alone, and learned that I could be good company without being on a frenetic search for the silver bullet of fulfillment. I learned that I could take good care of myself, and I confronted personal limits as I climbed and hiked and stood on cliffs, looking into great chasms. I created poems, reflections and essays that grew out of the mountain and coastal experiences I was gifted by the university through this sabbatical. And, I learned about the journeys of others who I encountered on my adventure–others who were seeking renewal in their own lives.
Professionally, I was able to consider how my future work could fit with my self-discoveries. As I reflected on life in the university, I considered the current institutional crises that are oft-cited in scholarship and everyday conversations within and outside of higher education. As I was experiencing such a rich life in the beauty of nature, I found myself often disappointed and even angry about the limits of the bureaucratic inertia. I grieved the ethos of neoliberalism that too often marginalizes the realities of students' lives or contemporary, urgent social concerns. And in moments of honesty, I recognized my own complicity in feeding a culture of cynicism and self-absorption. As I grew in my connection to the world outside of academia, I recognized the ways institutional life buffers faculty, staff, and students who move from class-to-class, meeting-to-meeting, and through pro forma conversations that result in buffering our consciousness from real-world concerns and from building a richer and more vibrant community. But, as those feelings sometimes crept into my awareness, I also recognized the successes that result from higher education, and the privilege and opportunities I have as a professor in higher education to foster students' dreams, and to imagine and build a better world in the company of my colleagues and students.
I would be remiss in not mentioning one significant outcome of my journey–my relationship with Anna. The relationship developed out of a connection between my personal and professional life, as we were introduced by one of my graduate students. (Many thanks to Hope!) For weeks, I lay in the darkness of my tent during the evenings in the Pacific Northwest, talking with Anna on the phone. Because of the early darkness and the prohibition against building campfires, there were few distractions. There was no television; reading was difficult; and I was not surrounded by people, as I was often in self-made campsites or in otherwise quiet spaces in state or national parks. It was in these dark nights I was able to learn about and connect with a special person, while maintaining distance from the trappings of contemporary society. I grew during these times. I was able to nourish my connection to another searching person. I was able to get to know a beautiful soul that has much to offer the world, and I was able to listen and experience her support and encouragement about who I am and who I aspire to be. I chose to be honest about my past with her, and she continually demonstrated compassion and understanding. And she reciprocated by sharing her own pains, while also describing her passion for living fully in the present and the future. I was able to spend cold winter months in the warmth of Anna's home in Ames, Iowa. Our relationship grew as we joined together through joys and celebrations along with the inevitable challenges that are part of life. When signs of spring came, I left Ames to continue my adventure on the road. This time, I headed to the Southwest, experiencing new sites. I planned a spring break trip to the border with Ohio University students, met new friends on the road, and even reconnected with friends I had met in the mountain states in July of 2021. This part of my travel was different from the spring. I was more conscious that this chapter of my adventure was a preparation for returning to my home in Athens and Ohio University. I thought more deliberately about how these learning experiences would translate into my work with students. The unique views of the Southwest and the intimate connection I had with nature again fostered creative insights about my future life and work.
Now, as I go back into higher education, I am appreciative of the opportunities and the privileges of being a faculty member at Ohio University and a member of the Athens community. I know that despite those aspects of institutional higher education that can discourage, distract, and separate people, there is much that is good and promising. Just this week, my program faculty settled on our course assignments for next year. I look at the list of courses and imagine the potential in front of me and my students. I have high hopes as I design and dream about my courses, but I know that my vision alone will not dictate the outcome. I am entering this adventure much like the one I set out on in June 2021. I dreamed and planned with much excitement, but with openness to new and unexpected experiences. Indeed the world I traveled through during my sabbatical sometimes led me in directions I never would have imagined. May I be as reflective and open to the possibilities for my classes and work in the Ohio University community as I was during my sabbatical, and know that off road adventures and even the darkness, when attended to, can provide unexpected rewards.
April 12 & 19
This was a big day. I left Colorado to drive to Ames, Iowa to surprise Anna with an engagement ring. She didn't expect me to return to Ames for another couple of weeks. I told her that I was heading toward Sedona, AZ, but I was actually going to Della Viti in Ames to surprise her. It wasn't easy to get Anna to the wine bar after her radio show, which ends pretty late on Tuesday evenings. But, I succeeded, and it was a proposal for the ages. She accepted and we got married one week later, on April 19th.
The wedding was at the Ames public library. There were few attendees, by design. But, we are following up with two more events–one a reception in Des Moines on May 22nd, before we move to Athens, Ohio in early June.
The second event will be a ring ceremony in Athens, Ohio on Saturday, September 3rd. Details are still being worked out.
April 11
On April 11th, I drove from Santa Fe to Thornton, CO, where I stayed with brother Mike Mather and sister-in-law Kathy Licht. I had asked if I could see their grandaughter, Xan, during the one evening I was there. Fortunately, we were able to have dinner with Xan and her parents, Conor (my nephew) and Deidre. I always get a sense of welcome from Mike, Kathy and family. It is always a good place to visit.
April 9 – 11
My brother, Alan, and his wife, Amy, are spending much of their time in Santa Fe, NM, so that was my next stop. A bonus was that my parents were also in Santa Fe at this time. I was fortunate to have a Facebook friend in Athens, Dave Hayden, who was familiar with the area, and who could describe a scenic route from Silver City to Santa Fe. Lots of great sites along the way!
Once I arrived Santa Fe, we all went out to dinner in the downtown area. I learned that Santa Fe is the oldest and the smallest state capital in the US. It is indeed a beautiful place.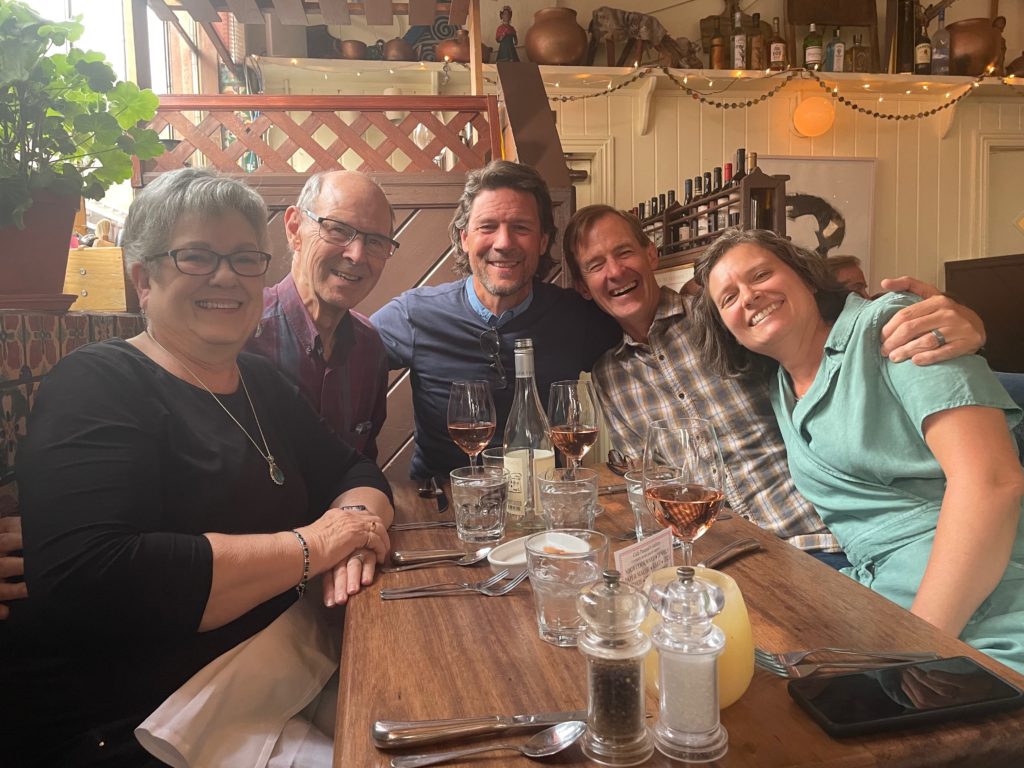 On the 10th, Alan and I hiked up a local ski mountain. Just before we hiked, I had accidentally kicked Amy and Alan's Peloton, which resulted in bruising and swelling of my pinky toe on my left foot. The trail was steep and snowy; despite my toe injury and a lot of pain, the hike was well worth it. And, in fact, the day of our hike happened to be "Sibling's Day," according to friends on Facebook.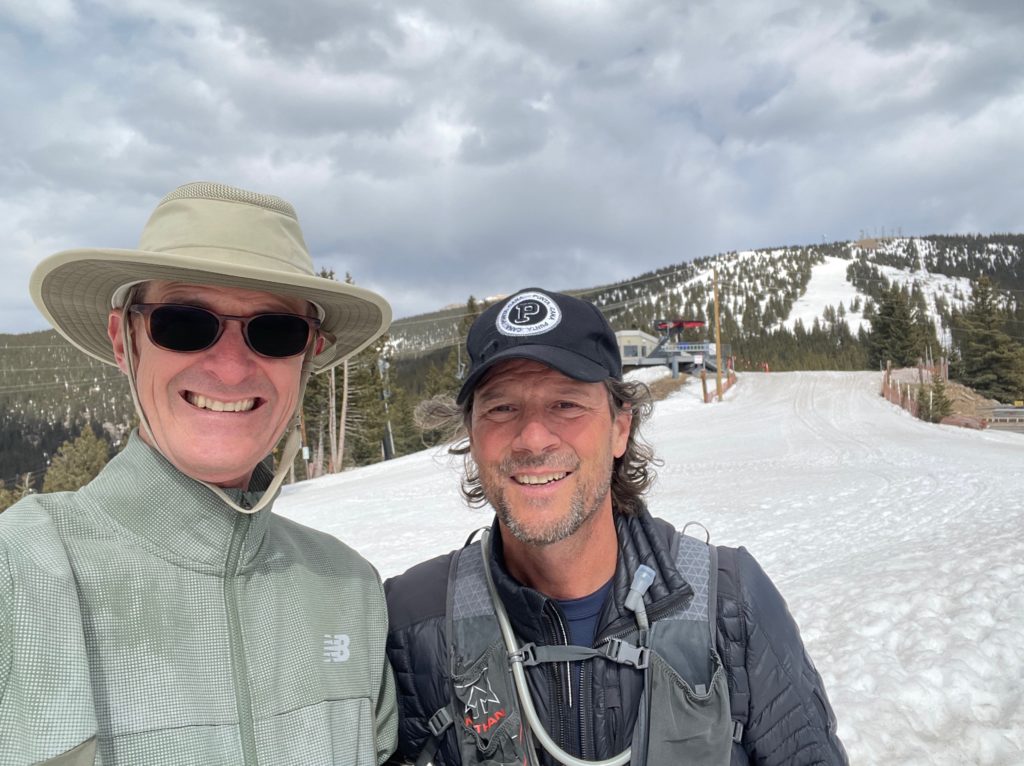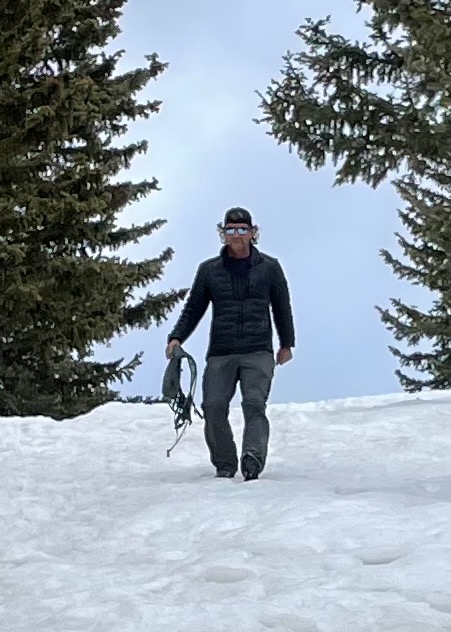 April 7 – 9
On Tuesday the 7th, I made my way to Silver City, NM. Paula had recommended this cool little town. On the way to Silver City, I took a detour through Patagonia, AZ. This stop was recommended by a former student and current Facebook friend. As I drove southeast from Tucson to Patagonia, I noticed the change in landscape. The farms and long grass were a departure from the desert-land, so heavily populated by cacti. Patagonia is a small town, most clearly marked by a downtown, about two blocks long, and on just one side of the street. It seems like a very community-oriented and peaceful place. I saw signs to the "Paton Center for Hummingbirds," a mile or two out of town. I stopped there and enjoyed watching these colorful creatures before heading northeast to New Mexico.
I had booked a "Hipcamp" site in Silver City. But, when I arrived there, I saw a space in the middle of a trailer park, with a few long-time tent campers. It was cold at night–dipping into the high 30s and low 40s. I realized I was ready for a break from camping, so I went into town and checked in for two nights at the Palace Hotel, an historic hotel in the downtown area. It is a small and comfy place, with wonderful hospitality and close to the shops and restaurants in town. I visited shops, cafes, restaurants and the local history museum, which told of the washing out of the old Main Street.
I had a few interesting encounters in Silver City. One was with the cashier at the museum, who turned out to be an Ohio University alum. They are everywhere! She went to OHIO as an older students, so described her experience as different from the typical undergrad there. She liked the town and her program, but didn't seem to be as excited about life as a Bobcat as many other alums I've met along the way. I also met a proprietor of a small artisan shop. I learned that she and her husband created all of the crafts in the shop. She had lived in Ohio (Cincinnati), and told me she went to a small college in Kentucky. I asked if it was Berea; to which she responded affirmatively. . .and with surprise that I knew her college. Finally, I met a man named Frank from southern Arizona. Frank was on a motorcycle trip to the Silver City area, where he was meeting up with friends. I learned that he lives in a cool, liberal small town in Arizona. Frank's wife is a college educator, and he shared my travel website with her. They both were interested in my reflections on the site. Frank and I had hoped to meet up again, but his next day was longer than expected as he and his friends explored the nearby mountain vistas.
My friends were leaving Organ Pipe on the 4th, so I joined them at Tucson Mountain Park, just outside of Tucson. The desert landscape in this area was very similar to Organ Pipe, which was about 1 1/2 hours away. There were some good bike trails near the campsite, so I tackled one of the gravel trails. It was mostly flat with an occasional big dip into a dry creek bed. The cacti presented some obstacles on the ride. My campsite was remote, which made for very dark and quiet nights.
On the 5th, I went to the Desert Museum, which was a mostly outdoor habitat for various desert plants, reptiles, birds and mammals. It made for a nice morning. After the desert museum, I went into Tucson to go to the public library. The main library was downtown. After doing some work in the library, I explored the area, which was excellent. I spent some time at Caffe Luce, which I highly recommend for a sandwich and coffee; they also had mixed drinks, but they didn't have better liquors. After lunch, I walked around to find a place to eat. I wound up at the Agave bar. They didn't have a kitchen, but I had a really nice salad there. They also had a great selection of tequila, mescal and craft beer. It had the feel of a neighborhood bar, where the patrons knew each other and the bartender was interesting and affable.
I made it back to the campsite before dark. The wind was very strong that night–not the best for tent camping. Still, my Roofnest Sparrow Eye held up very well.
On the 6th, I was ready for another long hike. I found a 9 1/2 mile (partial loop) trail between the campground and Tucson. It was not my most auspicious hike, as I very soon took a spur (accidentally) off the main trail. I wound up on a pretty high perch, and my trail app told me I was off trail. I tried to take a short cut down hill in an effort to get back on the main trail. Several times I slipped on loose rock and found myself with nasty needles from churro cacti. After plucking several needles off of my bum, my ankle and my hand, I made it back to the main trail. The main trail was very flat, but it was narrow in places; various forms of cacti hemmed in the hiker. When I got about 2 1/2 miles out on the trail, I saw a rattlesnake cross the trail about 10 feet in front of me. I waited as it went across the trail. But, it clearly saw me, as the tail was rattling and it turned toward me when it was about 10″ off the trail. I tried to wait it out, but it wouldn't move. I even walked away and came back, but it was still in its place, and still looking back toward me. To get to the punch line, I decided to head back to the trail head, so my 9 1/2 mile hike was shortened to 5 miles. That was okay, as the sun was very hot, even on this April Arizona morning.
After the hike, I headed into town. It was time to service my car (oil change and tire rotation), so I went to the Subaru dealer. Then I went back downtown to Caffe Luce and Agave. For dinner, I joined the Moylan group at an outdoor restaurant with live music. Tom and Paula met through dancing, and it was fun to watch them on the dance floor!
March 31 – April 3
I knew I wanted to head into Arizona from Texas, but wasn't sure where I would be going. Fortunately, I heard from Paula and Tom Moylan, who I had met in July 2021, when I was camping in the Teton Valley of Idaho. My friends, the Moylans, along with Tom's brother, Terry, his wife Joanne and another couple from California, were staying at the Twin Peaks Campground in the Organ Pipe Cactus National Monument property, about an hour and a half southwest of Tucson. It was great to be reunited with Tom and Paula and to meet their family and friends. Having just left chilly El Paso, it was nice to thaw out in the desert!
The campground was pretty nice, with saguaro cacti throughout the property. On April 1, I went with 5 of my friends to explore the area. Specifically, we drove on a scenic loop, and stopped at hiked the 3.5 mile Estes Canyon Trail. I decided to run ahead of the group–and I did run the flat parts of the trail. Near the middle of the trail there were pretty steep switchbacks. I slowed down on that section, but resumed running when the trail started to descend. This turned out to be a bad idea, as I wiped out on some loose rocks on the way down. I made off with some scrapes on an arm and a leg and made it to the end of the trail. I had heard that the evening sun would really light up this area, so I went back later in the day to run and hike the same trail. The encounter with the Gila monster and the light off the rocks and cacti made it a worthwhile return.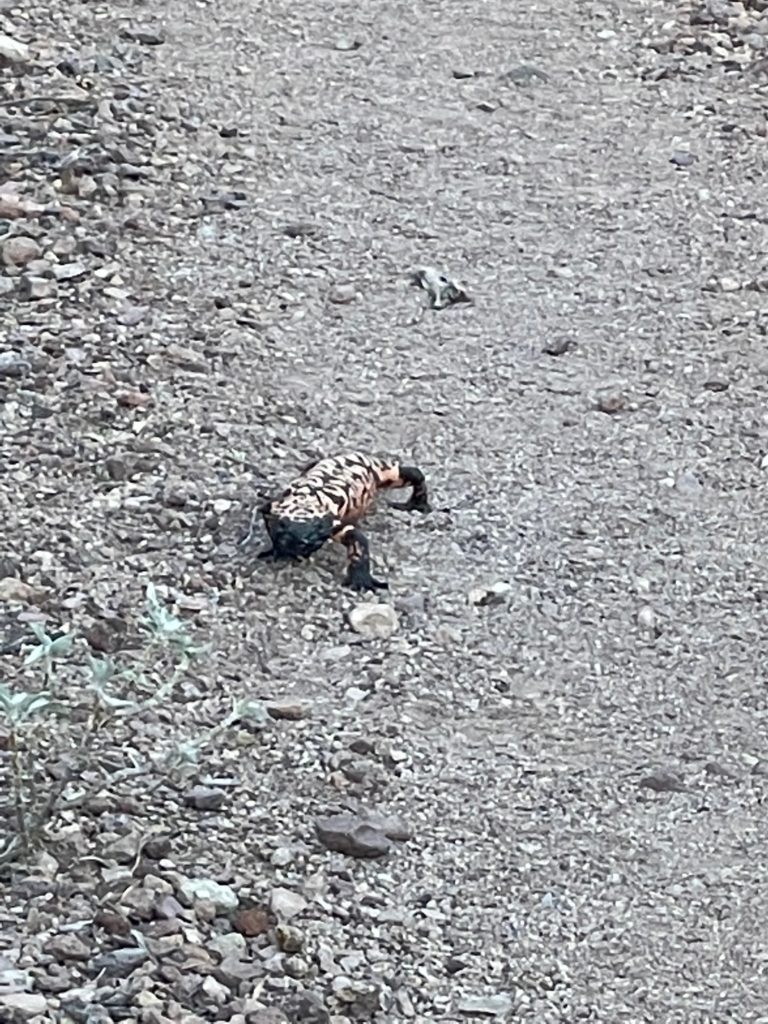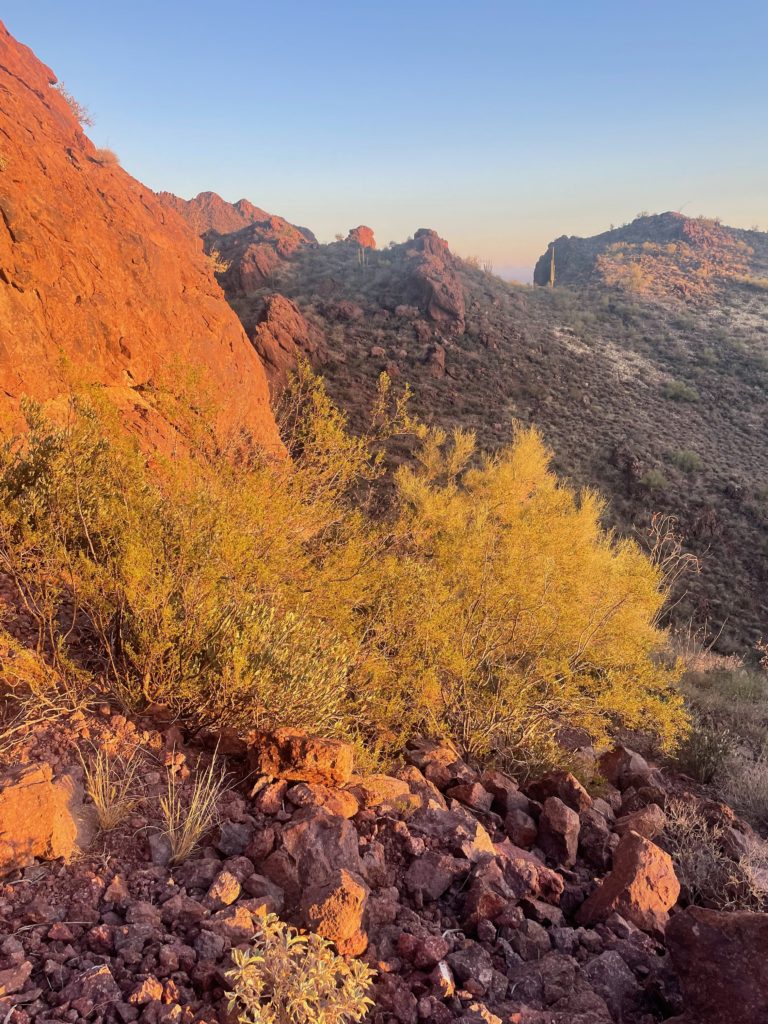 On April 2nd, my legs were pretty tired, but I decided to run and hike an easier trail. The trail started at the campground and ended at an old mine site. Among the notable aspects of this trail was a view of the Mexico-Arizona border wall, which abutted the National Monument property.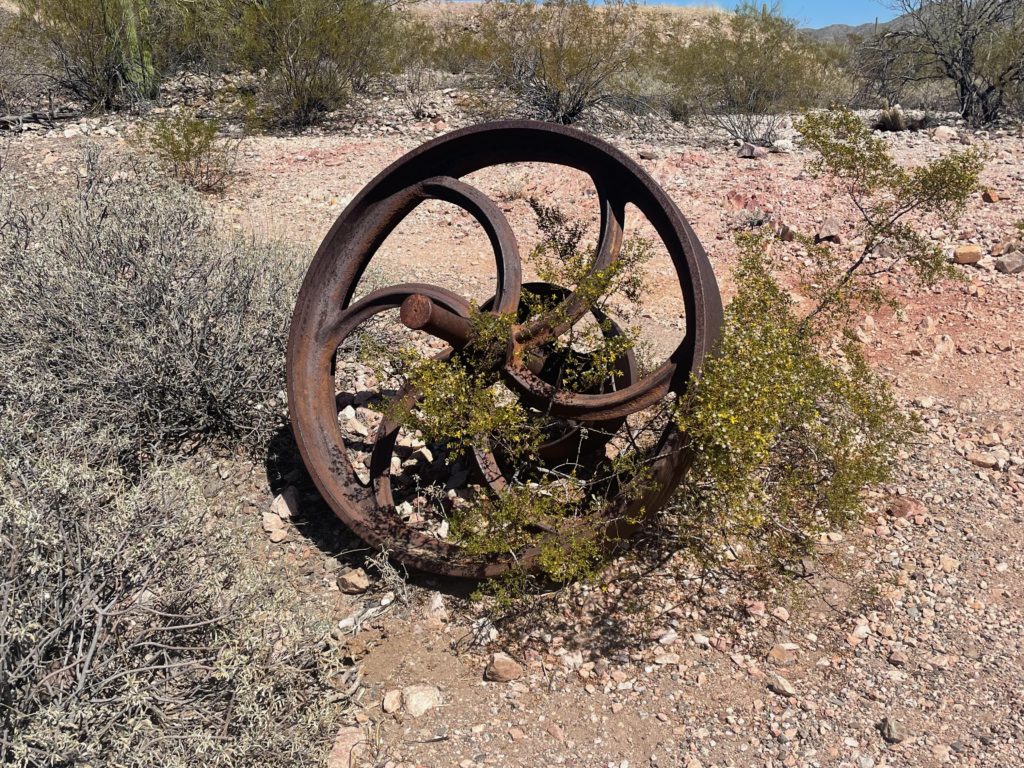 March 29 – 31
I left Big Bend, but not before capturing some beautiful views of the light hitting the Chisos Mountains.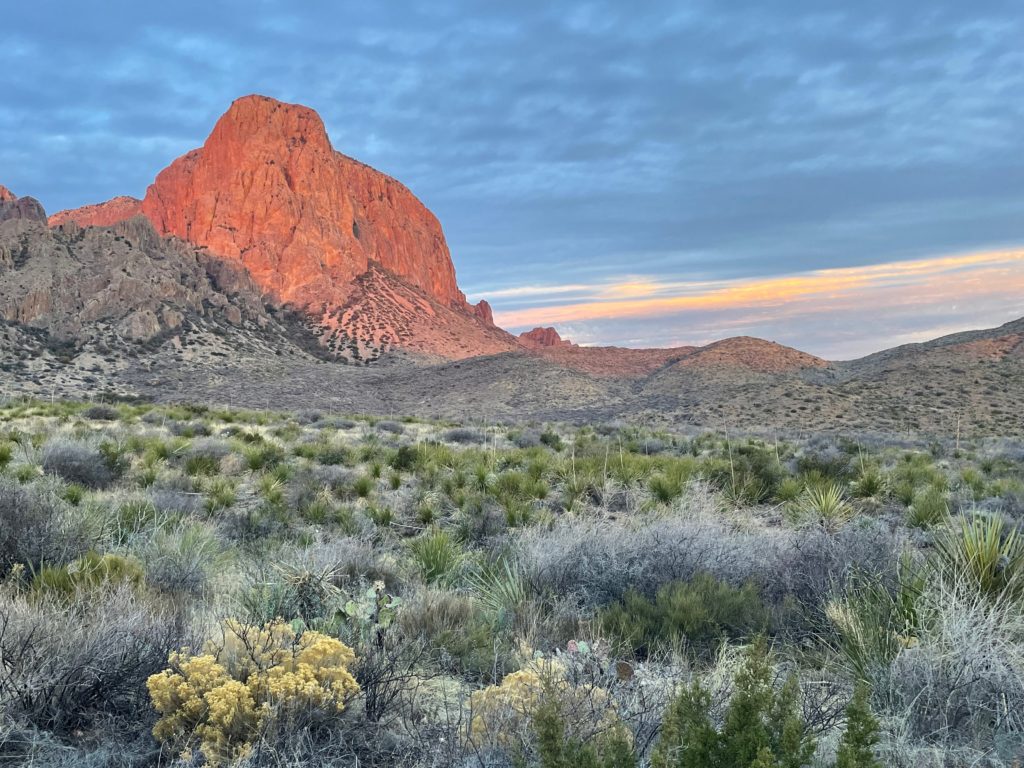 As I headed out of the park, I came upon the small "ghost town" of Terlingua. I read about this hip little town in the Lonely Planet travel guide, so knew it would be worthwhile to stop. And it was!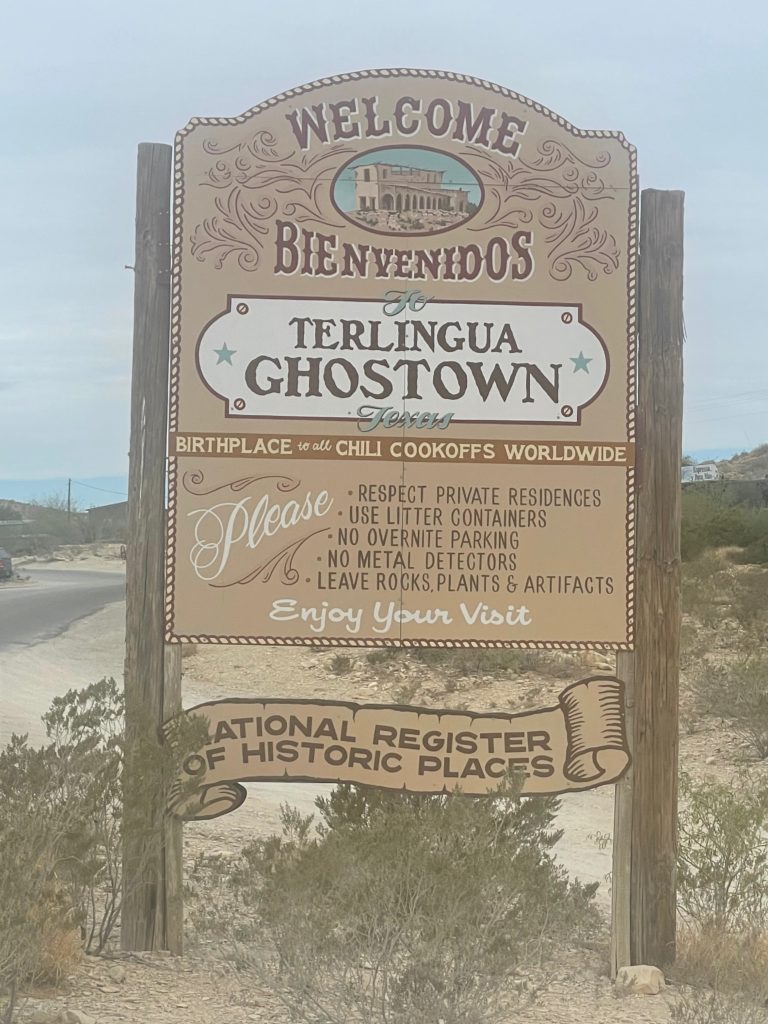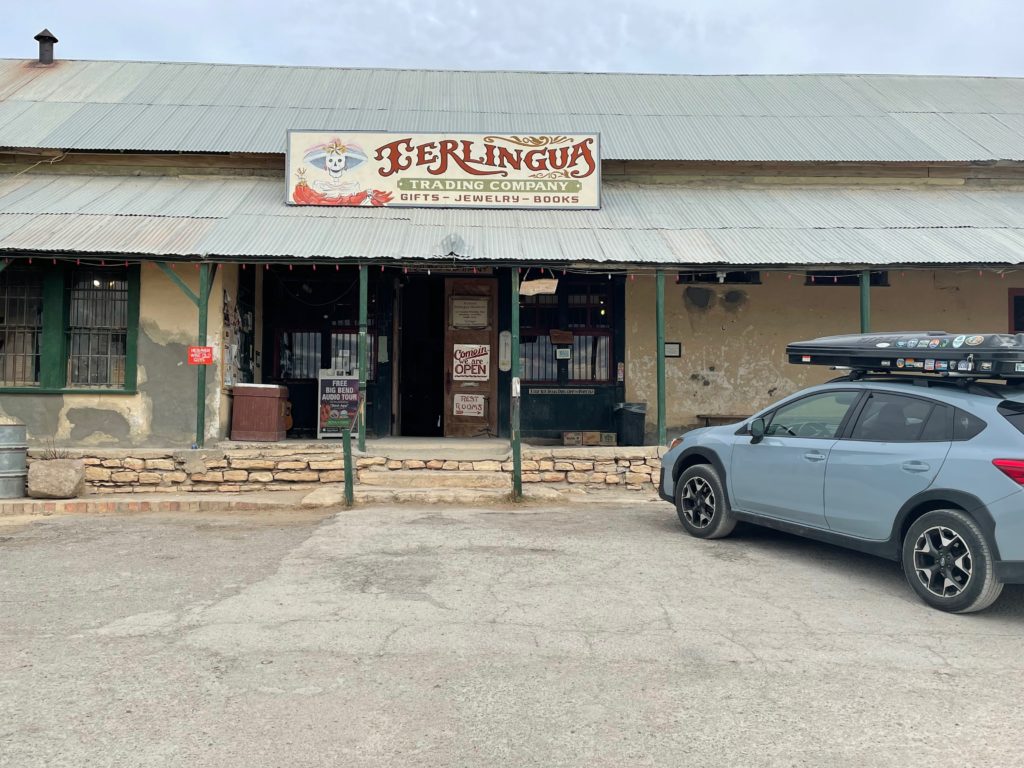 As I left Terlingua and headed toward El Paso, I passed by the pleasant little town of Alpine, and then went through Marfa. Outside of Marfa, to the north, I saw a farm with large signs commemorating the filming of Giant, with Elizabeth Taylor, James Dean and Rock Hudson. The location is remarkable, partly because it is to plain (or unremarkable?). Not long after leaving this interesting spot in the middle of nowhere, I drove past the little "Prada" store, actually an ironic representation of a store front, again in the middle of nowhere!
I arrived at my campground in El Paso in the afternoon. I had booked a place for two nights, but the high winds, combined with unseasonably cool weather resulted in many empty camping spaces that were marked "reserved." Because of the exposure of my campsite, I decided it would be best to find comfort indoors. So, I booked a hotel for my two nights in El Paso. I did not get out much, but did enjoy some really good tacos while in El Paso, as recommended by the travel guides
I was excited about heading out from chilly El Paso to the Arizona desert, where friends were waiting for me. 🙂
March 27 – 28
I left the Davis Mountains on the 27th and headed south to Big Bend National Park. As I went from the Davis Mountains toward Big Bend, there was a notable change with the more grand Chisos Mountains. I was fortunate to get a campsite at the "Chisos Basin" Campground in the park. It was notably warmer in Big Bend; fortunately, each campsite had a shelter for shade over a picnic table.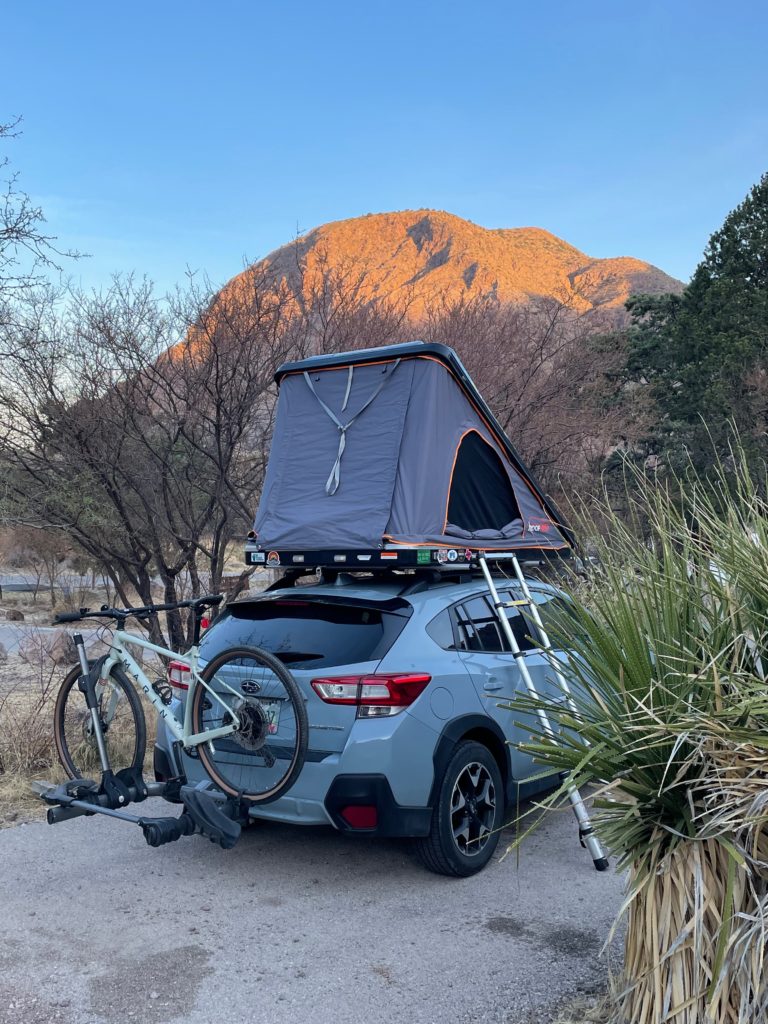 I arrived at the campsite fairly late in the afternoon, and set off on a nearby trail called the "Window Trail." It was a good workout–mostly a descent on the "out" and an ascent on the "back." Much of the latter part of the trail was in a canyon, surrounded by towering walls. The "Window" at the end of the trail was amazing, indeed. The window was near a river bed (dry at the time of my hike), and the rocks were smoothed and white, from the water that has, at times, run through these rocks. I sat in the window for several minutes, taking in this beautiful niche. As I started to head back, I ran into a young woman who was just arriving at the rock. She was on her own adventure; I was surprised to learn that she was a ship captain, originally from the East Coast, and was on a journey as she moved to the West Coast. We took each other's pictures in the window and then parted ways.
After a good night at the campground, I decided to head toward another notable site in Big Bend: the Sand Elena Canyon. On the way, I saw signs to another Canyon called "Tuff." I stopped there and hiked a bit. It was a charming white canyon.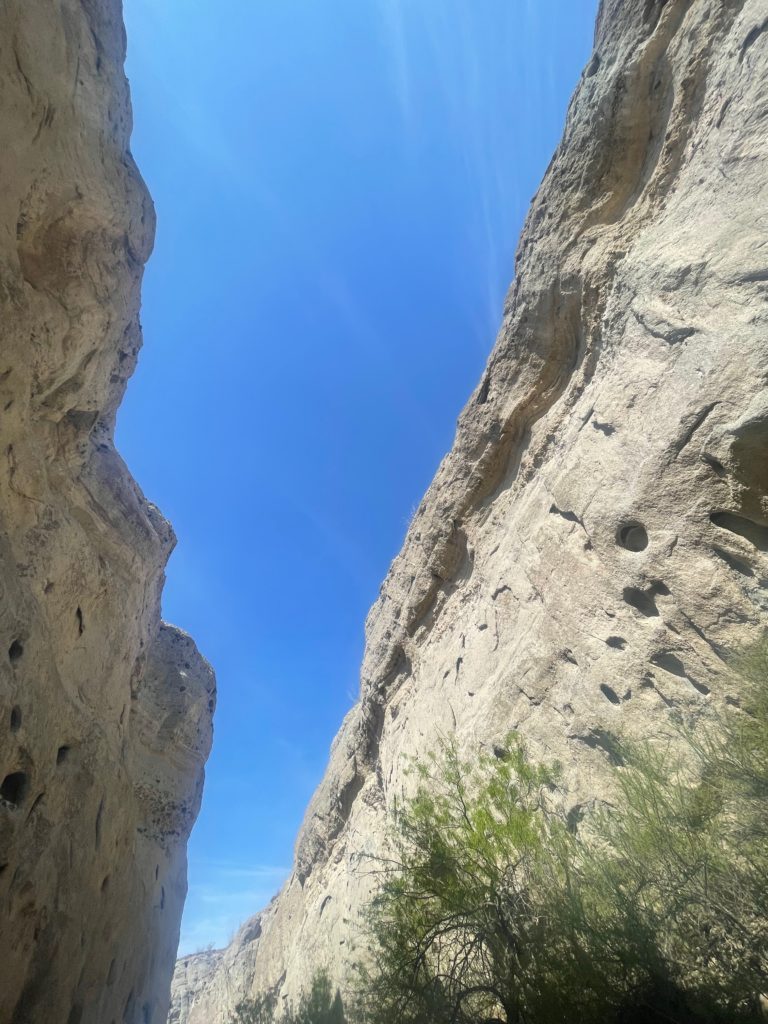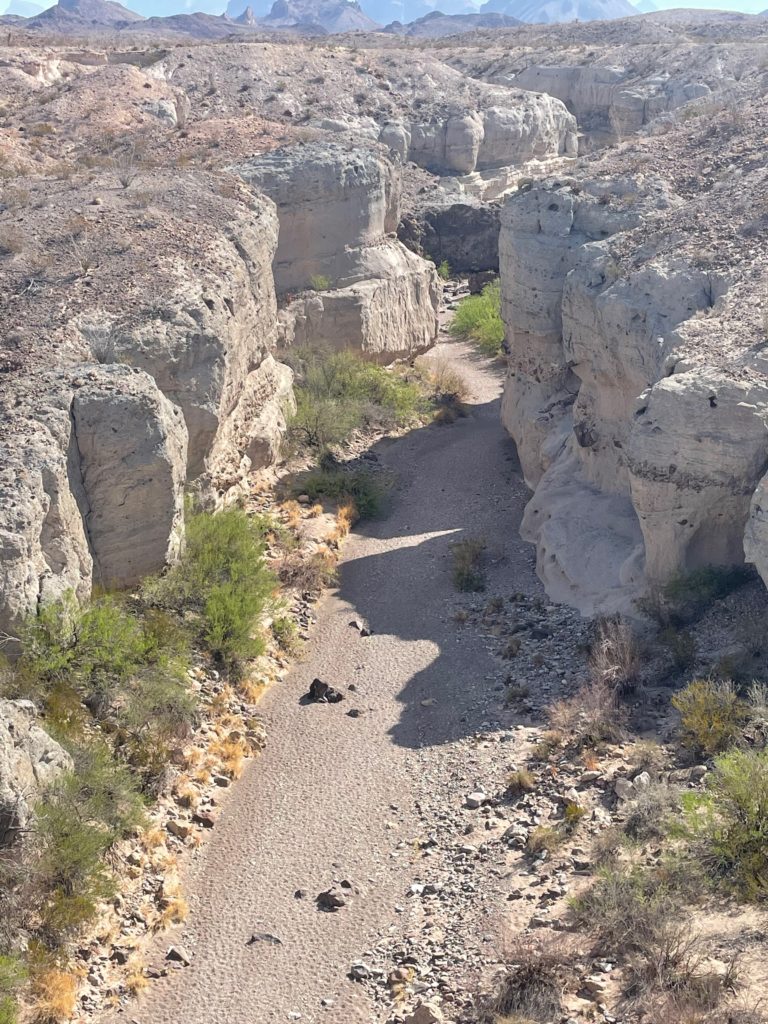 On another other day, it would have been a most dramatic site. But, Santa Elena was next on the list. There were many more people on this relatively short trail than there were at Tuff Canyon. It was truly remarkable–especially at the entry point at the end point of the trail.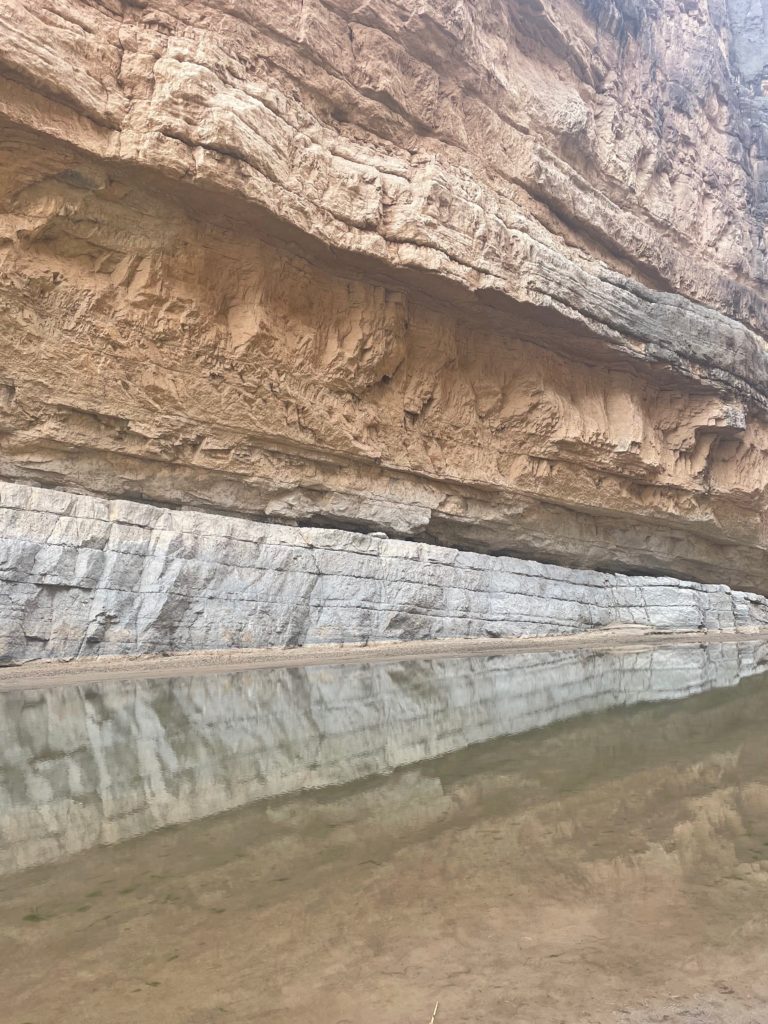 I returned to the campground and was able to capture some beautiful sunset views from Chisos Basin.
There are other notable sites at Big Bend, and I could certainly have spent more time there with more wonderful hikes and views. But, it was time to head north to El Paso.
March 24 – 27
I left Denton and headed toward West Texas. After a night in a hotel in Midland, I went to Fort Davis State Park, in the middle of the Davis Mountains. During my stay in Davis, I got back in the mountain camping groove. It was very warm during the day and cool at night, as it was considered "high desert" landscape. While I was staying in the park, there was an ultra marathon race going on. Among the marathoners was Miles (shown below), who was among 10 who started a 100 mile race. When I last saw him, he was just about 6 miles from the end of the run! This was about 27 hours after the race started. He told me that one person had finished ahead of him and one other person was still behind. That means there were 3 possible finishers of the very hilly, desert, very long run! Wow!!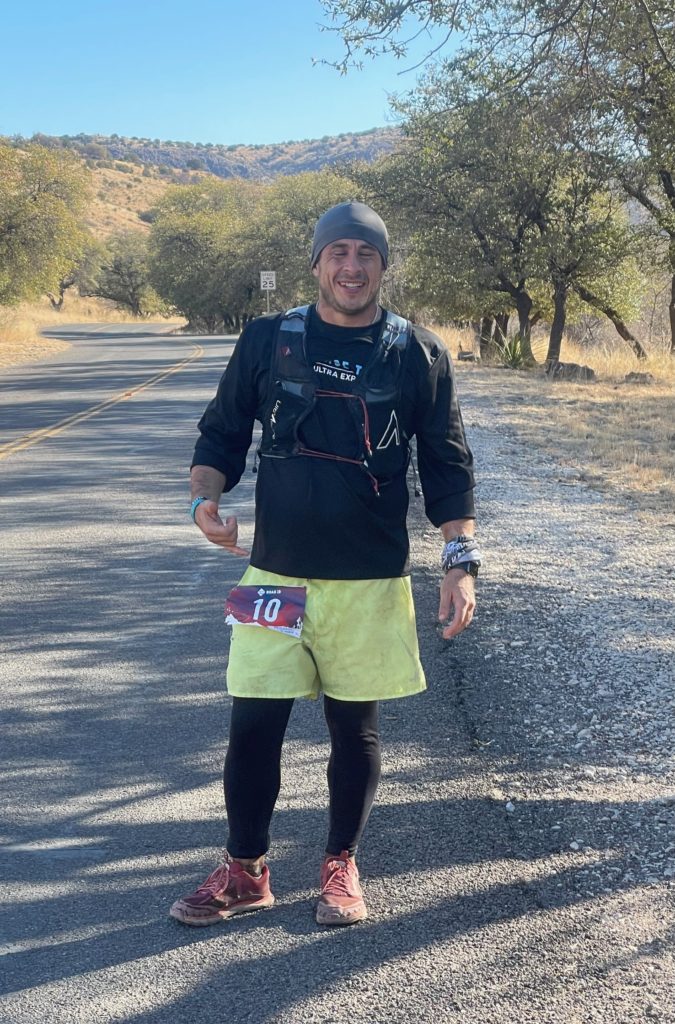 Overall, I was really happy to be back camping in such an interesting place, with great mountain trails for hiking. I met several people along the way from a young guy who was training to fly helicopters in the Navy to a friendly guy in a local convenience store who was also a Subaru Crosstrek owner. The second time we talked I realized he was wearing a pro-Trump hat. I wondered whether I should tell him that his people wouldn't like him driving a Subaru!
Overall, Davis was a pretty cool and very small community. I spent some time in a library and a coffee house to do some work. I should also mention that I traded in my annual National Park Pass for a Lifetime (Senior) Pass, as my age (62) qualified me to pay the same fee as the annual pass ($80) for the lifetime version.
March 19 – 23
I flew to Baltimore on Saturday the 19th to participate in the NASPA (National Association of Student Personnel Administrators). For the past several years, I have represented the Journal of College and Character at this annual meeting. This year, my representation centered on two events: 1) an overview of publishing in the organization's three professional journals; and 2) a spotlight on JCC authors. Both sessions went very well. Overall, it was great to be back together with professional colleagues. I flew back to Dallas and stayed again with the Tampke's on the night of the 23rd. Had a great reunion with them!
March 16 – 18
I returned to Denton and the home of the Tampke's on the evening of the 16th. I started my first full day in Denton with a trail run and hike at Ray Roberts Lake State Park. The weather was really nice and the trail was in great shape. While it didn't rival the beauty of some of the trails in the Mountain states or the Pacific Northwest, it was great to get back out in the outdoors when the weather was so nice. The trail was gravel and dirt. The undulating terrain and clear trail made it ideal for a smooth run or bike ride.
March 17th is, of course, St Patrick's Day, and it coincided with Day 1 of the Round of 64 for the NCAA basketball tournament. I went to the Denton town square, which is a gem! It turns out that Denton is a left-leaning nest in the midst of a very red state. So, as I grabbed lunch and watched a bit of basketball, I encountered a warm and friendly community. I couldn't help but compare Denton to Austin. Austin is, of course, a wonderful gem in Texas. Denton is too; it is just a little more unassuming than is the home of the flagship state institution. I also couldn't help but think about my friend Marc Cutright, who moved to Denton for a professorship at the University of North Texas (UNT). Marc was the person who welcomed me to my faculty role in the Department of Counseling and Higher Education at Ohio University. Marc suffered through serious health issues at UNT. He eventually moved to Uganda, married a woman there, and inherited a family that he was committed to supporting. Sadly, Marc passed away in Uganda. I was grateful to have known Marc and to know that he and my friends Dale and Molly were able to enjoy this wonderful Denton community.
One of my highlights of the trip to Denton was getting together with Dale's buddies who make music weekly. The venues rotate among their homes. I've had trouble posting it, but am still trying to present a brief video of the "band" here.
March 11 – 16
Within my first 2 – 3 days in the hotel in San Antonio, I started feeling better, so started exercising and made a trip to Austin for a day (3/14). I had been in Austin one other time, but my first visit was busy with meetings, so I didn't get a chance to explore the city and campus. After a day walking around the campus, the city and diving into some interesting bookstores, I went to the home of Stan and Linda Carpenter. Stan is someone I've admired for sometime due to his contributions to the scholarship of higher education and student affairs work. I learned that Linda also has a doctoral degree in higher education and has worked in the student affairs area, mostly in nursing education. We had a wonderful conversation and some good Texas barbecue! And doggonit, I forgot to take pictures with Stan and Linda, but I did get some good pics of Austin. I'm including some pics of San Antonio here as well. When I left San Antonio, I made another stop in Austin. Most importantly, I stopped at REI where I purchased an outdoor heater to help me manage the cold morning and evening temperatures of many of the places I will be camping in the Southwest.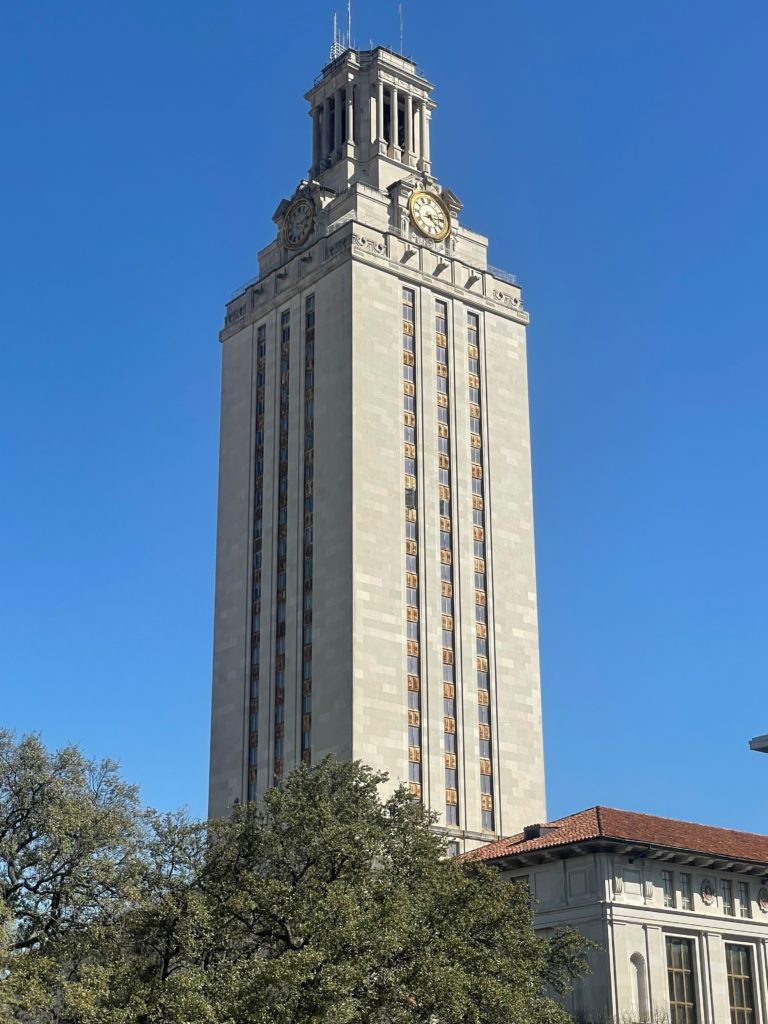 The riverwalk in San Antonio.
March 10
I returned to the Padre Island beach on the night of the 9th and left the next morning for San Antonio, TX. I woke up cold and feeling poorly on the 10th, so was happy that I was going to stay at a hotel for a few nights in San Antonio!
March 4 – 9
I looked forward to this episode of my adventure for some time. Five of the Ohio Fellows group decided to spend part of their spring break with me at the Texas-Mexico border to learn about the humanitarian issues involved in the border. The students arrived late on the night of the 4th. We were thrown a curve ball when the desk clerk at the hotel indicated that only one of the two student room reservations existed. After initially indicating that they were sold out, she did find another room. (The next morning, another desk clerk confirmed that we did, in fact, have the second room reservation.) We started the 5th by going to the Brownsville Bus Station, where an organization called "Team Brownsville" distributes supplies to individuals who have cleared an initial screening for amnesty. On this day, there were 17 individuals who came through the station. They came together from a detention center where they had spent a few days. They came from Nicaragua, Haita, Mexico, Cuba, and Venezuela (and perhaps some other places). They all looked tired, but also relieved to have gotten to this point. They were heading off to other places where someone (often a family member) was sponsoring them. They wore ankle bracelets for tracking, as they all had court dates back in the border area, and were expected to return at an appointed date.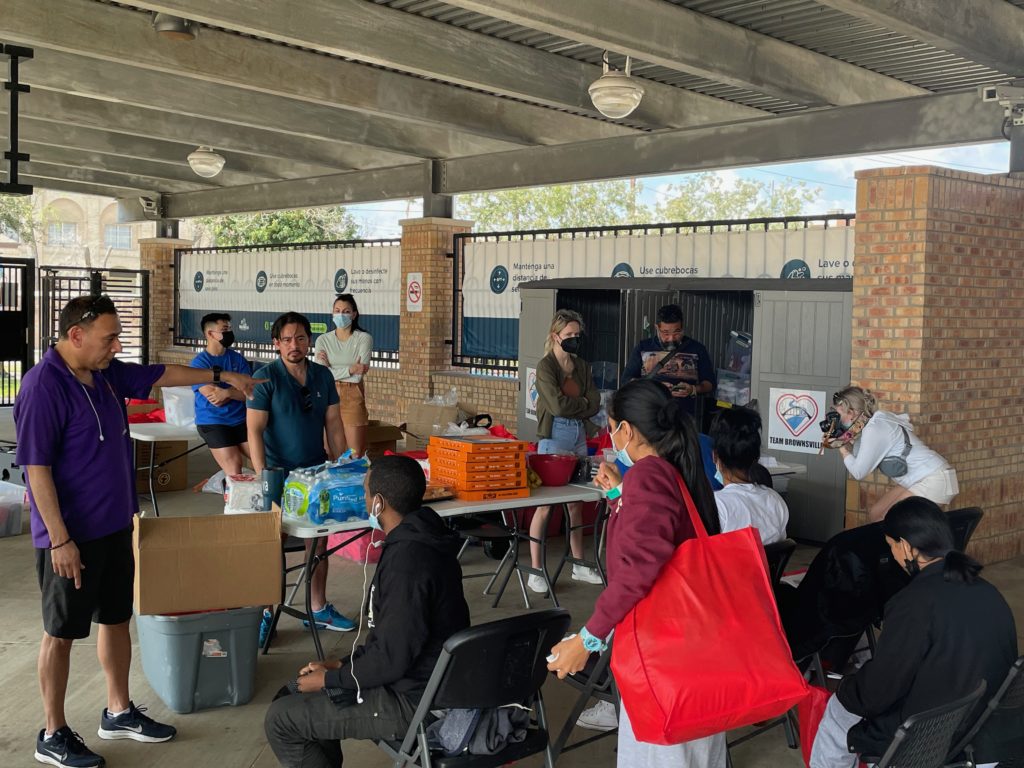 After going to the bus station, we drove to the outskirts of Brownsville to see Elon Musk's site "SpaceX." Our host, Juan Garcia, discussed the environmental impact (both animal life and vegetation) that resulted from hosting these activities in the area of a nature preserve. The picture below is from the beach side, with the SpaceX launch pad behind.
One of the students mentioned that March 6th was going to be the nicest day, weather wise, so we went to South Padre Island to take in the beach. No pics from South Padre!
On March 7th, we started the day at an urban farm. We talked with two of the young farmers who shared that they had left "uninspired indoor jobs" to work on the farm. They talked about the satisfaction of working on the farm and learning about sustainable farming. It was a refreshing divergence from our time in the midst of urban sprawl and over-developed seaside.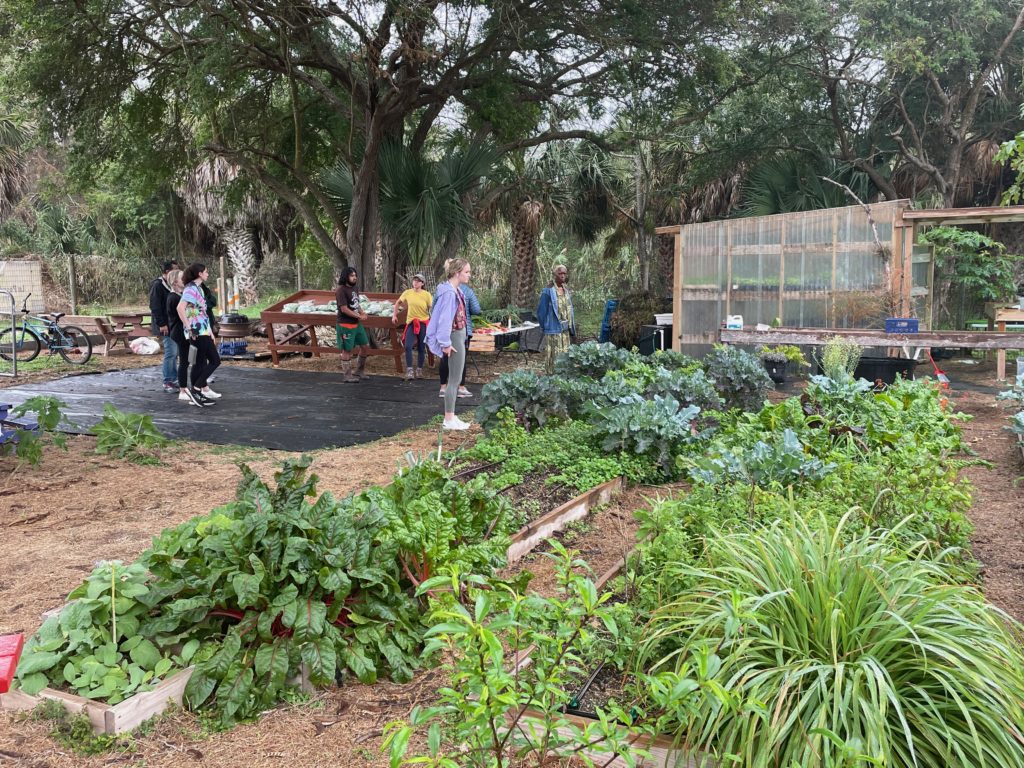 On the afternoon of the 7th, we went to the Catholic Charities Respite Center in McAllen. Upon entering this secure building in the downtown area, we saw many people in transit, mostly from Latin America, and were met by the Center's head, Sister Norma, who described the work of the Center. She explained that that the individuals who are at the Respite Center crossed the Rio Grande. After entering the country, they turned themselves into the Border Patrol, who brought them to this place. In the past year (since the Biden Administration assumed the White House), Mexico instituted a policy that they would not receive pregnant women or families with children under the age of 6 who made it across the border to the US. So, the Respite Center is populated by young families and pregnant women. They generally stay at the Center for a few hours up to a couple of days as they recover from their arduous trips to and across the border. They all have sponsors, often family members, somewhere in the United States, and the Respite Center guests all travel by plane or bus to their destinations–from Atlanta, to Indianapolis, to California and New Jersey. The students and I were struck by the courage shown by these individuals in traveling through dangerous and rugged parts of the world to arrive in McAllen. We were also struck by the appreciation they showed for people who helped them along the way. Not pictures are allowed inside the Respite Center, but I did get a photo in front of the building.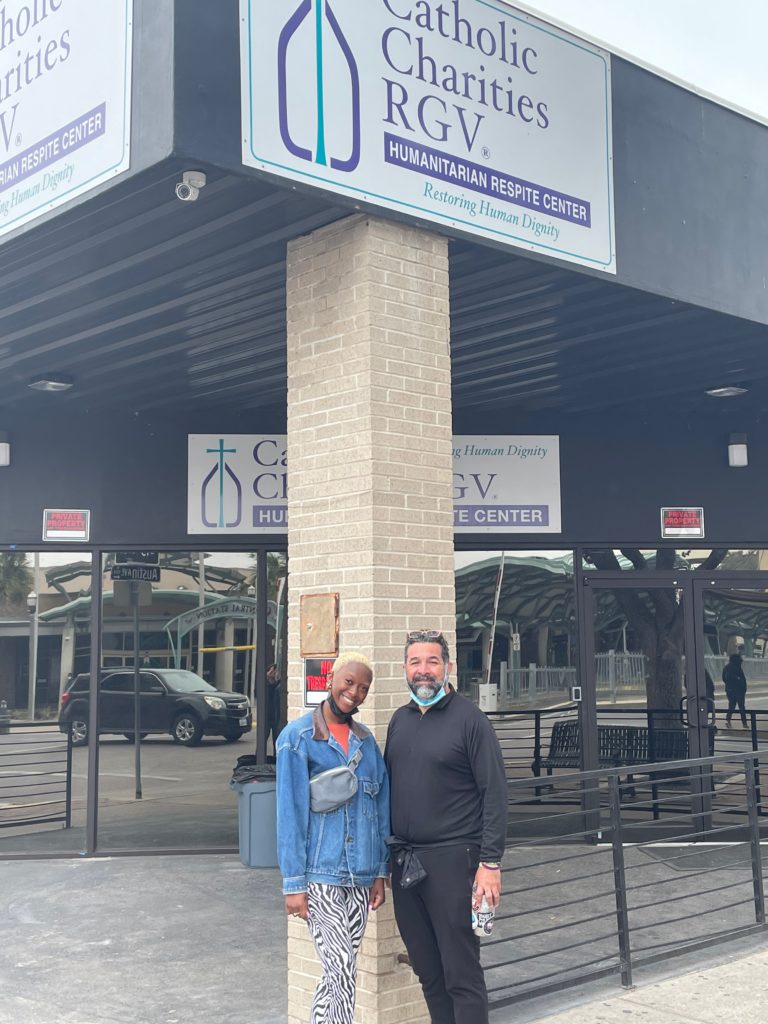 We returned to the Respite Center on March 8th for a good and full day of volunteering and learning. And the students left Texas the next morning.
February 28 – March 3
I drove from Denton to Corpus Christi and set up camp at the White Cap Beach at Padre Island Beach. The beach was beautiful, if a little chilly during most of my stay there. But, all is all, it was great to be camping again. The experience of waking up outdoors–and particularly in a place as peaceful as this beach–was wonderful and took me back to my glorious travel from the summer and early fall of 2021.
One of my activities during my stay on the beach was an interview with the Vice President and Associate Vice President for Student Services and Engagement at Texas A&M-Corpus Cristi. This Hispanic Serving Institution campus is located very near the Gulf of Mexico–a pretty nice setting for students. The leaders I met with highlighted how their work has transitioned during the course of the pandemic to more attention to student services and less to student engagement. They indicated that there are signs that this reality is now shifting back to the customary balance between the two foci.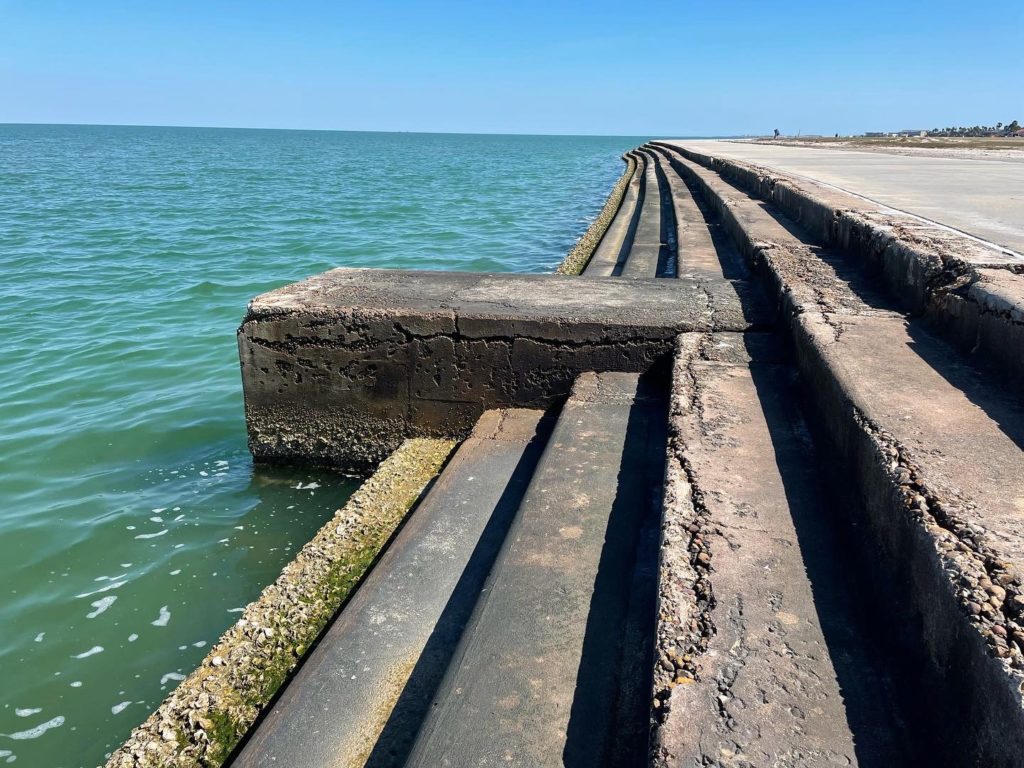 February 27
I made a long drive from Ames, Iowa to Denton, Texas on my way to the Southwest Texas border. Dale and Molly Tampke, former Athens, Ohio residents and (current) wonderful friends put me up for the night. I'm always grateful to see Molly and Dale. They are missed in Athens!
October 31 – February 26
At the beginning of this four month period, I travelled to Ames, Iowa to spend time with Anna and Floyd. It was a wonderful time. I made new friends in Iowa, and made occasional trips to other places, noted below: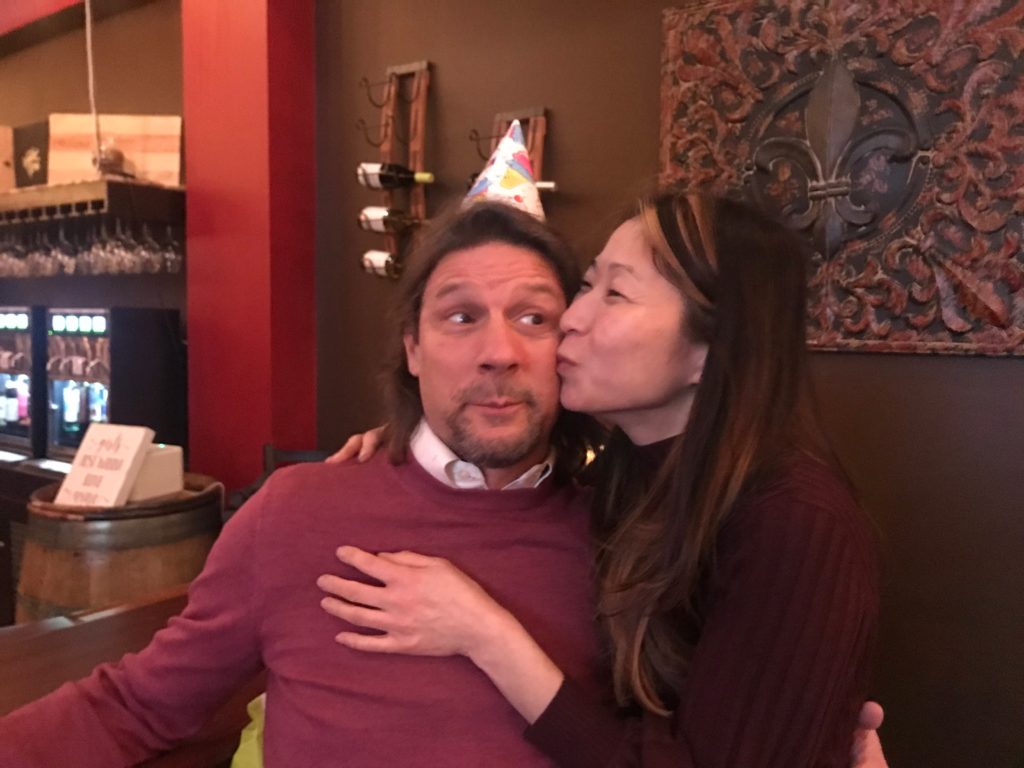 Birthday at Della Viti in Ames
Early January with Emily and Sophie in Asheville, NC